MidstreamIntelligence
Serving the downstream sector with news, analysis and business opportunities.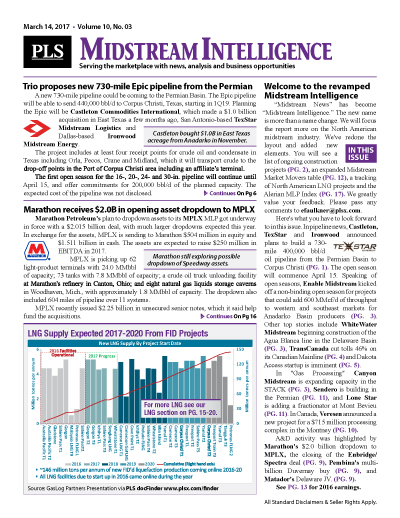 The PLS MidstreamIntelligence Module covers news and analysis on the midstream sector. The purple banner report includes market information, news and analysis on gas gathering, marketing, pipelines, storage, midstream mergers, acquisitions, capital and corporate performance.
Your access to midstream & downstream markets
Single copy pricing; Incl hard copy & email version
Increase market insight & deal flow
Published every 3 weeks; 17+ issues per year
Covers gathering, rail, processing, pipelines, refining and LNG
Phone request for multiple listings for sale
Includes discounts for other PLS products & events
Search PLS' News Archive for complete oil & gas news for MidstreamIntelligence .
See what it is about before you buy. View a sample issue of MidstreamIntelligence.
Need more information? Click the button to recieve more details about the MidstreamIntelligence
Opportunity is a reflection of information.
Call 713-650-1212 For More Information
Search MidstreamIntelligence:

Headline
Publication
News Date
People & Companies - May 22, 2018
Dominion Energy EVP and Chief Innovation Officer David Christian will retire July 1. In his 20 years there, Christian has served as CEO at all three of Dominion's principal operating units. On July...
May 22, 2018
Andeavor to do three years of dropdowns by August
Andeavor is accelerating a planned dropdown to Andeavor Logistics, offering assets totaling $1.6-1.7 billion before Marathon Petroleum Corp. acquires the sponsor. The dropdown had been planned to...
May 22, 2018
GSPM acquires cryo plant and pipelines in STACK
Great Salt Plains Midstream closed on its acquisition of Thunderbird Midstream and its 20 MMcf/d cryo plant in the STACK play. The combination of the two Oklahoma City-based companies brings a...
May 22, 2018
Get more news for MidstreamIntelligence