MidstreamIntelligence
Serving the downstream sector with news, analysis and business opportunities.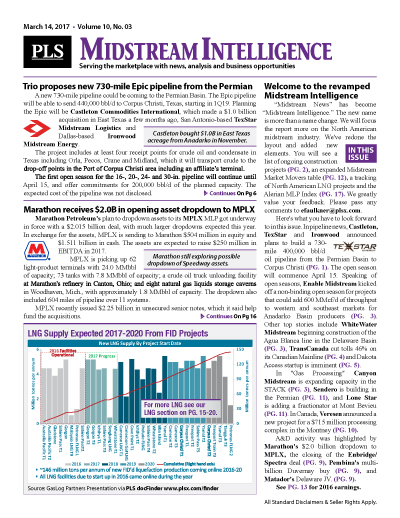 The PLS MidstreamIntelligence Module covers news and analysis on the midstream sector. The purple banner report includes market information, news and analysis on gas gathering, marketing, pipelines, storage, midstream mergers, acquisitions, capital and corporate performance.
Your access to midstream & downstream markets
Single copy pricing; Incl hard copy & email version
Increase market insight & deal flow
Published every 3 weeks; 17+ issues per year
Covers gathering, rail, processing, pipelines, refining and LNG
Phone request for multiple listings for sale
Includes discounts for other PLS products & events
Search PLS' News Archive for complete oil & gas news for MidstreamIntelligence .
See what it is about before you buy. View a sample issue of MidstreamIntelligence.
Need more information? Click the button to recieve more details about the MidstreamIntelligence
Opportunity is a reflection of information.
Call 713-650-1212 For More Information
Search MidstreamIntelligence:

Headline
Publication
News Date
LNG demand growing with supply gap possible
Peering years into the future is a challenge all in midstream face. But no sector seems to have had a fuzzier crystal ball than LNG. Last year was marked by two contradictory trends. On one hand,...
Mar 13, 2018
Texas regulators finally approve a buyer for Oncor
Sempra energy's purchase of Oncor passed one of its final hurdles with the approval of the Texas Public Utility Commission. San Diego-based Sempra will buy Energy Future Holdings and its 80% stake in...
Mar 13, 2018
Cheniere begins 20-year SPA with GAIL India
Cheniere Energy and Gail India began their 20-year sale and purchase agreement from Cheniere's Sabine Pass liquefaction facility in Louisiana on March 1, with one of GAIL's first shipments departing...
Mar 13, 2018
New England could use more gas capacity
New England gas utilities can use nearly all of the region's pipeline capacity during winter cold spells. This leaves the New England power generators shut out, raising the prospects of rolling...
Mar 13, 2018
Calumet to redeem 11.5% notes as company revives
Calumet Specialty Products Partners have called for the redemption of their $400 million of outstanding 11.5% senior secured notes due 2021. This call for these high-interest notes; an extension of...
Mar 13, 2018
CNX to sell $400MM in notes to fund dropdown
CNX Midstream Partners LP intends to offer $400 million in senior notes due 2026. The net proceeds will fund the master limited partnership's previously announced acquisition of parent CNX Resources'...
Mar 13, 2018
Get more news for MidstreamIntelligence