MidstreamIntelligence
Serving the downstream sector with news, analysis and business opportunities.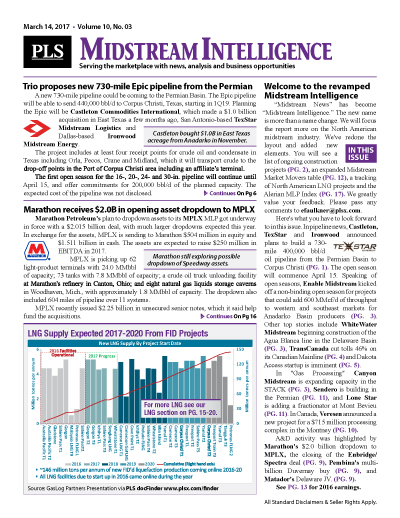 The PLS MidstreamIntelligence Module covers news and analysis on the midstream sector. The purple banner report includes market information, news and analysis on gas gathering, marketing, pipelines, storage, midstream mergers, acquisitions, capital and corporate performance.
Your access to midstream & downstream markets
Single copy pricing; Incl hard copy & email version
Increase market insight & deal flow
Published every 3 weeks; 17+ issues per year
Covers gathering, rail, processing, pipelines, refining and LNG
Phone request for multiple listings for sale
Includes discounts for other PLS products & events
Search PLS' News Archive for complete oil & gas news for MidstreamIntelligence .
See what it is about before you buy. View a sample issue of MidstreamIntelligence.
Need more information? Click the button to recieve more details about the MidstreamIntelligence
Opportunity is a reflection of information.
Call 713-650-1212 For More Information
Search MidstreamIntelligence:

Headline
Publication
News Date
DCP adds $750MM ATM to financing efforts 
DCP Midstream LP is offering up to $750 million in common units in an at-the-market registration, the latest in a series of financing activities since May 1. The company, whose general partner is a...
Sep 04, 2018
EnCap Flatrock commits $200MM to Candor
Candor Midstream received an initial venture capital commitment of $200 million from San Antonio-based private equity firm EnCap Flatrock Midstream. Headquartered in Houston and established in 2017,...
Sep 04, 2018
MI Finance Briefs - September 04, 2018
Northwest Pipeline LLC, a wholly owned subsidiary of The Williams Companies, has priced an offering of $250 million of its 4.0% senior notes due 2027 through an add-on to its existing issue. The...
Sep 04, 2018
Get more news for MidstreamIntelligence