MidstreamIntelligence
Serving the downstream sector with news, analysis and business opportunities.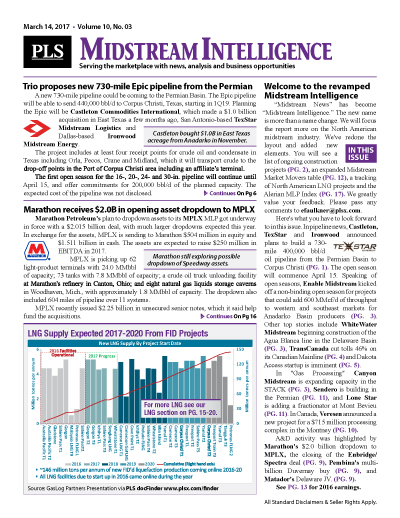 The PLS MidstreamIntelligence Module covers news and analysis on the midstream sector. The purple banner report includes market information, news and analysis on gas gathering, marketing, pipelines, storage, midstream mergers, acquisitions, capital and corporate performance.
Your access to midstream & downstream markets
Single copy pricing; Incl hard copy & email version
Increase market insight & deal flow
Published every 3 weeks; 17+ issues per year
Covers gathering, rail, processing, pipelines, refining and LNG
Phone request for multiple listings for sale
Includes discounts for other PLS products & events
$ 595 /Yr
Search PLS' News Archive for complete oil & gas news for MidstreamIntelligence .
See what it is about before you buy. View a sample issue of MidstreamIntelligence.
Need more information? Click the button to recieve more details about the MidstreamIntelligence
Opportunity is a reflection of information.
Call 713-650-1212 For More Information
Search MidstreamIntelligence:

Headline
Publication
News Date
People & Companies - November 28, 2017
Joe Kim will become CEO of Dallas-based Sunoco LP, effective Jan 1. Kim has been serving as president and COO since June after current CEO Bob Owens announced he would retire on Dec. 31. Owens will...
Nov 28, 2017
Green groups file lawsuit to stop Nexus pipeline
The Sierra Club and others asked a federal appeals court in Washington to order a review of FERC's approval to begin construction of Enbridge's $2.0 billion Nexus pipeline. Enbridge began staking the...
Nov 28, 2017
Höegh LNG drops down regas unit off Colombia
Bermuda-based Hoegh LNG Holdings Ltd will transfer the remaining 49% interest in Hoegh Grace FSRU to its MLP, Hoegh LNG Partners LP, for $172.5 million, less $86.6 million in outstanding debt. The...
Nov 28, 2017
Tidewater Midstream moves to TSX
Tidewater Midstream and Infrastructure common shares moved from the TSX Venture Exchange to the TSX at the opening of trading on Nov. 20. The corporation's common shares will continue to trade under...
Nov 28, 2017
Pakistan LNG import consortium folds
A LNG import consortium that included ExxonMobil, Total, Mitsubishi and Qatar Petroleum has been dissolved. Hoegh LNG was due to supply the FSRU, which was to put gas into the Pakistani grid....
Nov 28, 2017
Get more news for MidstreamIntelligence