MidstreamIntelligence
Serving the downstream sector with news, analysis and business opportunities.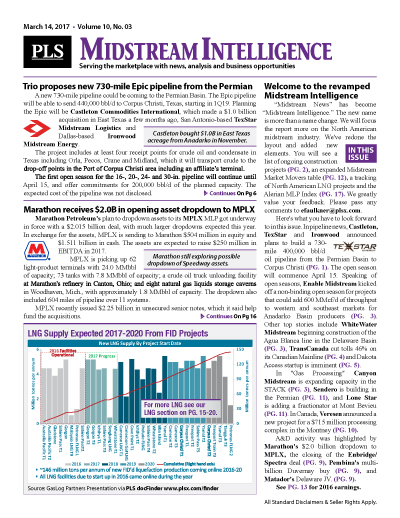 The PLS MidstreamIntelligence Module covers news and analysis on the midstream sector. The purple banner report includes market information, news and analysis on gas gathering, marketing, pipelines, storage, midstream mergers, acquisitions, capital and corporate performance.
Your access to midstream & downstream markets
Single copy pricing; Incl hard copy & email version
Increase market insight & deal flow
Published every 3 weeks; 17+ issues per year
Covers gathering, rail, processing, pipelines, refining and LNG
Phone request for multiple listings for sale
Includes discounts for other PLS products & events
Search PLS' News Archive for complete oil & gas news for MidstreamIntelligence .
See what it is about before you buy. View a sample issue of MidstreamIntelligence.
Need more information? Click the button to recieve more details about the MidstreamIntelligence
Opportunity is a reflection of information.
Call 713-650-1212 For More Information
Search MidstreamIntelligence:

Headline
Publication
News Date
Trucking entrepreneur acquires FastTrac
The former owner of Ace Transportation bought Houstonbased trucking company FastTrac Transportation. Bill Busbice formerly owned and operated Ace over 32 years, eventually selling it in 2008 to a...
Jul 03, 2018
Venture Global LNG project receives draft EIS
Venture Global LNG's planned Calcasieu Pass facility received a positive draft environmental impact statement from the Federal Energy Regulatory Commission. The regulator said the impact of...
Jul 03, 2018
Carl Icahn reduces stake in Cheniere
Carl Icahn has reduced his stake in Cheniere Energy to 9.5% from 13.8% but will remain the largest shareholder of the LNG exporter. Icahn received more than $580 million in the sale and continues to...
Jul 03, 2018
Get more news for MidstreamIntelligence