MidstreamIntelligence
Serving the downstream sector with news, analysis and business opportunities.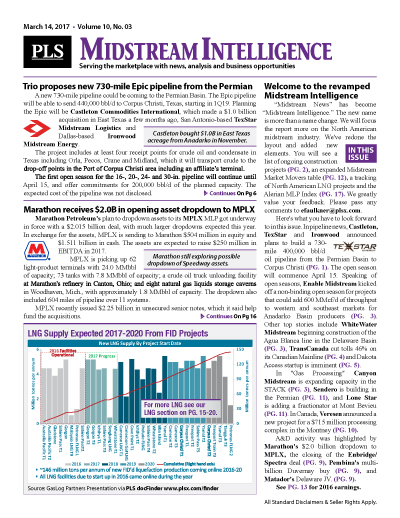 The PLS MidstreamIntelligence Module covers news and analysis on the midstream sector. The purple banner report includes market information, news and analysis on gas gathering, marketing, pipelines, storage, midstream mergers, acquisitions, capital and corporate performance.
Your access to midstream & downstream markets
Single copy pricing; Incl hard copy & email version
Increase market insight & deal flow
Published every 3 weeks; 17+ issues per year
Covers gathering, rail, processing, pipelines, refining and LNG
Phone request for multiple listings for sale
Includes discounts for other PLS products & events
Search PLS' News Archive for complete oil & gas news for MidstreamIntelligence .
See what it is about before you buy. View a sample issue of MidstreamIntelligence.
Need more information? Click the button to recieve more details about the MidstreamIntelligence
Opportunity is a reflection of information.
Call 713-650-1212 For More Information
Search MidstreamIntelligence:

Headline
Publication
News Date
MI - Analyst Notes - November 06, 2018
The Williams Companies (NYSE:WMB; Nov. 1—$25.75; Outperform; PT—$32)We remain constructive on The Williams Companies (WMB), particularly in light of the undue underperformance of the stock in...
Nov 06, 2018
Crude export congestion coming to Corpus Christi
Projects to take crude out of the Permian Basin took a backseat this cycle to what will happen to the oil when it arrives at the Gulf Coast. The Carlyle Group and Magellan Midstream Partners...
Nov 06, 2018
Buckeye sells stake in VTTI amid strategic review
Buckeye Partners sold its 50% stake in global storage company VTTI to its partners for $975 million in cash. The sale, a divestment of several US refined product assets and a 41% cut in distributions...
Nov 06, 2018
Energy Transfer LP replaces ETE after ETP roll-up
Energy Transfer Equity completed the acquisition of the remaining 97.6% stake in Energy Transfer partners for $26.9 billion in ETE common units. With the assumption of $32.2 billion of ETP debt, the...
Nov 06, 2018
MI - People Briefs - November 06, 2018
Sempra energy named Bethany Mayer to the newly created position of EVP of corporate development and technology. Mayer, currently an executive partner with private equity firm Siris Capital Group,...
Nov 06, 2018
MI - A&D News Briefs - November 06, 2018
Halcon Resources agreed to sell all of its water infrastructure assets across the Delaware basin to an unidentified company for $200 million on closing and up to $125 million in earn-out payments...
Nov 06, 2018
Get more news for MidstreamIntelligence