MidstreamIntelligence
Serving the downstream sector with news, analysis and business opportunities.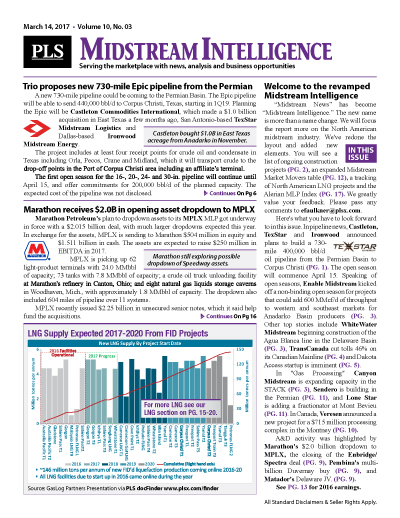 The PLS MidstreamIntelligence Module covers news and analysis on the midstream sector. The purple banner report includes market information, news and analysis on gas gathering, marketing, pipelines, storage, midstream mergers, acquisitions, capital and corporate performance.
Your access to midstream & downstream markets
Single copy pricing; Incl hard copy & email version
Increase market insight & deal flow
Published every 3 weeks; 17+ issues per year
Covers gathering, rail, processing, pipelines, refining and LNG
Phone request for multiple listings for sale
Includes discounts for other PLS products & events
$ 595 /Yr
Search PLS' News Archive for complete oil & gas news for MidstreamIntelligence .
See what it is about before you buy. View a sample issue of MidstreamIntelligence.
Need more information? Click the button to recieve more details about the MidstreamIntelligence
Opportunity is a reflection of information.
Call 713-650-1212 For More Information
Search MidstreamIntelligence:

Headline
Publication
News Date
Williams Partners issues $1.45B in 2027 notes
Williams Partners LP offered $1.45 billion of its 3.75% senior notes due 2027 for public sale at 99.949 with BofA Merrill Lynch, Deutsche Bank Securities and RBC Capital Markets acting as...
Jun 09, 2017
FERC nominees approved by Senate energy committee
President Trump's first two nominees to FERC sailed through Senate Energy and Natural Resources Committee on a 20-3 vote. Neil Chatterjee and Robert Powelson need only a majority vote in the Senate...
Jun 09, 2017
Kinder Morgan Canada goes through with $1.3B IPO
Kinder Morgan is going ahead with the Trans Mountain expansion after the IPO of Kinder Morgan Canada Ltd (KML) grossed C$1.75 billion ($1.30 billion). The offering was the last condition remaining...
Jun 09, 2017
Get more news for MidstreamIntelligence