A&D Transactions
Serving the asset marketplace with deals, analysis and business opportunities.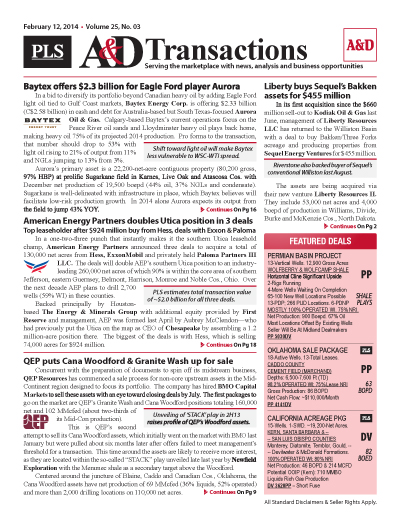 PLS publishes news and analysis on the acquisitions and divestitures (A&D) sector through its A&D module. The red banner report, published every 3 weeks, covers the active US asset marketplace and includes analysis of corporate mergers, property divestitures, completed transactions and deal metrics.
PLS' most popular report
Single copy pricing; Incl hard copy & email version
Guaranteed to increase deal flow & market insight
Every 2-3 weeks; 17+ issues per year
Latest in asset acquisitions, corporate M&A activity, deals in play & industry buying trends
Access to archives editions of A&D
Phone request to multiple listing
$ 1245 /Yr
Search PLS' News Archive for complete oil & gas news for A&D Transactions .
See what it is about before you buy. View a sample issue of A&D Transactions.
Need more information? Click the button to recieve more details about the A&D Transactions
Opportunity is a reflection of information.
Call 713-650-1212 For More Information
Search A&D Transactions:

Headline
Publication
News Date
Red Mountain offers Oklahoma assets
Red Mountain Energy is offering 7,000 net acres in Woodward Co., OK in the Northwest STACK trend delivering an 80% NRI with stacked potential in the Meramec and Osage formations. Most of the...
Oct 18, 2017
Rockcliff shops Permian acreage
As Rockcliff Energy II continues pivoting from the Permian Basin to East Texas and North Louisiana, it announced it is marketing its operated leasehold and related assets in the Northwest Shelf of...
Oct 18, 2017
Warren is making a complete Appalachian exit
UBS Securities is assisting Warren Resources in existing the Appalachian basin through the sale of a package of Marcellus assets. Net production is 57.5 MMcf/d from 35 wells on 5,200 net acres mainly...
Oct 18, 2017
Helis, et al markets Powder River Basin package
Helis Oil & Gas, Charter Energy Partners and Kirkwood Oil & Gas have retained Tudor, Pickering, Holt & Co. to assist in the sale of 50,400 net acres (90% HBP) in the Powder River Basin in...
Oct 18, 2017
Periscope markets Pecos Co. package
Periscope Resources has retained UBS Securities to market Delaware basin assets in Pecos Co., Texas in the merging Fort Stockton Trough. Net production on the 100% WI (75% NRI) assets is 569 boe/d...
Oct 18, 2017
Bravo Natural shops North Arkoma Basin assets
JP Morgan is assisting Bravo Natural Resources to solicit proposals for its North Arkoma Basin assets in Pittsburg, Hughes, Latimer, Le Flore, Haskell & Sequoyah Cos., OK. Production is...
Oct 18, 2017
Marlin shops East Texas assets
Marlin Energy Resources has retained Seaport Global Securities to market non-op and operated WI in assets located in the stacked pay East Texas Basin, comprising its Iola and Centennial areas with...
Oct 18, 2017
Penn closes $205MM Eagle Ford bolt-on from Devon
Devon Energy closed its $205 million sale of its assets in Lavaca County, TX to Eagle Ford pure-play Penn Virginia, taking another step toward realizing its $1.0 billion divestment plan announced in...
Oct 18, 2017
Get more news for A&D Transactions