A&D Transactions
Serving the asset marketplace with deals, analysis and business opportunities.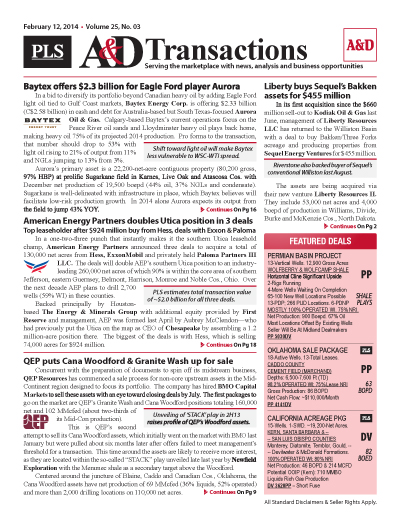 PLS publishes news and analysis on the acquisitions and divestitures (A&D) sector through its A&D module. The red banner report, published every 3 weeks, covers the active US asset marketplace and includes analysis of corporate mergers, property divestitures, completed transactions and deal metrics.
PLS' most popular report
Single copy pricing; Incl hard copy & email version
Guaranteed to increase deal flow & market insight
Every 2-3 weeks; 17+ issues per year
Latest in asset acquisitions, corporate M&A activity, deals in play & industry buying trends
Access to archives editions of A&D
Phone request to multiple listing
$ 795 /Yr
Search PLS' News Archive for complete oil & gas news for A&D Transactions .
See what it is about before you buy. View a sample issue of A&D Transactions.
Need more information? Click the button to recieve more details about the A&D Transactions
Opportunity is a reflection of information.
Call 713-650-1212 For More Information
Search A&D Transactions:

Headline
Publication
News Date
Meagher Energy Advisors is retained
Privately held EdgeMarc Energy Holdings and Blue Ridge Mountain Resources have retained Meagher Energy Advisors to sell a consolidated leasehold position targeting the Utica/ Point Pleasant dry gas...
Jun 14, 2017
Lonestar buys Eagle Ford assets for $117 million
Lonestar Resources is adding to its Eagle Ford position through the acquisition of assets in Karnes and Gonzales Cos. from Lime Rock Partners-backed Battlecat Oil & Gas and Fayette, Lavaca and...
Jun 14, 2017
Alpha sells West Virginia assets
Alpha Natural Resources has sold all of the assets of two separate operations, the Green Valley coal mining complex and the New River Energy natural gas operation, both located in central West...
Jun 14, 2017
Junex sold licenses for $75,000
TSX-listed Junex sold its 25% WI in licenses in Schleicher Co., West TX for $750,000 (C$1.0 million). Proceeds will contribute to the development of the Galt oil and gas production project on the...
Jun 14, 2017
Goodrich acquires Haynesville acreage
Goodrich Petroleum now owns rights to 25,000 net acres in the Haynesville after acquiring 2,200 net acres in DeSoto Parish, LA. In the farmin deal, Goodrich will earn the acreage through the drilling...
Jun 14, 2017
PetroShale adds to Bakken core area in $9MM deal
Toronto-listed PetroShale acquired additional acreage in its South Berthold core area in Bakken/ Three Forks play in North Dakota for $9.0 million adding 90 boe/d of production. The acreage forms...
Jun 14, 2017
United Hunter Oil acquired working interest
Toronto-listed United Hunter Oil and Gas Corp. has acquired working interest in producing wells and additional prospects in multiple South Texas counties from Vesta Resources and other sellers. UHT,...
Jun 14, 2017
Get more news for A&D Transactions