A&D Transactions
Serving the asset marketplace with deals, analysis and business opportunities.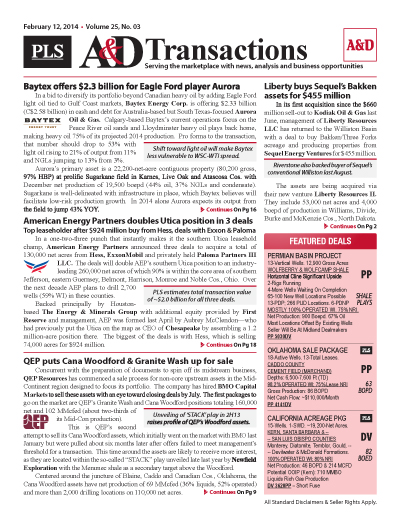 PLS publishes news and analysis on the acquisitions and divestitures (A&D) sector through its A&D module. The red banner report, published every 3 weeks, covers the active US asset marketplace and includes analysis of corporate mergers, property divestitures, completed transactions and deal metrics.
PLS' most popular report
Single copy pricing; Incl hard copy & email version
Guaranteed to increase deal flow & market insight
Every 2-3 weeks; 17+ issues per year
Latest in asset acquisitions, corporate M&A activity, deals in play & industry buying trends
Access to archives editions of A&D
Phone request to multiple listing
Search PLS' News Archive for complete oil & gas news for A&D Transactions .
See what it is about before you buy. View a sample issue of A&D Transactions.
Need more information? Click the button to recieve more details about the A&D Transactions
Opportunity is a reflection of information.
Call 713-650-1212 For More Information
Search A&D Transactions:

Headline
Publication
News Date
Q2 winds-down with lower and slower M&A
With only a few days remaining in Q2, there has been $7.2 billion in M&A across 98 deals, down from $21.3 billion and 115 transactions in Q1 when Concho's $9.5 billion RSP buy and TPG's $2.6 billion...
Jun 27, 2018
Oracle acquires EF assets for $5.0 million
Vancouver-based Oracle Energy is paying $5.0 million to acquire an operated 100% WI (74% NRI) in Eagle Ford assets producing 70 boe/d on 2,490 net acres (100% HBP). Oracle concurrently signed an...
Jun 27, 2018
Energy XXI sailed rough waters to reach Cox deal
The acquisition by Cox Oil offers shareholders of Energy XXI Gulf Coast Inc. a chance to cash out after a rough run that started with the ill-timed $2.3 billion acquisition of EPL Oil & Gas Inc....
Jun 27, 2018
Junex & Cuda merge, make $37 million Wyoming buy
Quebec-focused Junex Inc. and privately held Canadian peer Cuda Energy are combining to create a new light oil North American producer called Cuda Oil and Gas. Concurrent with the merger, New Cuda...
Jun 27, 2018
Reabold makes U.S. entry via all-stock Gaelic buy
UK-based North Sea non-op Reabold Resources will make its debut in the U.S. through its acquisition of Irish engineering company Gaelic Resources Ltd. for $3.9 million (£3.0 million) in shares. The...
Jun 27, 2018
Three private E&P firms merge to form Rockall
TPG Capital portfolio company Petro Harvester Oil & Gas completed a merger June 6 with fellow private E&P firms Arrow Rock Energy and White Marlin Oil & Gas to form a diversified, mid-sized...
Jun 27, 2018
Get more news for A&D Transactions