A&D Transactions
Serving the asset marketplace with deals, analysis and business opportunities.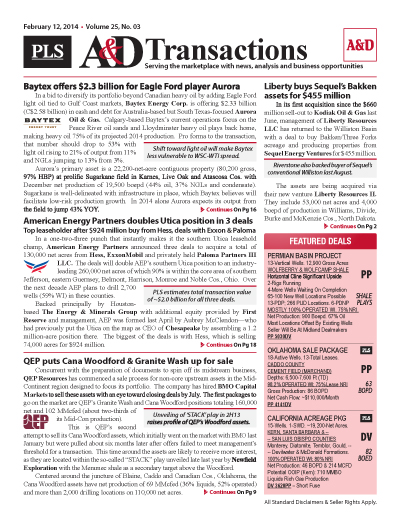 PLS publishes news and analysis on the acquisitions and divestitures (A&D) sector through its A&D module. The red banner report, published every 3 weeks, covers the active US asset marketplace and includes analysis of corporate mergers, property divestitures, completed transactions and deal metrics.
PLS' most popular report
Single copy pricing; Incl hard copy & email version
Guaranteed to increase deal flow & market insight
Every 2-3 weeks; 17+ issues per year
Latest in asset acquisitions, corporate M&A activity, deals in play & industry buying trends
Access to archives editions of A&D
Phone request to multiple listing
Search PLS' News Archive for complete oil & gas news for A&D Transactions .
See what it is about before you buy. View a sample issue of A&D Transactions.
Need more information? Click the button to recieve more details about the A&D Transactions
Opportunity is a reflection of information.
Call 713-650-1212 For More Information
Search A&D Transactions:

Headline
Publication
News Date
Amazing Energy acquires Permian assets from Wyatt
Permian pure-play Amazing Energy expanded its Pecos County, Texas, position in the Permian's Central Basin Platform, striking a deal with Houston-based Wyatt Petroleum for 21,000 mostly contiguous...
Oct 31, 2018
A&D - Analyst Notes - October 31, 2018
Chesapeake Energy (CHK; $3.33-Oct. 30; Neutral) CHK announced a ~$4.0 billion transaction to acquire Wildhorse Resources Development, which has 420K net acres and 47 MBoe/d of production (88%...
Oct 31, 2018
A&D - People & Companies - October 31, 2018
Amazing Energy Oil and Gas appointed Marty Dobbins as CFO. With over 40 years of experience in corporate and financial management across a variety of industries, Dobbins most recently was President...
Oct 31, 2018
A&D - Closings Briefs - October 31, 2018
Australia-based American Patriot Oil & Gas closed a pair of acquisitions announced earlier this year. In February, the company inked a PSA with Peak Energy for assets in East Texas. That was...
Oct 31, 2018
Get more news for A&D Transactions