A&D Transactions
Serving the asset marketplace with deals, analysis and business opportunities.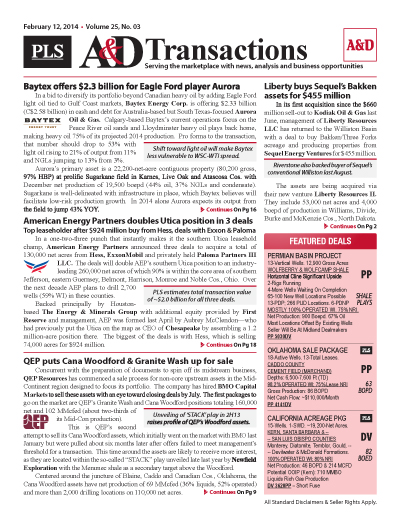 PLS publishes news and analysis on the acquisitions and divestitures (A&D) sector through its A&D module. The red banner report, published every 3 weeks, covers the active US asset marketplace and includes analysis of corporate mergers, property divestitures, completed transactions and deal metrics.
PLS' most popular report
Single copy pricing; Incl hard copy & email version
Guaranteed to increase deal flow & market insight
Every 2-3 weeks; 17+ issues per year
Latest in asset acquisitions, corporate M&A activity, deals in play & industry buying trends
Access to archives editions of A&D
Phone request to multiple listing
Search PLS' News Archive for complete oil & gas news for A&D Transactions .
See what it is about before you buy. View a sample issue of A&D Transactions.
Need more information? Click the button to recieve more details about the A&D Transactions
Opportunity is a reflection of information.
Call 713-650-1212 For More Information
Search A&D Transactions:

Headline
Publication
News Date
Talos Energy acquires Whistler Energy II for $98MM
Talos Energy struck a $98 million deal toacquire privately owned Gulf of Mexico producer Whistler Energy II. YTD net production from Whistler's 100% WI assets is 1,500 boe/d (82% oil) and comes from...
Sep 19, 2018
A&D - Analyst Notes - September 19, 2018
Matador Resources (MTDR; $33.46—Sept. 12; Buy; PT—$42)Matador was revealed as the big bidder from last week's BLM NM auction. Many, and us included, suspected this was a larger bidder as the...
Sep 19, 2018
A&D - News Briefs - September 19, 2018
Phoenix-based PetroSun acquired M&M Production and Operation, with operations in New Mexico's San Juan Basin. The position holds 61 oil and gas wells on 9,480 acres consisting of...
Sep 19, 2018
Get more news for A&D Transactions