Ark-La-Tex Scout
Serving the local market with drilling activities, permits & multiple listings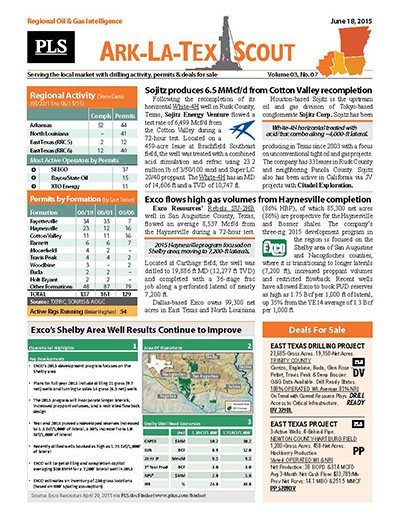 PLS publishes exploration news and drilling insights in Arkansas, Louisiana and East Texas through our Ark-La-Tex Scout. A famed area with significant of oil and gas history- this Region- known for East Texas stacked pays (Smackover, Bossier Sand, Cotton Valley, Travis Peak, Woodbine, Glen Rose, Rodessa, Pettit, James Lime, Edwards, Georgetown); Arkansas's shales (Brown Dense & Fayetteville) and North Louisiana's gas (Hosston & Haynesville) is still a core area for many operators from Dallas to Shreveport.
Stay in front of local prospects, plays & rigs!
Arkansas, Louisiana, East Texas
Hard Copy and Email For 1 Individual
Every 3 to 4 Weeks (12-16 issues per year)
Regional discoveries, drilling activity, permits,
completions and summary drilling statistics, layered
with regional listings and business opportunities
Web access to the Ark-La-Tex Scout archive
Does not include access to MLS
Search PLS' News Archive for complete oil & gas news for Ark-La-Tex Scout .
See what it is about before you buy. View a sample issue of Ark-La-Tex Scout.
Need more information? Click the button to recieve more details about the Ark-La-Tex Scout
Opportunity is a reflection of information.
Call 713-650-1212 For More Information
Search Ark-La-Tex Scout:

Headline
Publication
News Date
Chesapeake Highlights - May 10, 2018
The top completion in this issue belongs to Chesapeake in Caddo Parish. The JHSN 28&33-15-15 HC #001-Alt (7,489-ft lateral) flowed an IP24 rate of 33,696 Mcf/d from the Haynesville on a 31/64-in....
May 10, 2018
PetroQuest Highlights - May 10, 2018
PetroQuest's production for Q1 was 67.8 MMcfe/d, up from 58.1 MMcfe/d in Q1 2017. The increase was due primarily to the company's East Texas drilling program throughout 2017 and its Thunder Bayou...
May 10, 2018
Range Highlights - May 10, 2018
During Q1 Range turned four wells to sales in Northern Louisiana and will turn online seven during the remainder of 2018 as it turns its attention back to the Marcellus. Production in the region...
May 10, 2018
Marathon Oil Highlights - May 10, 2018
Marathon Oil captured more than 250,000 net acres in multiple new plays in the last year, including a largely contiguous position in the emerging Louisiana Austin Chalk play at a cost of less than...
May 10, 2018
Tellurian Highlights - May 10, 2018
Tellurian has engaged Goldman Sachs and SG Americas Securities to serve as financial advisors as it initiates a process to raise $28 billion for Driftwood Holdings, which will own the Driftwood...
May 10, 2018
Enbridge Highlights - May 10, 2018
Enbridge entered into a definitive agreement to sell Midcoast Operating and its subsidiaries to AL Midcoast Holdings (an affiliate of ArcLight Capital Partners) for $1.12B. Midcoast businesses...
May 10, 2018
ConocoPhillips Highlights - April 19, 2018
ConocoPhillips recently announced that it has acquired 245,000 net acres mostly in the early cycle Austin Chalk play in Central Louisiana where the company plans to drill several exploration wells...
Apr 19, 2018
Get more news for Ark-La-Tex Scout