Ark-La-Tex Scout
Serving the local market with drilling activities, permits & multiple listings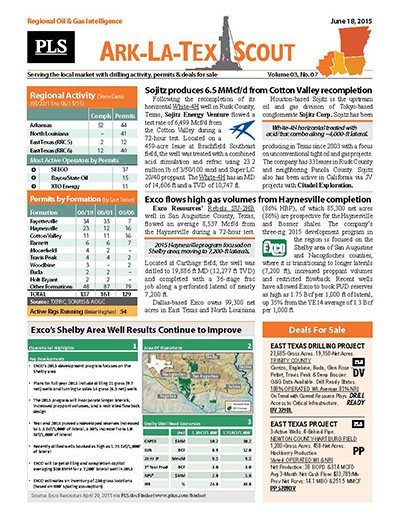 PLS publishes exploration news and drilling insights in Arkansas, Louisiana and East Texas through our Ark-La-Tex Scout. A famed area with significant of oil and gas history- this Region- known for East Texas stacked pays (Smackover, Bossier Sand, Cotton Valley, Travis Peak, Woodbine, Glen Rose, Rodessa, Pettit, James Lime, Edwards, Georgetown); Arkansas's shales (Brown Dense & Fayetteville) and North Louisiana's gas (Hosston & Haynesville) is still a core area for many operators from Dallas to Shreveport.
Stay in front of local prospects, plays & rigs!
Arkansas, Louisiana, East Texas
Hard Copy and Email For 1 Individual
Every 3 to 4 Weeks (12-16 issues per year)
Regional discoveries, drilling activity, permits,
completions and summary drilling statistics, layered
with regional listings and business opportunities
Web access to the Ark-La-Tex Scout archive
Does not include access to MLS
$ 695 /Yr
Search PLS' News Archive for complete oil & gas news for Ark-La-Tex Scout .
See what it is about before you buy. View a sample issue of Ark-La-Tex Scout.
Need more information? Click the button to recieve more details about the Ark-La-Tex Scout
Opportunity is a reflection of information.
Call 713-650-1212 For More Information
Search Ark-La-Tex Scout:

Headline
Publication
News Date
Haynesville's 45 rigs match Marcellus activity
The Haynesville rig count has risen to a level not seen since 3Q14. As of July 21, 45 rigs are running in the play, which is equal to the number in the Marcellus. According to Baker Hughes basin data...
Jul 27, 2017
Comstock Highlights
Comstock completed the Billingsley 25-24 HC #1 well in Logansport field flowing 36...
Jul 27, 2017
Indgo Minerals Highlights
Indgo Minerals completed two of the top three wells in the issue, both in Bethany Longstreet field of DeSoto Parish. The two wells averaged 23.8 MMcf/d from the...
Jul 27, 2017
Range Resources Highlights
Range Resources completed four wells located at terryville field in Lincoln Parish, the wells averaged 18.2 MMcfe/d from the Lower Cotton Valley. The company also completed 13 wells in the...
Jul 27, 2017
GeoSouthern's GEP JV grows operated position
GEP Haynesville grew its North Louisiana position by acquiring assets prospective for the Haynesville from Sabine Oil & Gas for $45 million. The deal gives GEP Haynesville substantially all of...
Jul 06, 2017
Regional Highlights - July 6th, 2017
• There are 61 rigs in the Ark-LaTex region—57 gas and four oil— up from 26 YOY. • DeSoto Parish, LA, is the most active, with 13 gas rigs, up from six YOY. • Red River Parish, LA,...
Jul 06, 2017
Get more news for Ark-La-Tex Scout