Bakken Scout
Serving the local market with drilling activities, permits & multiple listings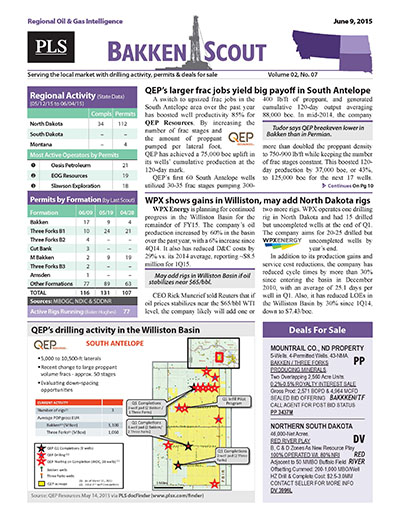 PLS's Bakken Scout covers oil and gas permitting, rig activity and completions in the Dakotas and Montana. The report is available by subscription and is delivered by hard copy and email every 3 weeks. Like other Regionals, the Bakken is packed full of local statistical analysis covering permits, rigs and completions while also covering top stories, fun facts, quick stats and production anomalies.
Stay in front of local prospects, plays & rigs!
North Dakota, South Dakota and Montana
Hard Copy and Email For 1 Individual
Every 3 Weeks (16-20 issues per year)
Regional discoveries, drilling activity, permits,
completions and summary drilling statistics, layered
with regional listings and business opportunities.
Web access to the Bakken Scout archive.
Does not include access to MLS
$ 595 /Yr
Search PLS' News Archive for complete oil & gas news for Bakken Scout .
See what it is about before you buy. View a sample issue of Bakken Scout.
Need more information? Click the button to recieve more details about the Bakken Scout
Opportunity is a reflection of information.
Call 713-650-1212 For More Information
Search Bakken Scout:

Headline
Publication
News Date
Regional Highlights - October 18, 2017
51 oil rigs are active in the Bakken, up from 30 YOY. McKenzie County, ND has 21 rigs running more than double a year ago. Williams County, ND has 10 rigs, up from four YOY....
Oct 18, 2017
Continental Highlights - October 18, 2017
Continental made its firstever sale of crude specifically for overseas delivery selling 1.0 MMbbl of Bakken crude for November delivery to Atlantic Trading and Marketing, for export to China. Daily...
Oct 18, 2017
Marathon Highlights - October 18, 2017
Marathon Oil completed three Dunn Co wells including Clarice USA #14-9H (~10,000-ft lateral) flowed 6,550 boe/d (86% oil) from the Middle Bakken, while the other two tapped the first bench of the...
Oct 18, 2017
Phillips 66 Partners Highlights - October 18, 2017
Phillips 66 Partners has acquired 25% interest in Dakota Access and Energy Transfer crude as well as 100% interest in Merey Sweeny from its parent Phillips 66 for $2.4 B. Assets include 520,000 bo/d...
Oct 18, 2017
Get more news for Bakken Scout