Bakken Scout
Serving the local market with drilling activities, permits & multiple listings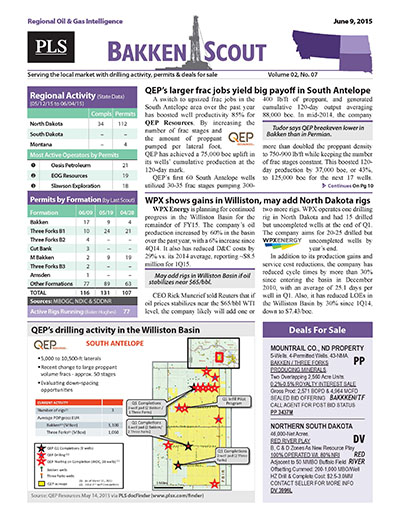 PLS's Bakken Scout covers oil and gas permitting, rig activity and completions in the Dakotas and Montana. The report is available by subscription and is delivered by hard copy and email every 3 weeks. Like other Regionals, the Bakken is packed full of local statistical analysis covering permits, rigs and completions while also covering top stories, fun facts, quick stats and production anomalies.
Stay in front of local prospects, plays & rigs!
North Dakota, South Dakota and Montana
Hard Copy and Email For 1 Individual
Every 3 Weeks (16-20 issues per year)
Regional discoveries, drilling activity, permits,
completions and summary drilling statistics, layered
with regional listings and business opportunities.
Web access to the Bakken Scout archive.
Does not include access to MLS
Search PLS' News Archive for complete oil & gas news for Bakken Scout .
See what it is about before you buy. View a sample issue of Bakken Scout.
Need more information? Click the button to recieve more details about the Bakken Scout
Opportunity is a reflection of information.
Call 713-650-1212 For More Information
Search Bakken Scout:

Headline
Publication
News Date
Bakken nears records, pricing improves
Improved oil prices, narrowing differentials and the startup of Dakota Access Pipeline have revitalized activity in the Bakken in the last year. The EIA projects Bakken production will rise 20,000...
May 22, 2018
Regional Highlights - May 22, 2018
Whiting filed the most permits (81) in the Bakken during Q1, followed by EOG (72), Continental (66), Hess (38), Burlington Resources (36), marathon (36) and Enerplus...
May 22, 2018
Marathon Highlights - May 22, 2018
marathon has achieved yet another IP24 industry record in the entire Williston Basin. In Antelope Field in McKenzie County, the Mark USA #11-1H (9,482-ft lateral; 45 stages; 15.1 MMlbs...
May 22, 2018
Whiting Highlights - May 22, 2018
Whiting achieved its second highest IP24 rate at the end of March. In Pembroke field in McKenzie County, the Mallow 34-8H (9,524- ft lateral; 40 stages; 8.1 MMlbs proppant) flowed 3,600 bo/d and...
May 22, 2018
Hess Highlights - May 22, 2018
Hess ran four rigs in the Bakken during Q1 and plans to add an additional rig in both Q3 and Q4. The company drilled 23 and completed 13 wells during Q1. Production averaged 255,000 boe/d, down...
May 22, 2018
Enerplus Highlights - May 22, 2018
Enerplus' Q1 Williston production averaged 33,800 boe/d (82% oil), down 14% sequentially but up 35% YOY. The quarterly decline was due to downtime related to completing offset wells. The company...
May 22, 2018
QEP Resources Highlights - May 01, 2018
In order to support additional investment in the Permian, QEP Resources will reduce capital allocations in the Williston Basin and Haynesville/Cotton Valley. A data room has been set up for the...
May 01, 2018
Comstock Resources Highlights - May 01, 2018
Comstock Resources entered into an agreement to acquire Bakken assets from Jerry Jones for $620.2MM in stock. Jones will own 84% of Comstock. The assets include 332 (52.5 net) wells producing 13,833...
May 01, 2018
Get more news for Bakken Scout