Bakken Scout
Serving the local market with drilling activities, permits & multiple listings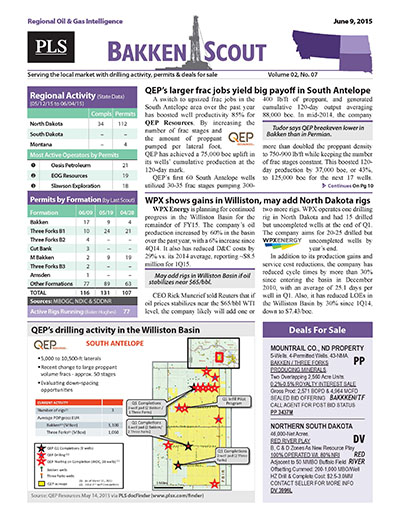 PLS's Bakken Scout covers oil and gas permitting, rig activity and completions in the Dakotas and Montana. The report is available by subscription and is delivered by hard copy and email every 3 weeks. Like other Regionals, the Bakken is packed full of local statistical analysis covering permits, rigs and completions while also covering top stories, fun facts, quick stats and production anomalies.
Stay in front of local prospects, plays & rigs!
North Dakota, South Dakota and Montana
Hard Copy and Email For 1 Individual
Every 3 Weeks (16-20 issues per year)
Regional discoveries, drilling activity, permits,
completions and summary drilling statistics, layered
with regional listings and business opportunities.
Web access to the Bakken Scout archive.
Does not include access to MLS
Search PLS' News Archive for complete oil & gas news for Bakken Scout .
See what it is about before you buy. View a sample issue of Bakken Scout.
Need more information? Click the button to recieve more details about the Bakken Scout
Opportunity is a reflection of information.
Call 713-650-1212 For More Information
Search Bakken Scout:

Headline
Publication
News Date
Whiting Petroleum Highlights - September 5, 2018
Whiting Petroleum's top IP24 rates this year have come from Pembroke field in McKenzie County. The top performer, the Mallow 34-8H (9,524-ft lateral; 40 stages; 8.12 MMlb proppant) flowed 4,838 boe/d...
Sep 05, 2018
Petro-Hunt Highlights - September 5, 2018
In Charlson field within McKenzie County, Petro-Hunt's USA 153-95-23D-14 #3H (9,947- ft lateral; 55 stages; 5.6 MMlb proppant) tested at an IP24 of 1,829 boe/d (81% oil; 183 boe/d per 1,000 ft) from...
Sep 05, 2018
U.S. Energy Corp Highlights - September 05, 2018
U.S. Energy Corp. signed a MOU to acquire Bakken assets from Angelus Capital portfolio company AGEP I Partners. The $17.8 million deal is expected to close in December with a July 1 effective date....
Sep 05, 2018
Continental raises type curve on 60-stage fracks
In the Bakken, Continental has moved from 40 stage completions to 60 stages and the results have been positive. The company in turn has revised its type curve upward 9% to 1.2 MMboe after observing...
Aug 14, 2018
Regional Highlights - August 14, 2018
During Q2, EOG turned two wells online, the Clarks Creek 108 and 155-0706H (9,200-ft laterals), In McKenzie County. IP30s averaged 2,980 boe/d (75% oil) from the Three...
Aug 14, 2018
Get more news for Bakken Scout