Bakken Scout
Serving the local market with drilling activities, permits & multiple listings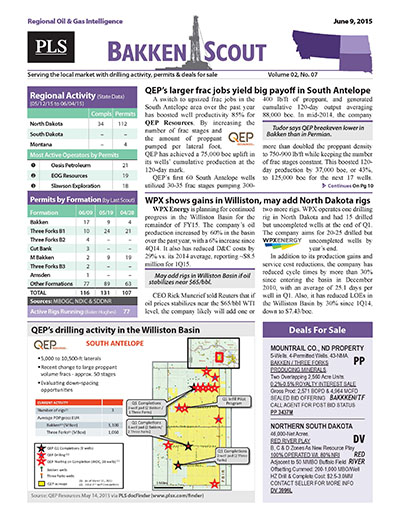 PLS's Bakken Scout covers oil and gas permitting, rig activity and completions in the Dakotas and Montana. The report is available by subscription and is delivered by hard copy and email every 3 weeks. Like other Regionals, the Bakken is packed full of local statistical analysis covering permits, rigs and completions while also covering top stories, fun facts, quick stats and production anomalies.
Stay in front of local prospects, plays & rigs!
North Dakota, South Dakota and Montana
Hard Copy and Email For 1 Individual
Every 3 Weeks (16-20 issues per year)
Regional discoveries, drilling activity, permits,
completions and summary drilling statistics, layered
with regional listings and business opportunities.
Web access to the Bakken Scout archive.
Does not include access to MLS
Search PLS' News Archive for complete oil & gas news for Bakken Scout .
See what it is about before you buy. View a sample issue of Bakken Scout.
Need more information? Click the button to recieve more details about the Bakken Scout
Opportunity is a reflection of information.
Call 713-650-1212 For More Information
Search Bakken Scout:

Headline
Publication
News Date
Oasis sells non-core Bakken assets for $283MM
Oasis Petroleum signed two deals to sell non-core Williston Basin assets for $283 million, achieving more than half of its $500 million divestment goal in the basin. The sales are meant to fully...
Jul 02, 2018
Denbury Resources Highlights - July 02, 2018
Denbury Resources sanctioned a CO2 EOR project at Cedar Creek Anticline. Phase 1 targets 30 MMbbl of estimated recoverable oil in the Red River formation at East Lookout Butte and Cedar Hills South...
Jul 02, 2018
Northern Oil & Gas Highlights - July 02, 2018
Northern Oil & Gas acquired Williston Basin assets in the Pronghorn area for $6.5 million. The assets cover 1,900 net acres (100% HBP) and are operated by Whiting and Continental. Net production...
Jul 02, 2018
Magnolia Petroleum Highlights - July 02, 2018
Magnolia Petroleum inked a non-binding agreement to divest varying interest in 31 wells in North Dakota's Williston Basin for $1.5 million. Magnolia concurrently announced the sale of its 100% WI in...
Jul 02, 2018
Abraxas Highlights - July 02, 2018
abraxas appointed Steven P. Harris Director of Finance and Capital Markets. He was previously with Sundance Energy where he assisted that company's business development and investor relations...
Jul 02, 2018
Enerplus scores company-best IP24 in Dunn County
Calgary-based Enerplus recently completed three of its best horizontals to-date in the Williston Basin. The wells are located in McGregory Buttes field in Dunn County. Enerplus' highest IP24 to-date,...
Jun 12, 2018
Regional Highlights - June 12, 2018
The EIA projects Bakken production will rise 20,000 bo/d and 43 MMcf/d in June to 1.238 MMbo/d and 2.277 Bcf/d. As of April, there are 719 DUCs in the Bakken, which is flat compared to...
Jun 12, 2018
Get more news for Bakken Scout