Bakken Scout
Serving the local market with drilling activities, permits & multiple listings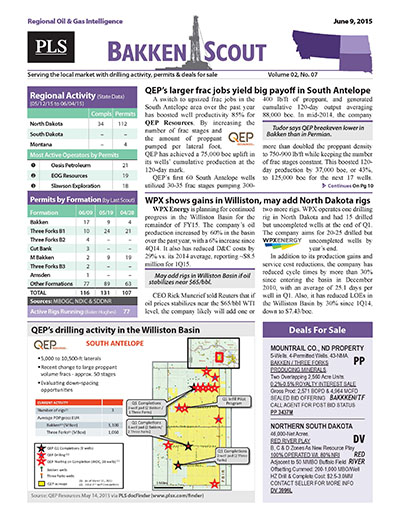 PLS's Bakken Scout covers oil and gas permitting, rig activity and completions in the Dakotas and Montana. The report is available by subscription and is delivered by hard copy and email every 3 weeks. Like other Regionals, the Bakken is packed full of local statistical analysis covering permits, rigs and completions while also covering top stories, fun facts, quick stats and production anomalies.
Stay in front of local prospects, plays & rigs!
North Dakota, South Dakota and Montana
Hard Copy and Email For 1 Individual
Every 3 Weeks (16-20 issues per year)
Regional discoveries, drilling activity, permits,
completions and summary drilling statistics, layered
with regional listings and business opportunities.
Web access to the Bakken Scout archive.
Does not include access to MLS
Search PLS' News Archive for complete oil & gas news for Bakken Scout .
See what it is about before you buy. View a sample issue of Bakken Scout.
Need more information? Click the button to recieve more details about the Bakken Scout
Opportunity is a reflection of information.
Call 713-650-1212 For More Information
Search Bakken Scout:

Headline
Publication
News Date
Continental scores record IP30 in Banks field
During Q4, Continental Resources achieves some its best 30-day rates to date. Five operated wells during the quarter averaged 2,230 boe/d, including the Monroe 6-2H (Banks field; McKenzie Co.) that...
Mar 20, 2018
Regional Highlights - March 20, 2018
Bakken production is expected to sequentially grow 12,000 bo/d and 37 MMcf/d in April to 1.223 MMbo/d and 2.253 Bcf/d, according to the EIA. As of Feb. 2018, there are 708 DUCs in the...
Mar 20, 2018
Marathon Oil Highlights - March 20, 2018
The top well of this issue is Marathon Oil's Bronett #14-7H (Dunn Co.; ~10,000-ft lateral; 45 stages; 8.5 MMlbs proppant). The well tested at a 24-hour IP of 5,113 bo/d and 2,687 Mcf/d, or 5,561...
Mar 20, 2018
Northern Oil & Gas Highlights - March 20, 2018
Williston non-op Northern Oil & Gas expects 1Q18 production to increase 5-6% sequentially. FY18 growth guidance has been increased to 18-22% compared to 16-20% prior. The company added 3.6 net...
Mar 20, 2018
Goodnight Midstream Highlights - March 20, 2018
Goodnight Midstream added five new saltwater disposal wells and 50 miles of produced water gathering to its network in North Dakota in 2017. Goodnight now owns and manages 22 facilities with 24 SWD...
Mar 20, 2018
QEP Highlights - March 20, 2018
QEP announced that it plans to sell its Bakken, Uinta and Haynesville assets and become a pure-play Permian company. PLS understands that QEP has appointed BMO to sell its Bakken asset and...
Mar 20, 2018
Hess Highlights - March 20, 2018
Hess authorized the purchase of $1.0B of common stock by YE18. The newly authorized program is in addition to the $500MM share repurchase program Hess announced in late...
Mar 20, 2018
Get more news for Bakken Scout