Canadian Scout
Serving the Canadian E&P market with news, analysis and business opportunities.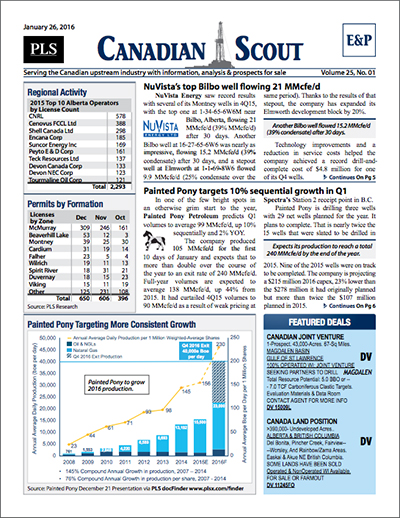 The Canadian Scout (blue banner report) covers news and analysis on the Canadian exploration and production (E&P) sector including new well discoveries, drilling activities, acreage sales, industry statistics (drilling results, activity permits & intents to drill) and technological updates. Besides composite E&P news, the Canadian Scout also carries market insight, analyst comments and respected featured interviews with leading E&P executives.
Covering exploration & production
Single copy pricing; Includes hard copy & email version
Increase market insight & deal flow
Every 3 weeks
Latest in exploration, discoveries, resource plans, land grabs, volumes, development projects & trends
Access to archives covering E&P
Phone request for prospects and lands listed for sale
Includes discounts for other PLS products & events
Search PLS' News Archive for complete oil & gas news for Canadian Scout .
See what it is about before you buy. View a sample issue of Canadian Scout.
Need more information? Click the button to recieve more details about the Canadian Scout
Opportunity is a reflection of information.
Call 713-650-1212 For More Information
Search Canadian Scout:

Headline
Publication
News Date
Surge adds to NW Alberta core with $320MM buy
Surge Energy is acquiring Calgary-based peer Mount Bastion Oil and Gas in a $320 million cash and stock deal, adding assets near Surge's core, waterflooded, light oil pools at Nipisi and Nipisi South...
Sep 06, 2018
CS - Analyst Notes - September 06, 2018
Enbridge (TSX: ENB; $44.51 – Aug 31., Hold; PT: $49.00) Enbridge has come to an agreement with the Fond du Lac Band to construct the Line 3 Replacement (L3R) through the Band's reservation in...
Sep 06, 2018
CS - E&P Briefs - September 06, 2018
Kicking Horse Oil & Gas Ltd. has started completion operations on the 103/16-29 well at Kakwa North. The well includes a 2,700 m horizontal leg in the Montney. It also spudded the 01-04...
Sep 06, 2018
Get more news for Canadian Scout