Canadian Scout
Serving the Canadian E&P market with news, analysis and business opportunities.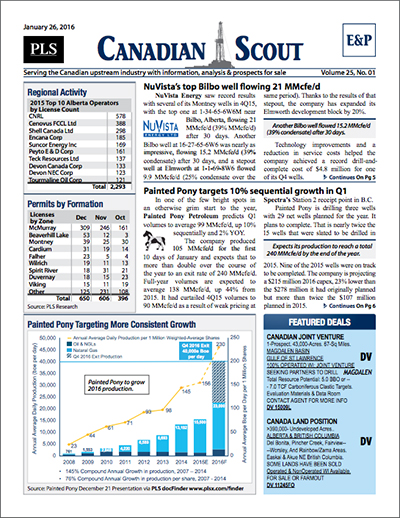 The Canadian Scout (blue banner report) covers news and analysis on the Canadian exploration and production (E&P) sector including new well discoveries, drilling activities, acreage sales, industry statistics (drilling results, activity permits & intents to drill) and technological updates. Besides composite E&P news, the Canadian Scout also carries market insight, analyst comments and respected featured interviews with leading E&P executives.
Covering exploration & production
Single copy pricing; Includes hard copy & email version
Increase market insight & deal flow
Every 3 weeks
Latest in exploration, discoveries, resource plans, land grabs, volumes, development projects & trends
Access to archives covering E&P
Phone request for prospects and lands listed for sale
Includes discounts for other PLS products & events
Search PLS' News Archive for complete oil & gas news for Canadian Scout .
See what it is about before you buy. View a sample issue of Canadian Scout.
Need more information? Click the button to recieve more details about the Canadian Scout
Opportunity is a reflection of information.
Call 713-650-1212 For More Information
Search Canadian Scout:

Headline
Publication
News Date
Technological developments helping to drive gains
Winter drilling programs are in full swing, with many producers rushing to get projects completed before breakup. Reserves reports are the topic at this time of year, with several companies reporting...
Mar 12, 2018
People & Companies - March 12, 2018
Crew Energy has appointed James Taylor as COO. Taylor has 20 years of operational, engineering and management experience with companies including Imperial Oil and ExxonMobil in conventional and...
Mar 12, 2018
BlackPearl begins steaming at Onion Lake Phase 2
BlackPearl Resources has begun steaming at the first well pad of the 6,000 bbl/d Phase II of its Onion Lake thermal project, with steam injection to the second pad slated to begin within the next...
Mar 12, 2018
Cenovus output skyrockets thanks to Conoco deal
Output for Cenovus Energy totaled 554,606 boe/d in 4Q17, up 96% YOY due largely to the company's $17.7 billion acquisition of oil sands and Deep Basin assets from ConocoPhillips in May 2017. Output...
Mar 12, 2018
Get more news for Canadian Scout