Canadian Scout
Serving the Canadian E&P market with news, analysis and business opportunities.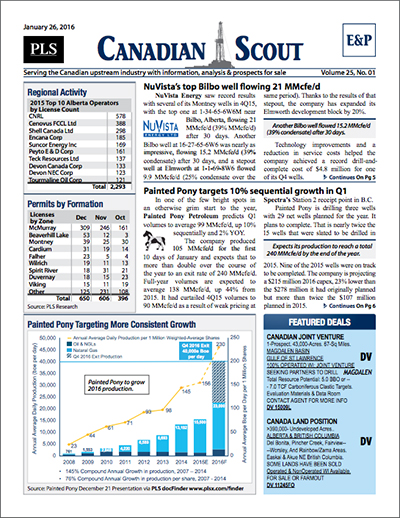 The Canadian Scout (blue banner report) covers news and analysis on the Canadian exploration and production (E&P) sector including new well discoveries, drilling activities, acreage sales, industry statistics (drilling results, activity permits & intents to drill) and technological updates. Besides composite E&P news, the Canadian Scout also carries market insight, analyst comments and respected featured interviews with leading E&P executives.
Covering exploration & production
Single copy pricing; Includes hard copy & email version
Increase market insight & deal flow
Every 3 weeks
Latest in exploration, discoveries, resource plans, land grabs, volumes, development projects & trends
Access to archives covering E&P
Phone request for prospects and lands listed for sale
Includes discounts for other PLS products & events
Search PLS' News Archive for complete oil & gas news for Canadian Scout .
See what it is about before you buy. View a sample issue of Canadian Scout.
Need more information? Click the button to recieve more details about the Canadian Scout
Opportunity is a reflection of information.
Call 713-650-1212 For More Information
Search Canadian Scout:

Headline
Publication
News Date
British Columbia sees sleepy April land sale
The April 18 land sale in British Columbia raised just $197,904 in bonus bids, a fraction of the $869,350 the province raised in the March sale. April saw just two parcels being picked up totaling...
May 10, 2018
Alberta legislature considers petroleum export ban
Alberta's legislature is considering a bill giving the government authority to cut off all exports of oil, gas and refined fuels to British Columbia as the battle over Kinder Morgan's Trans Mountain...
May 10, 2018
Hunter proved reserves pegged at 15.6 MMboe
Proved reserves for Vancouver-based Hunter Oil at YE17 were estimated at 15.6 MMboe, while proved + probable reserves were estimated at 40.3 MMboe. Proved reserves are attributed to the...
May 10, 2018
NS premier makes the case for offshore development
Nova Scotia Premier Stephen McNeil appeared before a May 4 meeting of the National Advisory Panel on Marine Protected Area Standards in Moncton, New Brunswick, arguing in favor of allowing offshore...
May 10, 2018
ARC focuses on Montney liquids opportunities in Q1
ARC Resources focused its efforts on sustaining its Montney businesses in Q1 while investing in liquids opportunities at Attachie West in northeast British Columbia and in the Lower Montney at Dawson...
May 10, 2018
Baytex counts on Eagle Ford to balance heavy oil
Baytex Energy continues to bank on its Eagle Ford output to help offset price differentials for Canadian heavy oil, with Eagle Ford netbacks of $32.48/boe easing the pain of heavy oil netbacks of...
May 10, 2018
Get more news for Canadian Scout