Canadian Scout
Serving the Canadian E&P market with news, analysis and business opportunities.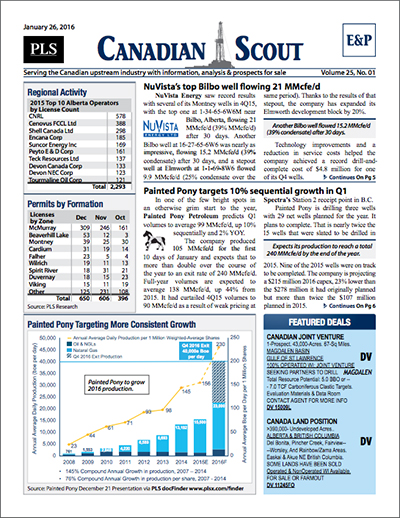 The Canadian Scout (blue banner report) covers news and analysis on the Canadian exploration and production (E&P) sector including new well discoveries, drilling activities, acreage sales, industry statistics (drilling results, activity permits & intents to drill) and technological updates. Besides composite E&P news, the Canadian Scout also carries market insight, analyst comments and respected featured interviews with leading E&P executives.
Covering exploration & production
Single copy pricing; Includes hard copy & email version
Increase market insight & deal flow
Every 3 weeks
Latest in exploration, discoveries, resource plans, land grabs, volumes, development projects & trends
Access to archives covering E&P
Phone request for prospects and lands listed for sale
Includes discounts for other PLS products & events
$ 745 /Yr
Search PLS' News Archive for complete oil & gas news for Canadian Scout .
See what it is about before you buy. View a sample issue of Canadian Scout.
Need more information? Click the button to recieve more details about the Canadian Scout
Opportunity is a reflection of information.
Call 713-650-1212 For More Information
Search Canadian Scout:

Headline
Publication
News Date
People & Companies - December 05, 2017
Athabasca Oil Corp. director Henry Sykes is stepping down from the company's board as a result of a conflict due to his position on a board of a publicly traded company that recently combined...
Dec 05, 2017
Alberta's Nov. 22 land sale raises $11.4 million
The Nov. 22 Crown land sale in Alberta drew $11.4 million in bonus bids, with interest in the Spirit River area driving much of the spending. The province sold 24,411 hectares at an average $467...
Dec 05, 2017
BC's November land sale lowest of the year
British Columbia saw the lowest draw of the year at its Nov. 17 land sale, raising just $656,309. That brings the total for the year to $172.4 million, with interest in the Montney helping to...
Dec 05, 2017
Manitoba's last sale of the year raises $773,748
The Manitoba government raised $773,748 at its final land sale of the year held Nov. 10, the highest total of the year. The province sold the rights to 4,238 hectares at an average $182.56 per...
Dec 05, 2017
Yukon government discontinues land sale process
The Yukon Territory provincial government has discontinued a Request for Postings begun in July 2016 as part of a potential land sale process and will halt reviews of the submitted posting locations....
Dec 05, 2017
Get more news for Canadian Scout