Canadian Scout
Serving the Canadian E&P market with news, analysis and business opportunities.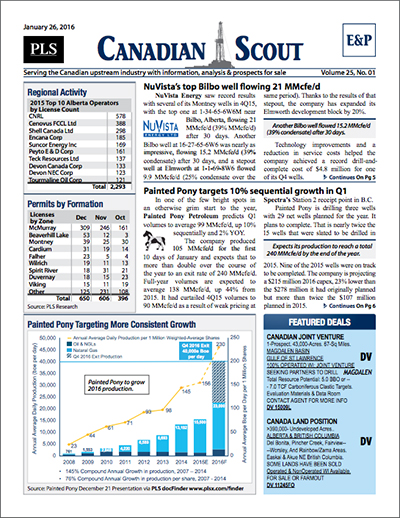 The Canadian Scout (blue banner report) covers news and analysis on the Canadian exploration and production (E&P) sector including new well discoveries, drilling activities, acreage sales, industry statistics (drilling results, activity permits & intents to drill) and technological updates. Besides composite E&P news, the Canadian Scout also carries market insight, analyst comments and respected featured interviews with leading E&P executives.
Covering exploration & production
Single copy pricing; Includes hard copy & email version
Increase market insight & deal flow
Every 3 weeks
Latest in exploration, discoveries, resource plans, land grabs, volumes, development projects & trends
Access to archives covering E&P
Phone request for prospects and lands listed for sale
Includes discounts for other PLS products & events
$ 745 /Yr
Search PLS' News Archive for complete oil & gas news for Canadian Scout .
See what it is about before you buy. View a sample issue of Canadian Scout.
Need more information? Click the button to recieve more details about the Canadian Scout
Opportunity is a reflection of information.
Call 713-650-1212 For More Information
Search Canadian Scout:

Headline
Publication
News Date
Encana's Montney volumes are ready to spike
EnCana's Montney production will ramp in Q4 as new infrastructure becomes operational later this year. Two new gas plants at Tower and Sunrise in British Columbia will add 340 MMcf/d of wet gas...
Oct 02, 2017
Murphy expanding Canadian program in 2018
In 2018, Murphy Oil will spend more on its Kaybob Duvernay acreage and tinker with well design and completion methods. This includes extending laterals past 2,750 m and experimenting with tighter...
Oct 02, 2017
Point Loma revamping Paddle River production
Point Loma Resources recompleted Nordegg pool well 5-31-55-6W5 higher up the borehole, after which the well flowed 315 boe/d (51% oil) over 24 hours. The well also produced 428 bw/d during this...
Oct 02, 2017
Hemisphere about to end its drilling drought
A fresh capital injection means Hemisphere Energy can proceed with a sevenwell development campaign at its Atlee Buffalo property in Alberta. Hemisphere will also build a new water separation and...
Oct 02, 2017
Alberta wildfires force gas well shutdowns
The threat of wildfires prompted Shell and several other companies to shut-in natural gas wells in southwest Alberta. The Alberta Energy Regulator disclosed that Shell shut in 24 wells and associated...
Oct 02, 2017
Painted Pony cuts back on lower price outlook
Painted Pony Energy reduced 2017-2018 capex to take into account commodity prices staying lower for longer. The company lowered spending by 10%, or $33 million, to a total of $314 million for 2017....
Oct 02, 2017
Get more news for Canadian Scout