Canadian Scout
Serving the Canadian E&P market with news, analysis and business opportunities.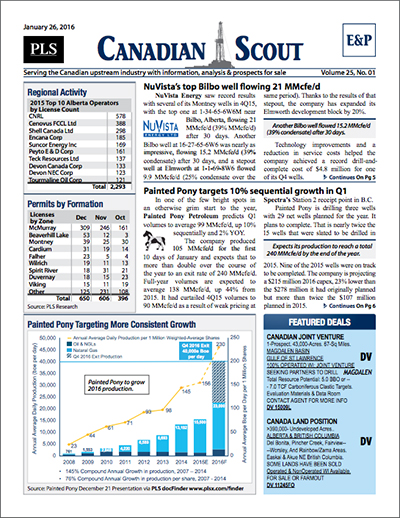 The Canadian Scout (blue banner report) covers news and analysis on the Canadian exploration and production (E&P) sector including new well discoveries, drilling activities, acreage sales, industry statistics (drilling results, activity permits & intents to drill) and technological updates. Besides composite E&P news, the Canadian Scout also carries market insight, analyst comments and respected featured interviews with leading E&P executives.
Covering exploration & production
Single copy pricing; Includes hard copy & email version
Increase market insight & deal flow
Every 3 weeks
Latest in exploration, discoveries, resource plans, land grabs, volumes, development projects & trends
Access to archives covering E&P
Phone request for prospects and lands listed for sale
Includes discounts for other PLS products & events
Search PLS' News Archive for complete oil & gas news for Canadian Scout .
See what it is about before you buy. View a sample issue of Canadian Scout.
Need more information? Click the button to recieve more details about the Canadian Scout
Opportunity is a reflection of information.
Call 713-650-1212 For More Information
Search Canadian Scout:

Headline
Publication
News Date
Crude-by-rail volumes continue record-setting pace
Crude-by-rail exports from Canada topped a record 193,500 bbl/d in April, according to the National Energy Board, up 13% from March volumes of 170,000 bbl/d and beating the previous record of 179,000...
Jul 12, 2018
Ontario's new government to end cap & trade
Ontario's newly elected Progressive Conservative government is scrapping the province's cap & trade program, fulfilling a campaign promise made by Premier Doug Ford. The government plans to...
Jul 12, 2018
Blackbird preps to develop north of Wapiti River
Thanks to strong results from its 3-27-71-7W6 Upper Montney delineation well north of the Wapiti River, Blackbird Energy is progressing with developments plans for the area with the acquisition of...
Jul 12, 2018
Cequence's 15-4 Dunvegan well flowing 1,533 boe/d
Cequence Energy continues to see strong production from its Dunvegan oil play, including three wells (66% WI) it brought on production in April. Those wells averaged 601 bbl/d per well during May,...
Jul 12, 2018
Get more news for Canadian Scout