Canadian Scout
Serving the Canadian E&P market with news, analysis and business opportunities.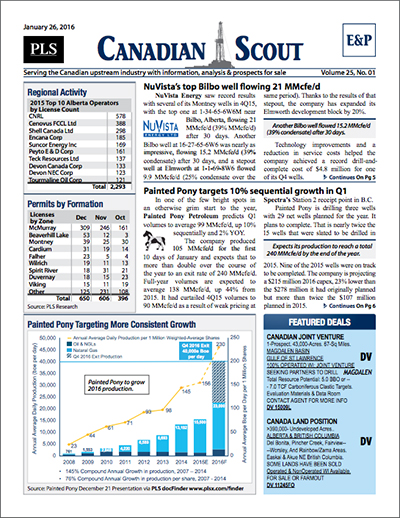 The Canadian Scout (blue banner report) covers news and analysis on the Canadian exploration and production (E&P) sector including new well discoveries, drilling activities, acreage sales, industry statistics (drilling results, activity permits & intents to drill) and technological updates. Besides composite E&P news, the Canadian Scout also carries market insight, analyst comments and respected featured interviews with leading E&P executives.
Covering exploration & production
Single copy pricing; Includes hard copy & email version
Increase market insight & deal flow
Every 3 weeks
Latest in exploration, discoveries, resource plans, land grabs, volumes, development projects & trends
Access to archives covering E&P
Phone request for prospects and lands listed for sale
Includes discounts for other PLS products & events
$ 745 /Yr
Search PLS' News Archive for complete oil & gas news for Canadian Scout .
See what it is about before you buy. View a sample issue of Canadian Scout.
Need more information? Click the button to recieve more details about the Canadian Scout
Opportunity is a reflection of information.
Call 713-650-1212 For More Information
Search Canadian Scout:

Headline
Publication
News Date
East Duvernay could be big new regional play
The east Duvernay, stretching from Red Deer to Drumheller, is emerging as a new focus for oil and gas companies. So far, small operators like Artis Exploration and Vesta Energy have been active in...
Jun 02, 2017
Montney drilling surges on back of steadier prices
The Montney formation is advancing ahead of other parts of the Canadian oil patch. During the first four months of 2017, the number of wells drilled by oil and gas companies there increased 80% from...
Jun 02, 2017
Advantage sets another company production record
During Q1 Advantage O&G completed 11 Montney gas wells that were drilled prior to YE16. The company also finished drilling at a 16-well pad that will be completed in H2 and go on stream in 2018....
Jun 02, 2017
Bellatrix ups 2017 production estimate
Bellatrix Exploration increased its 2017 production guidance by 1,000 boe/d to 34,500 boe/d. The increase stems from strong Q1 drilling results at Bellatrix's Spirit River and Cardium wells, where...
Jun 02, 2017
Birchcliff to ramp gas production starting in Q4
Birchcliff Energy set the stage for a large increase in production later this year after having drilled 30 wells since the start of 2017. Only two have been brought on stream. Of the 30 wells, 20...
Jun 02, 2017
Blackbird encounters problem at completed wells
Blackbird Energy's Pipestone Montney wells 102/2-20, 3-28 and 2-20/11-9 will have to be recompleted because of a sleeve-opening issue. The problem was discovered in well 102/2-20 when the well posted...
Jun 02, 2017
People Briefs - June 02, 2017
Gibson Energy CEO Stewart Hanlon will retire after 26 years, eight of them as president and CEO. He informed the board last year of his intention to retire sometime in 2018, at which time the company...
Jun 02, 2017
Get more news for Canadian Scout