CanadianAcquirer
Serving the Canadian E&P market with news, analysis and business opportunities.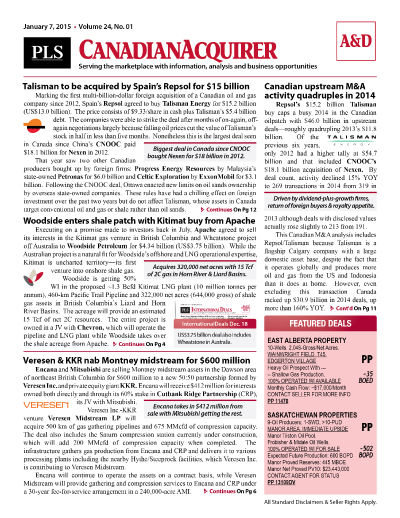 The CanadianAcquirer (red banner report) covers news and analysis on the Canadian acquisitions and divestitures (A&D) sector. This news report on the active Canadian asset marketplace features analysis of corporate mergers, property divestitures, completed transactions, deals in play and deal metrics.
PLS' most popular Canadian report
Single copy pricing; Includes hard copy & email version
Guaranteed to increase deal flow and market insight
Every 3 weeks
Latest in asset acquisitions, corporate M&A activity,
deals in play & industry buying trends
Access to archives editions of CanadianAcquirer
Phone request to multiple listing
$ 845 /Yr
Search PLS' News Archive for complete oil & gas news for CanadianAcquirer .
See what it is about before you buy. View a sample issue of CanadianAcquirer.
Need more information? Click the button to recieve more details about the CanadianAcquirer
Opportunity is a reflection of information.
Call 713-650-1212 For More Information
Search CanadianAcquirer:

Headline
Publication
News Date
Crescent Point subtracts in Canada and adds in US
The acquisition of Uinta Basin assets in Utah and the sale of Manitoba non-op conventional assets in Canada helped boost Crescent Point's YOY net production by 5% to 175,615 boe/d in Q2. The Uinta...
Aug 08, 2017
Dealmaking pauses but more M&A possible in 2H17
M&A is the slowest we've seen so far this year with five announced deals since our last issue on July 18. The total disclosed deal value of C$10.3 million (US$81.2 million) is markedly down from July...
Aug 08, 2017
History echoes: M&A was slow and low one year ago
One year ago, Canadian M&A was in a similar predicament as it is in now. Low oil prices were discouraging deal making and the robust, broad-based recovery seen in the US at that time had not yet...
Aug 08, 2017
Get more news for CanadianAcquirer