CanadianAcquirer
Serving the Canadian E&P market with news, analysis and business opportunities.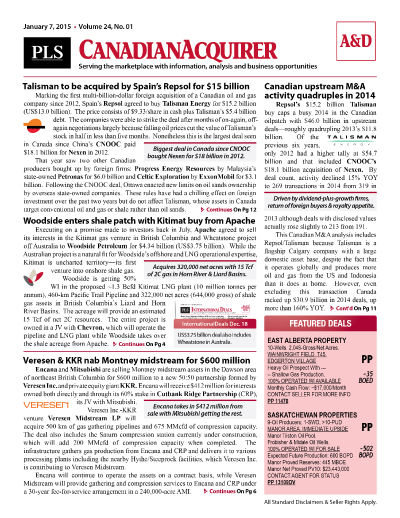 The CanadianAcquirer (red banner report) covers news and analysis on the Canadian acquisitions and divestitures (A&D) sector. This news report on the active Canadian asset marketplace features analysis of corporate mergers, property divestitures, completed transactions, deals in play and deal metrics.
PLS' most popular Canadian report
Single copy pricing; Includes hard copy & email version
Guaranteed to increase deal flow and market insight
Every 3 weeks
Latest in asset acquisitions, corporate M&A activity,
deals in play & industry buying trends
Access to archives editions of CanadianAcquirer
Phone request to multiple listing
$ 845 /Yr
Search PLS' News Archive for complete oil & gas news for CanadianAcquirer .
See what it is about before you buy. View a sample issue of CanadianAcquirer.
Need more information? Click the button to recieve more details about the CanadianAcquirer
Opportunity is a reflection of information.
Call 713-650-1212 For More Information
Search CanadianAcquirer:

Headline
Publication
News Date
Apache intensifies focus on the Permian Basin
Apache will use the proceeds from its divestiture to Cardinal Energy to invest in its core US growth areas. In the Permian Basin, its 1Q17 production was 147,534 boe/d (75,210 bbl/d oil, 227.6 MMcf/d...
Jun 06, 2017
Upstream M&A slams on the brakes…again
"M&A is low and slow again" was the title of our column last month, and it could very well apply again this month. The PLS Global M&A Database shows that from May 15-June 1, only four deals were...
Jun 06, 2017
Montney pure play Painted Pony closes $230 UGR buy
Painted Pony Energy (formerly Painted Pony Petroleum Ltd.) closed its $229.6 million acquisition of Unconventional Resources Canada, a subsidiary of private equity firms ARC Financial Corp. and EnCap...
Jun 06, 2017
Paramount completes $150MM Valhalla sale
Paramount Resources closed the $150 million sale of Valhalla area assets announced last month as it amasses capital to build out infrastructure to relieve Montney production. The properties encompass...
Jun 06, 2017
People Briefs - June 06, 2017
Denver-based Berkana Resources, a provider of SCADA system integration, security, compliance and consulting, has opened a Calgary office. The company was founded in 2004 as a women-owned company, and...
Jun 06, 2017
Get more news for CanadianAcquirer