CapitalMarkets
Serving the finance market with news, analysis and investment opportunities.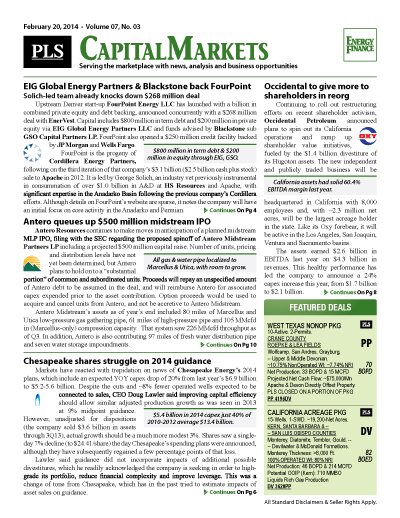 PLS publishes news and analysis in the energy finance sector through its capital markets module. The green banner report includes news and analysis on company budgets, capital spending, financial performance and interviews with leading capital providers.
Your access to energy finance
Single copy pricing; Incl hard copy & email version
Increase market insight & deal flow
Every 3 weeks; 17+ issues per year
Covers financings, capex, earnings, new companies
Includes market analysis and new trends
Access to capital market archives
Phone request for multiple listings published in reports
Includes discounts for other PLS products & events
Are you looking to subscribe to Capitalize? Click here for the latest Capital Markets Report
Search PLS' News Archive for complete oil & gas news for CapitalMarkets .
See what it is about before you buy. View a sample issue of CapitalMarkets.
Need more information? Click the button to recieve more details about the CapitalMarkets
Opportunity is a reflection of information.
Call 713-650-1212 For More Information
Search CapitalMarkets:

Headline
Publication
News Date
Private equity driving the new Upstream order
Christopher George, director of PLS' Capitalize business, told Energy Intelligence Finance that private equity has stepped in to fill the gap in the energy industry left by the departure of public...
Mar 06, 2018
Industry conditions & tax laws welcome back MLPs
Sentiment toward master limited partnerships is slowly creeping its way back up after a four-year downturn that saw the MLP sector lose about 47% of its value. As of now, dividend yields are nearing...
Mar 06, 2018
Get more news for CapitalMarkets