CapitalMarkets
Serving the finance market with news, analysis and investment opportunities.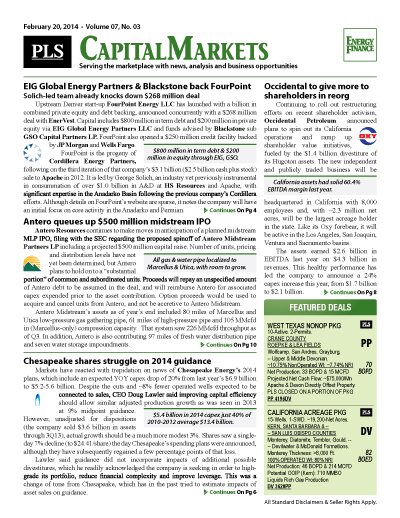 PLS publishes news and analysis in the energy finance sector through its capital markets module. The green banner report includes news and analysis on company budgets, capital spending, financial performance and interviews with leading capital providers.
Your access to energy finance
Single copy pricing; Incl hard copy & email version
Increase market insight & deal flow
Every 3 weeks; 17+ issues per year
Covers financings, capex, earnings, new companies
Includes market analysis and new trends
Access to capital market archives
Phone request for multiple listings published in reports
Includes discounts for other PLS products & events
Are you looking to subscribe to Capitalize? Click here for the latest Capital Markets Report
Search PLS' News Archive for complete oil & gas news for CapitalMarkets .
See what it is about before you buy. View a sample issue of CapitalMarkets.
Need more information? Click the button to recieve more details about the CapitalMarkets
Opportunity is a reflection of information.
Call 713-650-1212 For More Information
Search CapitalMarkets:

Headline
Publication
News Date
Higher costs send Apache Q1 net to $145 million
Stronger commodity prices boosted Q1 revenue and cash flows for Apache Corp. but higher operating costs weighed down margins and earnings as the company reported 32% less net income YOY at...
May 11, 2018
Centennial borrowing base increased to $800MM
Centennial Resource Development Inc. said it closed a new five-year revolving credit facility on May 4. The borrowing base under the new credit facility increased by 39% to $800 million from...
May 11, 2018
'Premium only' plan drives $639MM to EOG's net
EOG Resources reported strong operating results in Q1 with net income of $638.6 million, a massive increase from $28.5 million in 1Q17. Improved crude, gas and NGL production combined with...
May 11, 2018
Get more news for CapitalMarkets