CapitalMarkets
Serving the finance market with news, analysis and investment opportunities.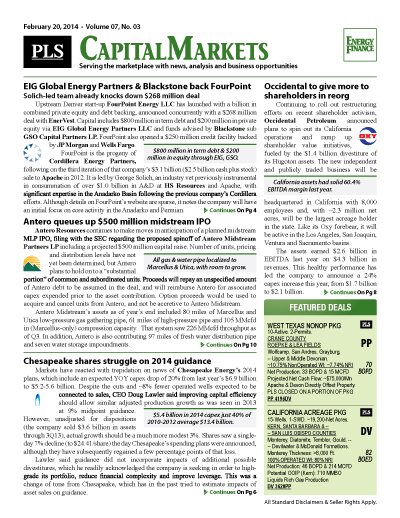 PLS publishes news and analysis in the energy finance sector through its capital markets module. The green banner report includes news and analysis on company budgets, capital spending, financial performance and interviews with leading capital providers.
Your access to energy finance
Single copy pricing; Incl hard copy & email version
Increase market insight & deal flow
Every 3 weeks; 17+ issues per year
Covers financings, capex, earnings, new companies
Includes market analysis and new trends
Access to capital market archives
Phone request for multiple listings published in reports
Includes discounts for other PLS products & events
$ 695 /Yr
Are you looking to subscribe to Capitalize? Click here for the latest Capital Markets Report
Search PLS' News Archive for complete oil & gas news for CapitalMarkets .
See what it is about before you buy. View a sample issue of CapitalMarkets.
Need more information? Click the button to recieve more details about the CapitalMarkets
Opportunity is a reflection of information.
Call 713-650-1212 For More Information
Search CapitalMarkets:

Headline
Publication
News Date
Harvey's impact likely to stunt US Q3 growth by 1%
The rains caused by the arrival of Hurricane Harvey are expected to have some long-term effects on overall economic growth. The storm is expected to be one of the most expensive natural disasters in...
Oct 11, 2017
Matador nets $208MM for Delaware acreage purchase
Matador Resources Co. announced that it had sold 8.0 million of its common shares on Oct. 4 at $26.09 through joint underwriters BMO Capital Markets and Scotia Capital to net $208.1 million. The...
Oct 11, 2017
Yuma Energy hopes to net $9.8MM from share sale
Yuma Energy, Inc. launched an offering of 9.6 million common shares at $1.00 a share on Sept. 28. The company's shares were trading on AMEX at $1.14 each as of that date. The company said that...
Oct 11, 2017
Get more news for CapitalMarkets