CapitalMarkets
Serving the finance market with news, analysis and investment opportunities.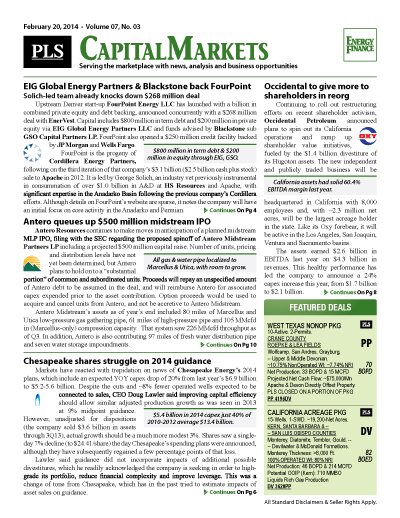 PLS publishes news and analysis in the energy finance sector through its capital markets module. The green banner report includes news and analysis on company budgets, capital spending, financial performance and interviews with leading capital providers.
Your access to energy finance
Single copy pricing; Incl hard copy & email version
Increase market insight & deal flow
Every 3 weeks; 17+ issues per year
Covers financings, capex, earnings, new companies
Includes market analysis and new trends
Access to capital market archives
Phone request for multiple listings published in reports
Includes discounts for other PLS products & events
Are you looking to subscribe to Capitalize? Click here for the latest Capital Markets Report
Search PLS' News Archive for complete oil & gas news for CapitalMarkets .
See what it is about before you buy. View a sample issue of CapitalMarkets.
Need more information? Click the button to recieve more details about the CapitalMarkets
Opportunity is a reflection of information.
Call 713-650-1212 For More Information
Search CapitalMarkets:

Headline
Publication
News Date
CM - Analyst Notes - November 15, 2018
Cabot Oil & Gas Corp. (NYSE: COG: $22.92-Oct. 29; Buy; PT-$23)Cabot's 2019 guidance, while generally in-line with TPHe was below the Street on growth, and the continued prioritization of...
Nov 15, 2018
Halcón borrowing base will rise on water flow
Halcon Resources received commitments to increase its borrowing base to $275 million from $200 million when it closes the sale of its water infrastructure assets in December. Pro forma for the sale...
Nov 15, 2018
Blackstone could realize investment in LLOG JV
Gulf of Mexico E&P LLOG Exploration Co., the Covington, Louisiana-based joint venture partner of private equity giant Blackstone Group, is allegedly talking to parties about selling its operations in...
Nov 15, 2018
CM - News Briefs - November 15, 2018
KLX Energy Services Holdings, Inc. closed its $250 million aggregate principal amount of 11.5% senior secured notes due 2025 on Oct. 31. The company used the proceeds to complete the purchase of...
Nov 15, 2018
CM - People Briefs - November 15, 2018
Amazing Energy Oil and Gas named Marty Dobbins CFO. He was most recently president and CEO of InFocus Venture Group and has accumulated 40 years of experience in various industries. EQT...
Nov 15, 2018
CM - Credit Briefs - November 15, 2018
Amplify Energy announced that subsidiaries OLLC and Amplify Acquisitionco, Inc. entered into a new $425 million reserve-based revolving credit facility on Nov. 2 with Bank of Montreal and...
Nov 15, 2018
Get more news for CapitalMarkets