CapitalMarkets
Serving the finance market with news, analysis and investment opportunities.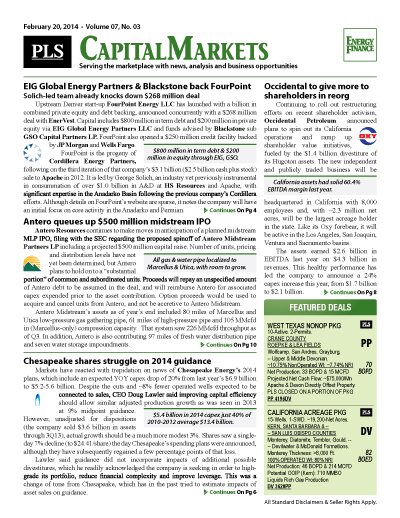 PLS publishes news and analysis in the energy finance sector through its capital markets module. The green banner report includes news and analysis on company budgets, capital spending, financial performance and interviews with leading capital providers.
Your access to energy finance
Single copy pricing; Incl hard copy & email version
Increase market insight & deal flow
Every 3 weeks; 17+ issues per year
Covers financings, capex, earnings, new companies
Includes market analysis and new trends
Access to capital market archives
Phone request for multiple listings published in reports
Includes discounts for other PLS products & events
Are you looking to subscribe to Capitalize? Click here for the latest Capital Markets Report
Search PLS' News Archive for complete oil & gas news for CapitalMarkets .
See what it is about before you buy. View a sample issue of CapitalMarkets.
Need more information? Click the button to recieve more details about the CapitalMarkets
Opportunity is a reflection of information.
Call 713-650-1212 For More Information
Search CapitalMarkets:

Headline
Publication
News Date
NRG redeems $486 million in 2022 maturing debt
NRG Energy Inc. redeemed $486 million principal amount of its 6.25% Senior Notes due 2022 at 103.125 plus accrued and unpaid interest through redemption. The power company said the partial redemption...
Sep 13, 2018
PetroQuest signs new $50 million term loan
PetroQuest Energy, Inc. borrowed $50 million to help repay some of its existing debt and to fund working capital. The company signed the new 10% p.a. loan with affiliates of New York Life Investment...
Sep 13, 2018
CM Developments & Trends - September 13, 2018
EPEC Holdings Inc. launched a Regulation C private placement for $10,000-$535,000 of 3% convertible promissory notes due 2019 through a crowdfunding platform on Sept. 5. The notes would convert into...
Sep 13, 2018
Magnolia aims for $10-12 billion market cap
Steve Chazen is confident his new business Magnolia Oil & Gas will more than triple in valuation during coming years to $10-12 billion from its current market cap of roughly $3.1...
Sep 13, 2018
Get more news for CapitalMarkets