Eastern Scout
Serving the local market with drilling activities, permits & multiple listings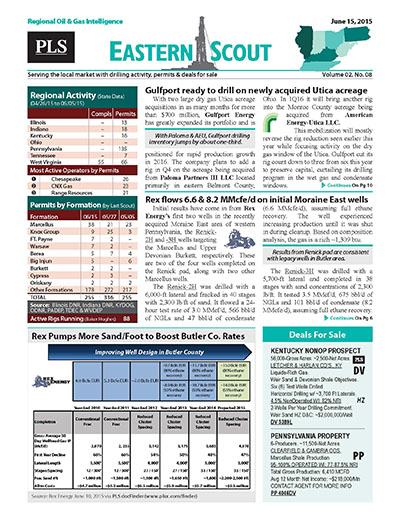 PLS's new Eastern Scout covers local drilling activity, permit data, rig activity and completions in the Eastern region (Pennsylvania, Ohio & West Virginia). Like all of PLS's Regionals this report includes a wealth of statistical analysis on activities and corporate performance. The reports also layer select advertising, business opportunities and multiple listings for sale.
Stay in front of local prospects, plays & rigs!
Pennsylvania, Ohio & West Virginia
Hard Copy and Email For 1 Individual
Every 3 to 4 Weeks (15 issues per year)
Regional discoveries, drilling activity, permits,
completions and summary drilling statistics, layered
with regional listings and business opportunities
Web access to the Eastern Scout archive
Does not include access to MLS
Search PLS' News Archive for complete oil & gas news for Eastern Scout .
See what it is about before you buy. View a sample issue of Eastern Scout.
Need more information? Click the button to recieve more details about the Eastern Scout
Opportunity is a reflection of information.
Call 713-650-1212 For More Information
Search Eastern Scout:

Headline
Publication
News Date
Range hits new production record in Appalachia
Range Resources grew its Appalachian natural gas production to a record 1.2 Bcf/d in Q1. Overall volumes Appalachian volumes were 1.8 Bcfe/d, up 20% YOY. The southwest division averaged 1.7 Bcfe/d,...
May 08, 2018
Regional Highlights - May 08, 2018
The U.S. Supreme court denied to review the judgement of the U.S. Court of Appeals for the Second Circuit that allowed New York State DEC to reject the Water Quality Certification for the...
May 08, 2018
EQT Highlights - May 08, 2018
EQT spud 24 Marcellus, two Upper Devonian and six (net) Ohio Utica wells during Q1 and turned to sales 25, five and four (net) wells, respectively. Marcellus laterals averaged 14,000 ft, Upper...
May 08, 2018
Chesapeake Highlights - May 08, 2018
In the Utica shale in Ohio, Chesapeake is currently running two drilling rigs and placed ten wells on production during Q1. The company has recently changed its completion methodologies resulting in...
May 08, 2018
Cabot Highlights - May 08, 2018
During Q1, Cabot produced 1.822 Bcf/d in the Marcellus, up 3% sequentially despite the company not placing any wells on production. During Q2, the company plans to place 20 net wells on...
May 08, 2018
ETP Highlights - May 08, 2018
ETP received FERC approval to place additional Phase 2 facilities in service for the Rover pipeline, including Mainline Compressor Station 3 located in Crawford County, Ohio, and a section of the...
May 08, 2018
Cove Point LNG begins commercial operations
Dominion's Cove Point LNG export terminal has entered commercial service after a letter order from the FERC on March 5 granted service commencement rights. The facility with a capacity of 750 MMcf/d...
Apr 17, 2018
Get more news for Eastern Scout