Eastern Scout
Serving the local market with drilling activities, permits & multiple listings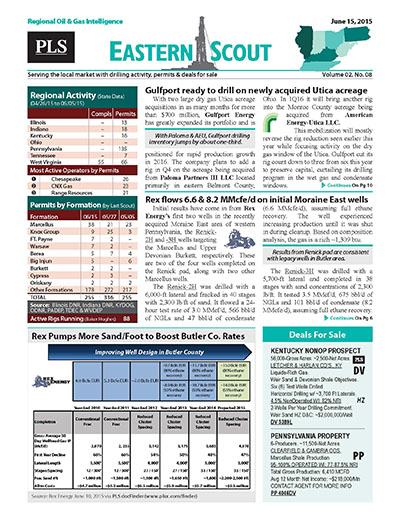 PLS's new Eastern Scout covers local drilling activity, permit data, rig activity and completions in the Eastern region (Pennsylvania, Ohio & West Virginia). Like all of PLS's Regionals this report includes a wealth of statistical analysis on activities and corporate performance. The reports also layer select advertising, business opportunities and multiple listings for sale.
Stay in front of local prospects, plays & rigs!
Pennsylvania, Ohio & West Virginia
Hard Copy and Email For 1 Individual
Every 3 to 4 Weeks (15 issues per year)
Regional discoveries, drilling activity, permits,
completions and summary drilling statistics, layered
with regional listings and business opportunities
Web access to the Eastern Scout archive
Does not include access to MLS
Search PLS' News Archive for complete oil & gas news for Eastern Scout .
See what it is about before you buy. View a sample issue of Eastern Scout.
Need more information? Click the button to recieve more details about the Eastern Scout
Opportunity is a reflection of information.
Call 713-650-1212 For More Information
Search Eastern Scout:

Headline
Publication
News Date
CNX's Richhill well outperforming type curve
CNX Resources is seeing strong results from its Richhill-11E well targeting the deep dry Utica in southwest Pennsylvania. After ~150 days online, the Greene County well is tracking an EUR of 3.5 Bcfe...
Sep 11, 2018
Ohio natural gas volumes rise 42% YOY in Q2
According to the Ohio Department of Natural Resources, Ohio's natural gas production rose to a record 554.31 Bcf (6.1 Bcf/d) during Q2. Volumes are up 42.3% compared to the 389.66 Bcf (4.3 Bcf/d)...
Sep 11, 2018
ES - Antero Highlights - September 11, 2018
Thanks to significant efficiency gains during 1H18, Antero plans to go from six to four completion crews in 2H18 as it maintains guidance of 20% production growth to a 2018 average of 2.7 Bcfe/d...
Sep 11, 2018
ES - Southwestern Highlights - September 11, 2018
Concurrent with the sale of its $1.9B Fayetteville shale assets, Southwestern announced plans to use a portion of the cash proceeds to accelerate development in West Virginia. The company plans...
Sep 11, 2018
ES - TransCanada Highlights - September 11, 2018
FERC approved Transcanada's rate increase on Mountaineer Xpress from $9.827/dekatherm to $14.663/dekatherm. The 2.7 Bcf/d project will cost nearly $1.0 billion more than originally expected and that...
Sep 11, 2018
ES - Dominion Highlights - September 11, 2018
Dominion secured commitments totaling $3B from over 20 lenders for its three-year, non-amortizing, Cove Point term loan facility. The company Dominion intends to use the proceeds from the financing...
Sep 11, 2018
Southwestern improves economics in Tioga County
During Q2 Southwestern Energy made numerous gains on its Tioga County, Pennsylvania. acreage in its Northeast Appalachia operating area. A three-well pad in the county saw a 12% reduction in...
Aug 21, 2018
Get more news for Eastern Scout