Eastern Scout
Serving the local market with drilling activities, permits & multiple listings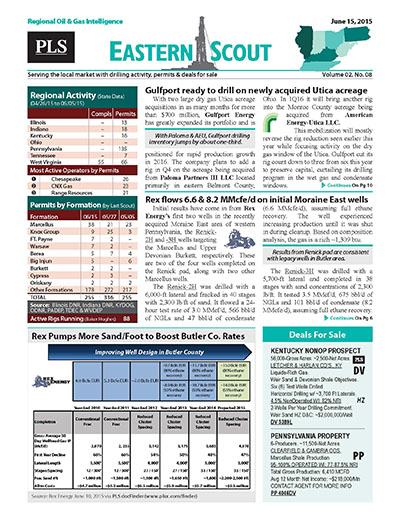 PLS's new Eastern Scout covers local drilling activity, permit data, rig activity and completions in the Eastern region (Pennsylvania, Ohio & West Virginia). Like all of PLS's Regionals this report includes a wealth of statistical analysis on activities and corporate performance. The reports also layer select advertising, business opportunities and multiple listings for sale.
Stay in front of local prospects, plays & rigs!
Pennsylvania, Ohio & West Virginia
Hard Copy and Email For 1 Individual
Every 3 to 4 Weeks (15 issues per year)
Regional discoveries, drilling activity, permits,
completions and summary drilling statistics, layered
with regional listings and business opportunities
Web access to the Eastern Scout archive
Does not include access to MLS
Search PLS' News Archive for complete oil & gas news for Eastern Scout .
See what it is about before you buy. View a sample issue of Eastern Scout.
Need more information? Click the button to recieve more details about the Eastern Scout
Opportunity is a reflection of information.
Call 713-650-1212 For More Information
Search Eastern Scout:

Headline
Publication
News Date
EQT Highlights - March 06, 2018
The top completion of this issue is EQT's Well #512916 (8,243-ft lateral) in Wetzel County, WV. The well tested at an 84-hour IP of 21.0 MMcf/d from the Marcellus.EQT drilled 144 Marcellus,...
Mar 06, 2018
Chesapeake Highlights - March 06, 2018
In the Marcellus, Chesapeake is currently utilizing one rig and expects to place on production up to 55 wells in 2018, compared to 43 wells in 2017. CHK expects to keep its total gross operated...
Mar 06, 2018
Cabot Highlights - March 06, 2018
Running three rigs and two completion crews in the Marcellus, Cabot plans to drill 85 net and complete 95 nets wells during 2018. Laterals will average 8,300 ft and well costs will be $8.3MM. Of the...
Mar 06, 2018
Southwestern Highlights - March 06, 2018
During Q4, Southwestern expanded its prospective rich gas footprint in SW Appalachia by placing its northern most pad to sales in Brooke County, which has produced 7.9 Bcfe from four wells after 240...
Mar 06, 2018
Get more news for Eastern Scout