Eastern Scout
Serving the local market with drilling activities, permits & multiple listings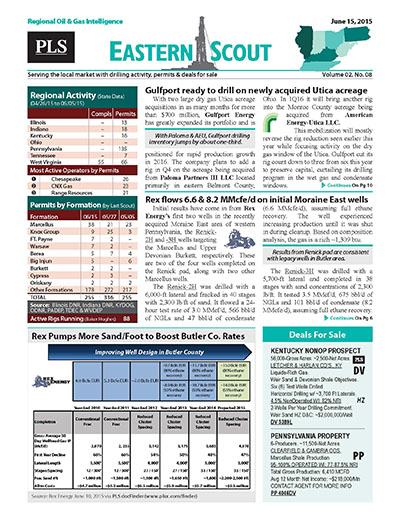 PLS's new Eastern Scout covers local drilling activity, permit data, rig activity and completions in the Eastern region (Pennsylvania, Ohio & West Virginia). Like all of PLS's Regionals this report includes a wealth of statistical analysis on activities and corporate performance. The reports also layer select advertising, business opportunities and multiple listings for sale.
Stay in front of local prospects, plays & rigs!
Pennsylvania, Ohio & West Virginia
Hard Copy and Email For 1 Individual
Every 3 to 4 Weeks (15 issues per year)
Regional discoveries, drilling activity, permits,
completions and summary drilling statistics, layered
with regional listings and business opportunities
Web access to the Eastern Scout archive
Does not include access to MLS
$ 695 /Yr
Search PLS' News Archive for complete oil & gas news for Eastern Scout .
See what it is about before you buy. View a sample issue of Eastern Scout.
Need more information? Click the button to recieve more details about the Eastern Scout
Opportunity is a reflection of information.
Call 713-650-1212 For More Information
Search Eastern Scout:

Headline
Publication
News Date
Rex's Moraine East results meet expectations
Rex Energy gave an update on its drilling program in the Moraine East area. The company recently brought three pads online. Initial production rates are as expected and the company is confident...
Oct 03, 2017
Regional Highlights - October 3, 2017
There are 82 active rigs- 79 gas and 3 oil- in the Eastern Region this issue, up from 50 YOY. Monroe Co., OH, has more than doubled its YOY rig count to nine from four. Susquehanna...
Oct 03, 2017
EIA Highlights - October 3, 2017
The EIA projects the Appalachia region's new-well gas production per rig will drop to 14,179 Mcf/d in October, down 59 Mcf/d from September. In the same time period, the play's overall gas production...
Oct 03, 2017
Antero: a story of rapid growth and innovation
At the end of 2012 Antero Resources reinvented itself, divesting its last non -Appalachian asset ($325 million in Piceance Basin assets sold to Ursa Resources) and went all-in in Appalachia. At that...
Sep 12, 2017
Regional Highlights - September 12, 2017
There are 80 active rigs- 77 gas and three oil- in the Eastern Region this issue, up from 48 YOY. The most active county is Belmont County, OH with 10 rigs, up from six a year...
Sep 12, 2017
Get more news for Eastern Scout