Eastern Scout
Serving the local market with drilling activities, permits & multiple listings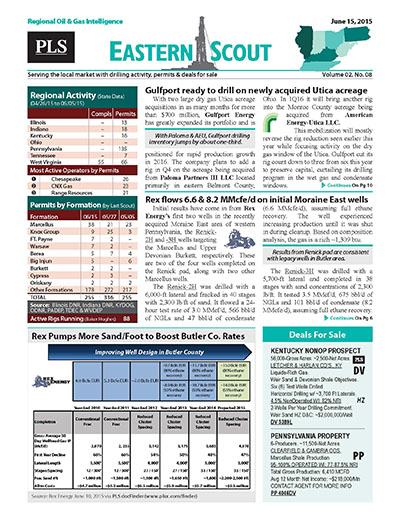 PLS's new Eastern Scout covers local drilling activity, permit data, rig activity and completions in the Eastern region (Pennsylvania, Ohio & West Virginia). Like all of PLS's Regionals this report includes a wealth of statistical analysis on activities and corporate performance. The reports also layer select advertising, business opportunities and multiple listings for sale.
Stay in front of local prospects, plays & rigs!
Pennsylvania, Ohio & West Virginia
Hard Copy and Email For 1 Individual
Every 3 to 4 Weeks (15 issues per year)
Regional discoveries, drilling activity, permits,
completions and summary drilling statistics, layered
with regional listings and business opportunities
Web access to the Eastern Scout archive
Does not include access to MLS
$ 695 /Yr
Search PLS' News Archive for complete oil & gas news for Eastern Scout .
See what it is about before you buy. View a sample issue of Eastern Scout.
Need more information? Click the button to recieve more details about the Eastern Scout
Opportunity is a reflection of information.
Call 713-650-1212 For More Information
Search Eastern Scout:

Headline
Publication
News Date
Antero keeping costs down & proppant loads up
Antero's Q1 completion activity was limited to the Marcellus, where it brought 25 new wells online sporting 8,850-ft laterals. These wells yielded an average 30-day rate of 18.6 MMcfe/d. The company...
Jun 13, 2017
Regional Highlights - June 13, 2017
• There are 77 rigs in the Eastern region, 74 gas and three oil, up from 39 YOY. • Effingham, Fayette and White counties, IL, each have one oil rig running. • Jefferson Co., OH, has...
Jun 13, 2017
Regional Highlights - May 23, 2017
• The Eastern region has 73 active rigs this issue—71 gas and two oil—up from 41 YOY. • Cabot's initial 20 wells completed with the fourthgeneration completion design are performing 14% above...
May 23, 2017
EQT will accelerate completions in second quarter
EQT was actively drilling during 1Q17, spudding 48 wells—28 Marcellus (8,600-ft lateral), 19 Upper Devonian (9,000-ft lateral) and one Utica (8,000-ft lateral). The company didn't complete any wells...
May 02, 2017
Regional Highlights - May 2, 2017
• The Eastern region has 71 active rigs this issue—68 gas, two oil and one miscellaneous—up from 41 YOY. • The top county this issue is Washington County, Pennsylvania, with 11 rigs, up from...
May 02, 2017
Get more news for Eastern Scout