International Scout
Serving the global E&P market with news, analysis and business opportunities.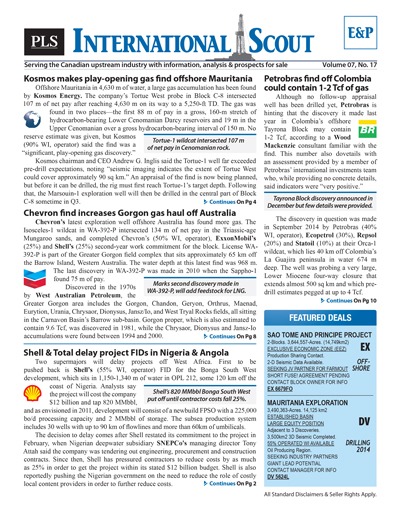 PLS publishes news and analysis on the international exploration and production (E&P) sector through its International Scout. Published every 3 weeks, the blue banner report covers new well discoveries, drilling activities, acreage sales, industry statistics (drilling results, activity permits & intents to drill) and technological updates.
Covering exploration & production
Single copy pricing; Incl hard copy & email version
Increase market insight & deal flow
Every 3 weeks
Latest in exploration, discoveries, resource plans, land grabs, volumes, development projects & trends
Access to International Scout archives
Phone request for prospects and lands listed for sale
Includes discounts for other PLS products & events
Search PLS' News Archive for complete oil & gas news for International Scout .
See what it is about before you buy. View a sample issue of International Scout.
Need more information? Click the button to recieve more details about the International Scout
Opportunity is a reflection of information.
Call 713-650-1212 For More Information
Search International Scout:

Headline
Publication
News Date
MOL to drill well in PL 869
MOL will drill an exploration well in PL 869 in the North Sea during Q3. The well will target the Oppdal-Driva prospect and will be drilled using the jack-up rig Rowan Viking to 3,735 m TD....
Jun 28, 2018
Groningen production cut pace to be quickened
The Netherlands wants to reduce production at Groningen field more quickly than initially thought possible. Groningen now produces 1.16 Bcf/d, but earthquakes caused by reservoir depletion have led...
Jun 28, 2018
New Age pushing forward with Cameroon FLNG plans
Cameroon agreed on fiscal terms for New Age African Global Energy's proposal to deploy a newbuild, 1.4-mtpa floating LNG plant to process gas from the Etinde production sharing contract. The unit...
Jun 28, 2018
CNOOC targets 2021 for Ugandan first oil
CNOOC and Total seem set to sanction development of four blocks in Uganda containing 6.5 Bbo this year following resolution of a dispute over ownership. Last year, Total, CNOOC and Tullow Oil were to...
Jun 28, 2018
Exxon orders up studies of big Nigerian discovery
ExxonMobil will try to get a better picture of the Owowo discovery, offshore Nigeria. The supermajor recently issued pre-qualification documents for a 3D and 4D seismic survey and an ocean bottom...
Jun 28, 2018
Namibia drilling highlights Africa's E&P recovery
Namibia will see two sets of players drill offshore in autumn. The first, led by Tullow Oil, will probe the 124-MMboe Cormorant prospect in Walvis Basin block PEL 37 in September. Cormorant is one of...
Jun 28, 2018
People Briefs - June 28, 2018
Chevron permanently assigned the head of its Brazilian operation to run its Venezuelan operations. Chevron Brazil president Javier La Rosa was named president of Chevron Venezuela on June 8....
Jun 28, 2018
Get more news for International Scout