International Scout
Serving the global E&P market with news, analysis and business opportunities.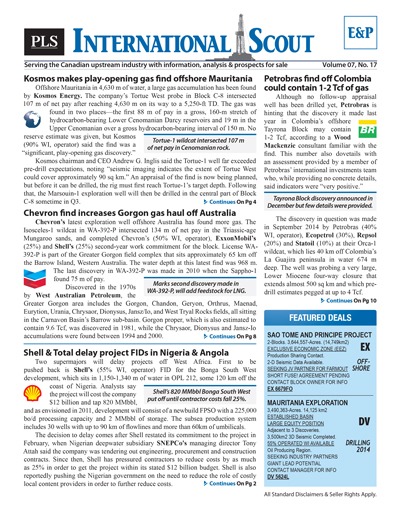 PLS publishes news and analysis on the international exploration and production (E&P) sector through its International Scout. Published every 3 weeks, the blue banner report covers new well discoveries, drilling activities, acreage sales, industry statistics (drilling results, activity permits & intents to drill) and technological updates.
Covering exploration & production
Single copy pricing; Incl hard copy & email version
Increase market insight & deal flow
Every 3 weeks
Latest in exploration, discoveries, resource plans, land grabs, volumes, development projects & trends
Access to International Scout archives
Phone request for prospects and lands listed for sale
Includes discounts for other PLS products & events
$ 745 /Yr
Search PLS' News Archive for complete oil & gas news for International Scout .
See what it is about before you buy. View a sample issue of International Scout.
Need more information? Click the button to recieve more details about the International Scout
Opportunity is a reflection of information.
Call 713-650-1212 For More Information
Search International Scout:

Headline
Publication
News Date
Partner dispute threatens Cairn's big Senegal find
Development of the gross 2.7 Bbo Cairn Energy has found off Senegal might be delayed due to a dispute between the discovery's partners. Far Ltd., which owns a 15% stake in the Sangomar Block objects...
Jun 14, 2017
Tullow begins exporting oil from Kenya
Tullow Oil started exporting 2,000 bo/d from Kenya. The oil is being sourced from pilot production that the company started at its South Lokichar Basin assets, where Tullow is producing from two...
Jun 14, 2017
Mari Petroleum finds gas in Pakistani block
Mari Petroleum found gas in Pakistan's Sindh province. The Aqeeq-1 exploration well was drilled to 2,320 m TD into the sands of the Upper and Lower Goru formation. Based on wireline logs and drilling...
Jun 14, 2017
OPEC deal is transforming the Russian oil patch
The decline of Russia's traditional West Siberian fields is increasing due to Russia's deal with OPEC and new tax policy from Moscow. Since Russia agreed to production cuts in October 2016, volumes...
Jun 14, 2017
New Regal Ukraine well tests at over 4.0 MMcfe/d
Regal Petroleum's MEX-109 well intersected a pay-bearing zone in Ukraine's Mekhedivsko-Golotovschinske field. The well was drilled to 4,873 m, 377 m shallower than intended due to technical issues,...
Jun 14, 2017
People & Companies - June 14, 2017
Baraka Energy & Resources announced the resignation of John Greeve as joint company secretary, leaving Timothy Clark as the sole secretary. Clark is also a non-executive director and joint...
Jun 14, 2017
Get more news for International Scout