International Scout
Serving the global E&P market with news, analysis and business opportunities.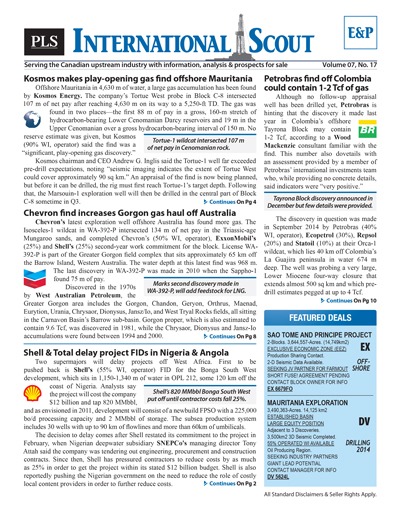 PLS publishes news and analysis on the international exploration and production (E&P) sector through its International Scout. Published every 3 weeks, the blue banner report covers new well discoveries, drilling activities, acreage sales, industry statistics (drilling results, activity permits & intents to drill) and technological updates.
Covering exploration & production
Single copy pricing; Incl hard copy & email version
Increase market insight & deal flow
Every 3 weeks
Latest in exploration, discoveries, resource plans, land grabs, volumes, development projects & trends
Access to International Scout archives
Phone request for prospects and lands listed for sale
Includes discounts for other PLS products & events
$ 745 /Yr
Search PLS' News Archive for complete oil & gas news for International Scout .
See what it is about before you buy. View a sample issue of International Scout.
Need more information? Click the button to recieve more details about the International Scout
Opportunity is a reflection of information.
Call 713-650-1212 For More Information
Search International Scout:

Headline
Publication
News Date
Banpu will spend $293MM in US shale
Thailand's Banpu plans to invest about $293 million in its US shale gas business through 2020, CEO Somrudee Chaimongkol said. The company will use the money for capital expenditures to boost gas...
Jul 28, 2017
BW Energy to lead offshore Gabon oil project
BW Energy partner Panoro Energy signed off on development of the shallow-water Dussafu Block off Gabon. Development will consist of two horizontal wells at Tortue field in the Gamba and Dentale...
Jul 28, 2017
Cairn's FAN South probe off Senegal also finds oil
Cairn Energy's drilled a follow-up to its 2014 FAN-1 well off Senegal. FAN South-1 reached 5,343 m TD and hit a Cretaceous reservoir containing 31° API oil. However, the well did not find oil in an...
Jul 28, 2017
Sinopec sees 58% reserve increase at Fuling
Sinopec's Fuling shale field in southwest China got a big reserve boost after being assessed by the Ministry of Land & Resources. MLR estimates Fuling contains 21.2 Tcf, a 58% increase over...
Jul 28, 2017
Caspian BNG well tests at 1,000 bo/d
Caspian Sunrise, formerly known as Roxi Petroleum, tested a shallow well at its BNG Block in Kazakhstan. Sunrise drilled well #144 to 2,500 m TD into Jurassic Callovian sands. Four intervals were...
Jul 28, 2017
CNPC restarts Uzbek oil project
CNPC started drilling at Mingbulak field in Uzbekistan after pausing operations in 2015 due to low prices. Xibu Drilling Engineering is carrying out the work, which will see four exploration wells...
Jul 28, 2017
Kashagan won't reach Phase 1 target until 2018
Predictions that Kashagan field in Kazakhstan would reach its Phase 1 target of 370,000 bo/d by YE17 have proven too optimistic. Kashagan will only reach 300,000 bo/d by YE17 as gas injection,...
Jul 28, 2017
Mexico is symbol for globe's recovering E&P sector
Mexico is emerging as a major center of E&P activity for international oil companies, something unimaginable just few years ago. Since the start of Mexico's energy sector liberalization in 2014-2015,...
Jul 28, 2017
Get more news for International Scout