International Scout
Serving the global E&P market with news, analysis and business opportunities.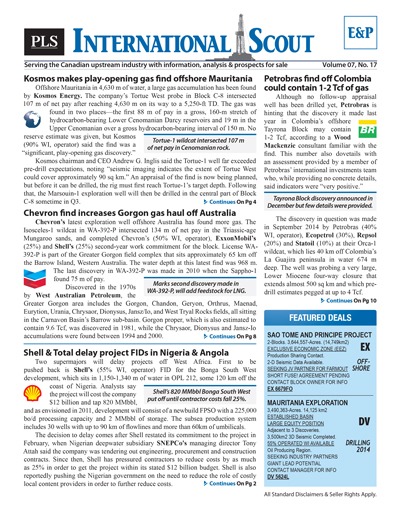 PLS publishes news and analysis on the international exploration and production (E&P) sector through its International Scout. Published every 3 weeks, the blue banner report covers new well discoveries, drilling activities, acreage sales, industry statistics (drilling results, activity permits & intents to drill) and technological updates.
Covering exploration & production
Single copy pricing; Incl hard copy & email version
Increase market insight & deal flow
Every 3 weeks
Latest in exploration, discoveries, resource plans, land grabs, volumes, development projects & trends
Access to International Scout archives
Phone request for prospects and lands listed for sale
Includes discounts for other PLS products & events
$ 745 /Yr
Search PLS' News Archive for complete oil & gas news for International Scout .
See what it is about before you buy. View a sample issue of International Scout.
Need more information? Click the button to recieve more details about the International Scout
Opportunity is a reflection of information.
Call 713-650-1212 For More Information
Search International Scout:

Headline
Publication
News Date
Duo hit new shallow-water gas off the Netherlands
Oranje-Nassau Energie's N05-1 exploration well found a significant amount of gas in the Dutch North Sea. N05-1 was initially drilled into a basal Rotliegendes sand target called Ruby, after which the...
Oct 16, 2017
Eni boosts Area 1 off Mexico to 1.4 Bboe in place
ENI proved its exploration chops once again by making another large find off Mexico in the Bay of Campeche's Area 1 concession. The company's Mizton-2 well reached 3,430 m in shallow-water Block 1...
Oct 16, 2017
Statoil aims to keep Troll producing past 2050
Statoil selected a subsea tieback concept as centerpiece of its Phase 3 development of Troll field, offshore Norway. The work will see installation of two subsea templates with a total of eight well...
Oct 16, 2017
Risks can be rewarding for those taking them
Calculated risk taking is what E&P is all about, and companies choosing right can see risks pay off big time even in a low price environment. ExxonMobil typifies this, and its ability to choose the...
Oct 16, 2017
Eni finds Goliat's Eye is shut off Norway
ENI's well on the Goliat Eye prospect offshore Norway in the Barents Sea was unsuccessful. Well 7122/10-1 S was drilled to 1,491 TD and intersected 35 m of moderate-to-good quality sand reservoir in...
Oct 16, 2017
Lundin strikes out on the Loppa High off Norway
Lundin Petroleum's exploration well on the Borselv Prospect in PL 609, offshore Norway, was dry. Well 7220/6-3 reached 1,275 m TD into a target resting in Permian-Carboniferous carbonates. A 380- m...
Oct 16, 2017
Hit & a miss for Aker BP in North Alvheim area
An Aker BP appraisal well on its Frigg Gamma Delta discovery off Norway yielded more oil, but likely not enough to boost resource estimates much. Well 25/2-19S was drilled in PL 442 to 2,325 m TD,...
Oct 16, 2017
Aker BP headed for Valhall Flank FID by YE17
FEED work for Aker BP's $1.0-billion Valhall Flank West development will be finished in November, leading to a likely FID and field development plan submission in December. The scheme consists of an...
Oct 16, 2017
Get more news for International Scout