International Scout
Serving the global E&P market with news, analysis and business opportunities.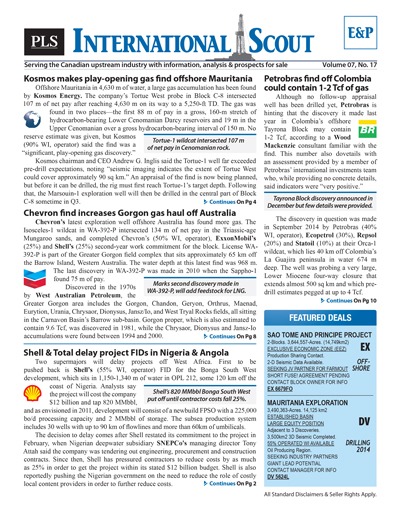 PLS publishes news and analysis on the international exploration and production (E&P) sector through its International Scout. Published every 3 weeks, the blue banner report covers new well discoveries, drilling activities, acreage sales, industry statistics (drilling results, activity permits & intents to drill) and technological updates.
Covering exploration & production
Single copy pricing; Incl hard copy & email version
Increase market insight & deal flow
Every 3 weeks
Latest in exploration, discoveries, resource plans, land grabs, volumes, development projects & trends
Access to International Scout archives
Phone request for prospects and lands listed for sale
Includes discounts for other PLS products & events
Search PLS' News Archive for complete oil & gas news for International Scout .
See what it is about before you buy. View a sample issue of International Scout.
Need more information? Click the button to recieve more details about the International Scout
Opportunity is a reflection of information.
Call 713-650-1212 For More Information
Search International Scout:

Headline
Publication
News Date
BP's Tortue-Ahmeyim FLNG headed for FID by YE18
A Senegal-Mauritania agreement covering development of cross-border resources has opened a path to a possible YE18 FID for BP and Kosmos' 15-Tcf Tortue-Ahmeyim Field. The deal between the two...
Mar 07, 2018
Ghana touts potential of Voltaian Basin onshore
A pilot survey in Ghana's Voltaian Basin has established the presence of a working petroleum system, reports Ghanaian president Nana Addo Dankwa Akufo-Addo. The Voltaian Basin, one of four in Ghana,...
Mar 07, 2018
Statoil remains tight-lipped about Tanzania find
Statoil's Pilipili-1 exploration well in Block 2 off Tanzania found hydrocarbons, but the Norwegian company provided few details about the find as it analyses the results. Ocean Rig's Poseidon...
Mar 07, 2018
Yinka looking at boosting Aje oil recovery
Yinka Folawiyo is eyeing new work at Aje field off Nigeria in order to increase production. One of the two active wells in the field, Aje-5, has been producing from the Turonian Oil Rim since May...
Mar 07, 2018
Green Dragon to start GGZ CBM flows in 2H18
Green Dragon Gas advanced its coalbed methane plans in 2017 by drilling 45 production wells in Baotian-Qingshan Block, also known as GGZ Block, and hooking 15 to infrastructure. Of these 15 wells,...
Mar 07, 2018
SK tests South China Sea oil find at 3,750 bo/d
SK Innovation found oil in PRMB Block 17/03, offshore China in the South China Sea. The company started drilling the well in December and after reaching 2,014 m TD determined that 34.8 m of net oil...
Mar 07, 2018
BP preps for next round of Caspian exploration
BP will carry out a three-well exploration program off Azerbaijan late in 2018 or early 2019 targeting the shallow-water Absheron Peninsula project area. BP hasn't said how much oil may lie there,...
Mar 07, 2018
Frontera starts three-well Georgian campaign
In Georgia, Frontera Resources encountered strong signs of hydrocarbons at Taribani field in Block 12. During the drilling of well T-45 a number of oil and associated gas shows were intersected at...
Mar 07, 2018
Get more news for International Scout