InternationalCapital
Serving the global finance market with news, analysis and business opportunities.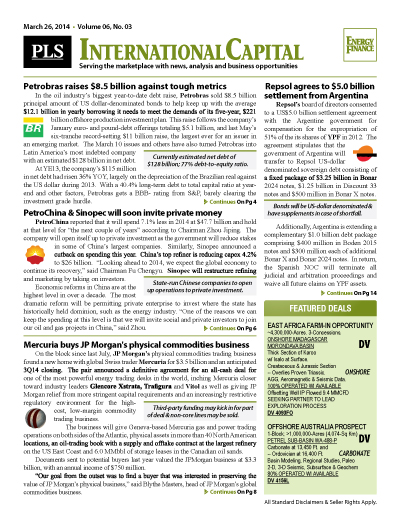 PLS publishes news and analysis in the energy finance sector through its InternationalCapital module. The green banner report includes news and analysis on company budgets, capital spending, financial performance and interviews with leading capital providers
Your access to energy finance
Single copy pricing; Incl hard copy & email version
Increase market insight & deal flow
Every 3 weeks
Covers financings, capex, earnings, new companies
Includes market analysis and new trends
Access to InternationalCapital archives
Phone request for multiple listings for sale
Includes discounts for other PLS products & events
Search PLS' News Archive for complete oil & gas news for InternationalCapital .
See what it is about before you buy. View a sample issue of InternationalCapital.
Need more information? Click the button to recieve more details about the InternationalCapital
Opportunity is a reflection of information.
Call 713-650-1212 For More Information
Search InternationalCapital:

Headline
Publication
News Date
OPEC production increase a probable 700,000 bo/d
Brent prices rose 3.4% to $75.55 a barrel following OPEC's June 22 decision to increase production by a number to be determined this month. Cartel members and cooperating producers like Russia will...
Jul 06, 2018
Austria's OMV sells €500MM hybrid bond offering
Austria's integrated national oil company OMV AG issued €500 million in hybrid notes that will pay 2.875% p.a. through the reset date of June 19, 2024. Thereafter, the interest rate will be...
Jul 06, 2018
Analysts Notes - July 06, 2018
Chevron, which we upgraded to Outperform last week, has been the fastest-growing among the supermajors in recent years, with 2017 production up 5.2% – all of it organic – and we forecast another 4.7%...
Jul 06, 2018
OPEC decision stokes optimism in oil world
Asia is a hotbed of energy excitement. Vedanta shareholders were offered a 28% premium for their shares (PG 7) of Cairn India's parent company, two Chinese chemical giants are positioning to join...
Jul 06, 2018
People & Companies - July 06, 2018
Echo Energy named Martin Hull as its next CFO, effective Aug. 1. Hull has worked 18 years in the industry, including previous experience with Rothschild & Sons in London, where he was Managing...
Jul 06, 2018
Get more news for InternationalCapital