InternationalCapital
Serving the global finance market with news, analysis and business opportunities.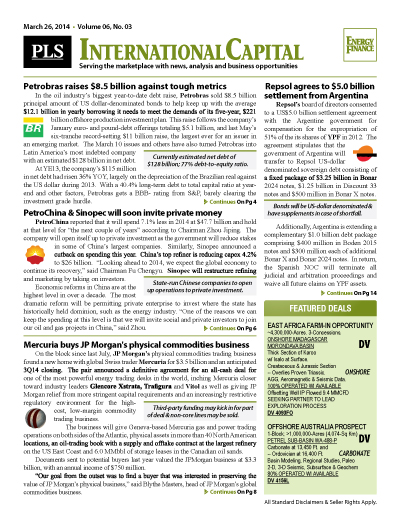 PLS publishes news and analysis in the energy finance sector through its InternationalCapital module. The green banner report includes news and analysis on company budgets, capital spending, financial performance and interviews with leading capital providers
Your access to energy finance
Single copy pricing; Incl hard copy & email version
Increase market insight & deal flow
Every 3 weeks
Covers financings, capex, earnings, new companies
Includes market analysis and new trends
Access to InternationalCapital archives
Phone request for multiple listings for sale
Includes discounts for other PLS products & events
Search PLS' News Archive for complete oil & gas news for InternationalCapital .
See what it is about before you buy. View a sample issue of InternationalCapital.
Need more information? Click the button to recieve more details about the InternationalCapital
Opportunity is a reflection of information.
Call 713-650-1212 For More Information
Search InternationalCapital:

Headline
Publication
News Date
Erin Energy files for bankruptcy protection
Erin Energy Corp., which has current production and other exploration projects offshore Nigeria, Ghana and The Gambia, filed for bankruptcy protection in the US on April 25, and had its common shares...
May 03, 2018
Cluff seeking to raise £0.75MM
AIM-listed Cluff Natural Resources Plc launched an offering of 46.875 million new ordinary shares at 1.6p each to raise £750,000. It would use proceeds to start evaluating any additional licenses in...
May 03, 2018
Africa Energy doubling common with $45MM raise
Africa Energy Corp. announced April 25 that it has upsized its private placement to raise $45 million after encountering high levels of interest in its initially contemplated $40 million raise during...
May 03, 2018
Angola's $5.0 billion oil fund switching advisers
Angola's oil-driven $5.0 billion sovereign wealth fund wants to remove Swiss-based Quantum Global as its asset manager, FSDEA said on April 27 citing concerns that the money manager's approach to...
May 03, 2018
Get more news for InternationalCapital