InternationalCapital
Serving the global finance market with news, analysis and business opportunities.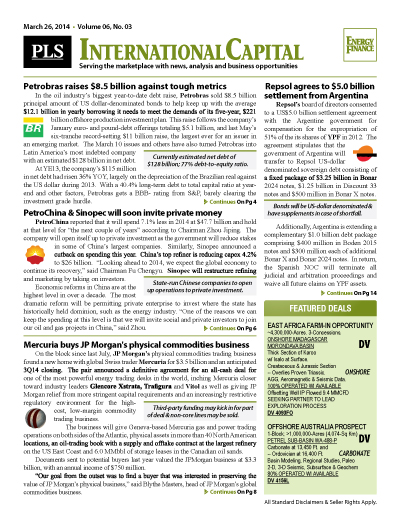 PLS publishes news and analysis in the energy finance sector through its InternationalCapital module. The green banner report includes news and analysis on company budgets, capital spending, financial performance and interviews with leading capital providers
Your access to energy finance
Single copy pricing; Incl hard copy & email version
Increase market insight & deal flow
Every 3 weeks
Covers financings, capex, earnings, new companies
Includes market analysis and new trends
Access to InternationalCapital archives
Phone request for multiple listings for sale
Includes discounts for other PLS products & events
Search PLS' News Archive for complete oil & gas news for InternationalCapital .
See what it is about before you buy. View a sample issue of InternationalCapital.
Need more information? Click the button to recieve more details about the InternationalCapital
Opportunity is a reflection of information.
Call 713-650-1212 For More Information
Search InternationalCapital:

Headline
Publication
News Date
NU finishes £2MM equity raise
Nu-Oil and Gas plc completed the sale of 160 million ordinary shares at 1.25p each on March 1, raising £2.0 million to continue implementing its stranded and marginal field strategy related to the...
Mar 16, 2018
Solo raises £2MM for further Horse Hill stake
Solo Oil Plc sold over 57.1 million new ordinary shares, or 14.6% of its shares outstanding, at 3.5p each for about £2.0 million. The company will use proceeds to fund its acquisition of a 5%...
Mar 16, 2018
SOCO Int. & Kuwait Energy cancel talks of merger
Soco International and Kuwait Energy cancelled talks to merge the two companies. The combination would have meant a London-listing for Kuwait Energy after several failed attempts to bring the company...
Mar 16, 2018
Triangle improving Cliff Head with $5.5MM
Perth-based Triangle Energy said it has committed $5.5 million to an asset life extension program this year for its Cliff Head oil field. Managing Director Rob Towner said Triangle started a...
Mar 16, 2018
Eon NRG closes small raise
ASX-traded Colorado-based Eon NRG Ltd, an independent oil and gas E&P focusing on Wyoming, Colorado, and California, said it placed 6,288,374 shares and options privately at $A0.01 per share to gross...
Mar 16, 2018
Get more news for InternationalCapital