InternationalCapital
Serving the global finance market with news, analysis and business opportunities.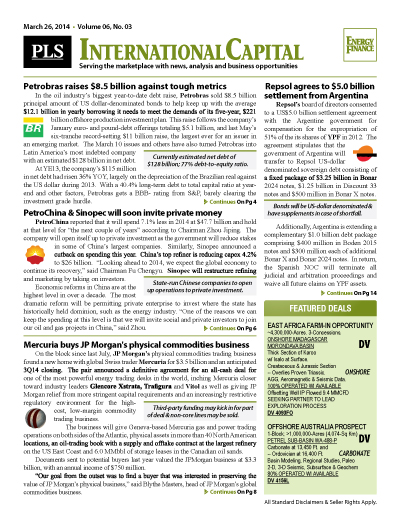 PLS publishes news and analysis in the energy finance sector through its InternationalCapital module. The green banner report includes news and analysis on company budgets, capital spending, financial performance and interviews with leading capital providers
Your access to energy finance
Single copy pricing; Incl hard copy & email version
Increase market insight & deal flow
Every 3 weeks
Covers financings, capex, earnings, new companies
Includes market analysis and new trends
Access to InternationalCapital archives
Phone request for multiple listings for sale
Includes discounts for other PLS products & events
Search PLS' News Archive for complete oil & gas news for InternationalCapital .
See what it is about before you buy. View a sample issue of InternationalCapital.
Need more information? Click the button to recieve more details about the InternationalCapital
Opportunity is a reflection of information.
Call 713-650-1212 For More Information
Search InternationalCapital:

Headline
Publication
News Date
Q3 results bring happiness, Q4 sanctions worry
Earnings and sanctions account for much of the coverage this cycle. You won't find any Q3 losses in this issue as BP and Total(PG.1), and a broad specturm of geographies represented by...
Nov 08, 2018
IC - People & Companies - November 08, 2018
BHP Billiton announced the retirement of Wayne Murdy as an independent non-executive director.CNOOC appointed Wang Dongjin as president, replacing Liu Jian, who is retiring. Wang transferred...
Nov 08, 2018
Ecopetrol earns $2.77B in FY18's first nine moths
Colombia's state-controlled EcoPetrol said it's enjoying its best year-to-date results since 2015. CEO Felipe Bayón Pardo announced that the company made COP 8.9 trillion ($2.77 billion) for the nine...
Nov 08, 2018
IC - Europe Briefs - November 8, 2018
AIM-listed Egdon Resources lost £1.98 million for its fiscal year ended July 31 on revenue of £1.00 million. It had written down £648,000 in assets and also incurred over £1.0 million in exploration...
Nov 08, 2018
IC - News Briefs - November 8, 2018
Norway's Equinor may invest in India's oil, gas and renewables industries, according to CEO Eldar Sætre. He told Reuters: "We are looking at India both from oil and gas, but also from the...
Nov 08, 2018
Get more news for InternationalCapital