InternationalCapital
Serving the global finance market with news, analysis and business opportunities.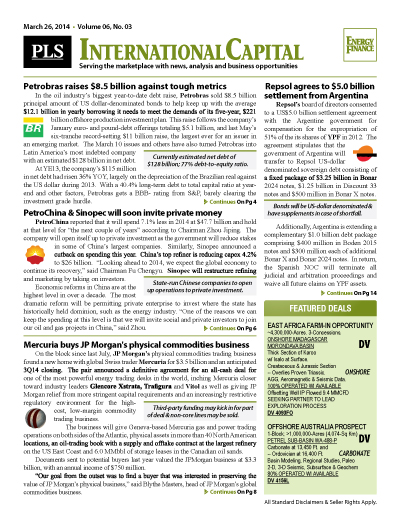 PLS publishes news and analysis in the energy finance sector through its InternationalCapital module. The green banner report includes news and analysis on company budgets, capital spending, financial performance and interviews with leading capital providers
Your access to energy finance
Single copy pricing; Incl hard copy & email version
Increase market insight & deal flow
Every 3 weeks
Covers financings, capex, earnings, new companies
Includes market analysis and new trends
Access to InternationalCapital archives
Phone request for multiple listings for sale
Includes discounts for other PLS products & events
$ 745 /Yr
Search PLS' News Archive for complete oil & gas news for InternationalCapital .
See what it is about before you buy. View a sample issue of InternationalCapital.
Need more information? Click the button to recieve more details about the InternationalCapital
Opportunity is a reflection of information.
Call 713-650-1212 For More Information
Search InternationalCapital:

Headline
Publication
News Date
Iraq asks world not to deal with Kurdistan
Iraqi Prime Minister Haider al-Abadi requested foreign countries stop importing crude oil directly from the autonomous Kurdistan region and trade exclusively through the central government in...
Oct 04, 2017
Russia open to extended oil production cuts
Russia has signaled that it is open to the possibility of extending the current round of OPEC oil production cuts beyond the first quarter of 2018 but added its commitment to the current...
Oct 04, 2017
Doriemus now dual listed—London's NEX & ASX
UK-based and London-listed Doriemus plc has also begun trading on the ASX via a A$3.5 million initial offering of 13,461,539 CHESS Depositary Interests (CDIs) at A$0.26 each. The new fundraising...
Oct 04, 2017
Triangle Energy (Global) raises almost $1.5MM
ASX-traded Triangle Energy (Global) Ltd. placed 16,398,000 shares privately at A$0.09 a share to gross $1,475,820 on Sept. 18. The company said the transaction involves participation from...
Oct 04, 2017
Get more news for InternationalCapital