InternationalCapital
Serving the global finance market with news, analysis and business opportunities.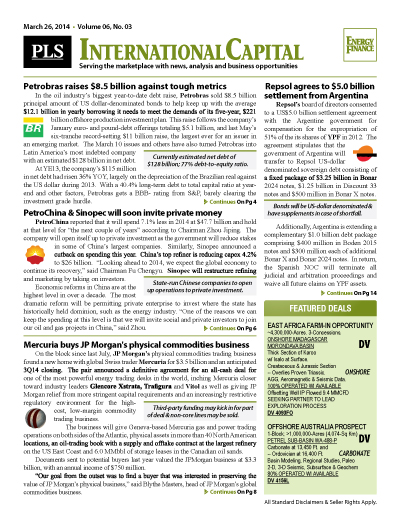 PLS publishes news and analysis in the energy finance sector through its InternationalCapital module. The green banner report includes news and analysis on company budgets, capital spending, financial performance and interviews with leading capital providers
Your access to energy finance
Single copy pricing; Incl hard copy & email version
Increase market insight & deal flow
Every 3 weeks
Covers financings, capex, earnings, new companies
Includes market analysis and new trends
Access to InternationalCapital archives
Phone request for multiple listings for sale
Includes discounts for other PLS products & events
$ 745 /Yr
Search PLS' News Archive for complete oil & gas news for InternationalCapital .
See what it is about before you buy. View a sample issue of InternationalCapital.
Need more information? Click the button to recieve more details about the InternationalCapital
Opportunity is a reflection of information.
Call 713-650-1212 For More Information
Search InternationalCapital:

Headline
Publication
News Date
S&P downgrades Alberta credit rating to AA
S&P downgraded the Canadian province of Alberta two levels to AA from A+ due to high budget deficits, growing debt and generally weak oil prices. A 50% decline in oil prices since 2014 has hit the...
Jun 07, 2017
Sanctions against PDVSA under consideration
The US is weighing possible sanctions on Venezuela's vital energy sector, including PDVSA, according to senior White House officials. Taking action against the sector responsible for 95% of...
Jun 07, 2017
Petrobras is taking debt concerns more seriously
Petrobras received BRL 7.0 billion ($2.2 billion) in financing from federal lender Banco do Brasil to roll over its short-term debt through a five-year export credit note. At the same time,...
Jun 07, 2017
Indian Oil becomes most profitable state company
Indian Oil Corp. posted a net profit of INR 191.1 billion (US$2.96 billion) for the fiscal year ending March 31, an increase of almost 70% from the INR 112.1 billion posted the previous year....
Jun 07, 2017
India's KG Basin to draw $20-$30B in investments
The oil & gas industry will spend $20 to 30 billion in India's Krishna Godavari Basin over the next 10 years, a sum that could transform the country's east coast into an industrial hub. In an...
Jun 07, 2017
AusGroup plans $156 MM debt for equity swap
Oilfield services firm AusGroup has planned two debt-to-equity swaps, one from notes and one from a term loan provided by Singapore-based investor Ezion Holdings, the company's largest...
Jun 07, 2017
Get more news for InternationalCapital