InternationalCapital
Serving the global finance market with news, analysis and business opportunities.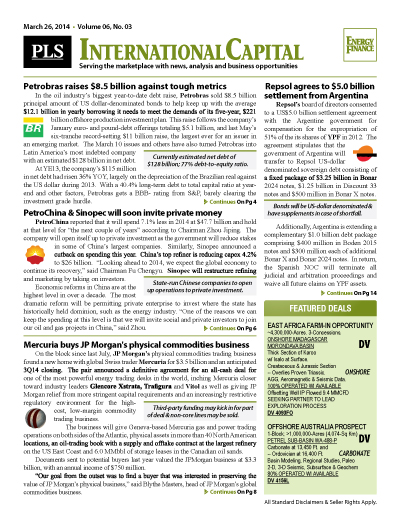 PLS publishes news and analysis in the energy finance sector through its InternationalCapital module. The green banner report includes news and analysis on company budgets, capital spending, financial performance and interviews with leading capital providers
Your access to energy finance
Single copy pricing; Incl hard copy & email version
Increase market insight & deal flow
Every 3 weeks
Covers financings, capex, earnings, new companies
Includes market analysis and new trends
Access to InternationalCapital archives
Phone request for multiple listings for sale
Includes discounts for other PLS products & events
Search PLS' News Archive for complete oil & gas news for InternationalCapital .
See what it is about before you buy. View a sample issue of InternationalCapital.
Need more information? Click the button to recieve more details about the InternationalCapital
Opportunity is a reflection of information.
Call 713-650-1212 For More Information
Search InternationalCapital:

Headline
Publication
News Date
Economic sanctions help Russian oil companies
In the four years since the U.S. and E.U. levied economic sanctions on Russia due to its annexation of Crimea, the ruble fell 50% against the U.S. dollar. While the overall Russian economy may have...
Sep 07, 2018
IC - Australia & Oceania - September 07, 2018
3D Oil Ltd. announced a A$2.4 million institutional placement of about 21.2 million shares at $0.115 each, an 11.5% discount to its ASX closing price on Aug. 31. The placement was oversubscribed. It...
Sep 07, 2018
Conoco reaches $2.0 billion settlement with PDVSA
ConocoPhillips settled with PDVSA to collect the full amount of nearly $2.0 billion it was awarded by the tribunal of the International Chamber of Commerce related to the 2007 theft of company assets...
Sep 07, 2018
Madalena Energy narrows Q2 loss to $3.5MM
Stronger oil and NGL prices helped Argentina-focused Madalena Energy, but it still ended Q2 in the red, reporting a $3.5 million loss, narrowed YOYfrom a $5.4 million loss. The company's Q2 net...
Sep 07, 2018
Get more news for InternationalCapital