InternationalDeals
Serving the global asset marketplace with deals, analysis and business opportunities.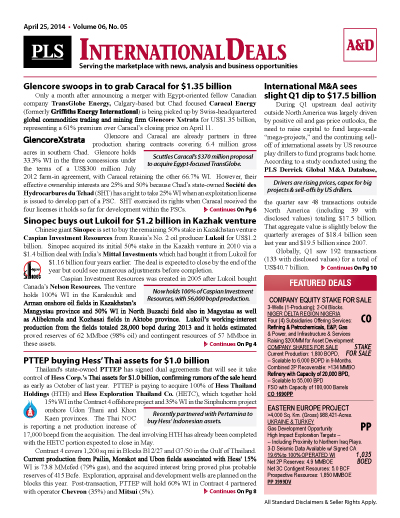 PLS publishes specialized international research and analysis under the InternationalDeals masthead. InternationalDeals includes market analysis and aggregated news on global m&a activities, acquisitions, divestitures, international exploration, new discoveries, lease concessions, farmouts, capital markets, midstream and downstream news.
PLS' most popular International report
Single copy pricing; Incl hard copy & email version
Guaranteed to increase deal flow and market insight
Every 3 weeks
Latest in asset acquisitions, corporate M&A activity, deals in play & industry buying trends
Access to InternationalDeals archives
Phone request to multiple listings
Search PLS' News Archive for complete oil & gas news for InternationalDeals .
See what it is about before you buy. View a sample issue of InternationalDeals.
Need more information? Click the button to recieve more details about the InternationalDeals
Opportunity is a reflection of information.
Call 713-650-1212 For More Information
Search InternationalDeals:

Headline
Publication
News Date
McDermott and CB&I shareholders approve combo
McDermott International's $1.86 billion all-stock acquisition of US peer Chicago Bridge & Iron (CB&I) was approved by both companies' shareholders on May 2. CB&I stockholders will own 47% of the...
May 09, 2018
Aramco issues tender documents for Berri
Saudi Aramco has issued tender documents for an engineering, procurement and construction contract for its offshore Berri development that could be valued at over $1.5 billion, according to...
May 09, 2018
Petrofac sells JSD 6000 project to Chinese firm
London-listed Petrofac is selling its deepwater derrick lay vessel project JSD 6000 to China's Shanghai Zhenhua Heavy Industries Co. for $190 million, consisting of a net cash consideration of $167...
May 09, 2018
What the Analysts are Saying - May 09, 2018
Chevron (CVX; $126.62-Apr. 27; Overweight; PT-$145.00)We think CVX's 1Q result will have a positive impact on its near term share performance. Results were strong across the board and, in...
May 09, 2018
Africa Oil acquires more shares of Africa Energy
Toronto-listed Africa Oil, with assets in Kenya and Ethiopia, acquired now holds 34.63% of Africa Energy Corp. after acquiring an additional 145 million shares of the company for C$0.16 each. The...
May 09, 2018
QIA and OMV score top early Q2 deals
International upstream M&A in early Q2 has seen $10.07 billion in M&A across 19 deals, bringing the YTD total to $23.55 billion across 88 transactions. This compares to $17.3 billion across 106 deals...
May 09, 2018
Get more news for InternationalDeals