InternationalDeals
Serving the global asset marketplace with deals, analysis and business opportunities.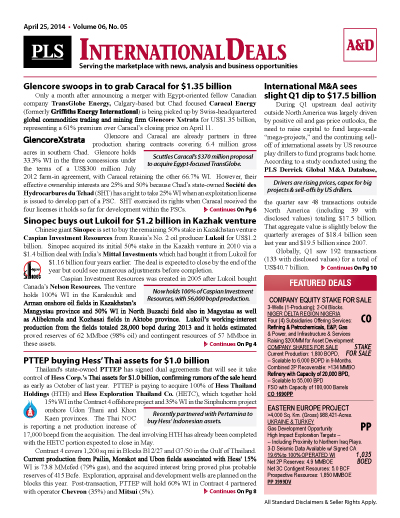 PLS publishes specialized international research and analysis under the InternationalDeals masthead. InternationalDeals includes market analysis and aggregated news on global m&a activities, acquisitions, divestitures, international exploration, new discoveries, lease concessions, farmouts, capital markets, midstream and downstream news.
PLS' most popular International report
Single copy pricing; Incl hard copy & email version
Guaranteed to increase deal flow and market insight
Every 3 weeks
Latest in asset acquisitions, corporate M&A activity, deals in play & industry buying trends
Access to InternationalDeals archives
Phone request to multiple listings
Search PLS' News Archive for complete oil & gas news for InternationalDeals .
See what it is about before you buy. View a sample issue of InternationalDeals.
Need more information? Click the button to recieve more details about the InternationalDeals
Opportunity is a reflection of information.
Call 713-650-1212 For More Information
Search InternationalDeals:

Headline
Publication
News Date
Africa leads upstream deals in last few weeks
There has been US$4.7 billion in M&A across 37 deals in disclosed upstream international deals so far in Q4, bringing the YTD total to $36.5 billion across 226 deals, down from the $50.5 billion and...
Nov 14, 2018
ID - People & Companies - November 14, 2018
BHP Billiton announced the retirement of Wayne Murdy as an independent non-executive director. Chevron's current managing director of Australian operations, Nigel Hearne, has been...
Nov 14, 2018
OMV sells in Tunisia and expands in Romania
In addition to acquiring half of Sapura Energy's upstream subsidiary, OMV also recently divested a portion of its assets in Tunisia to Oslo-listed Panoro Energy, and recently expanded its position in...
Nov 14, 2018
Get more news for InternationalDeals