InternationalDeals
Serving the global asset marketplace with deals, analysis and business opportunities.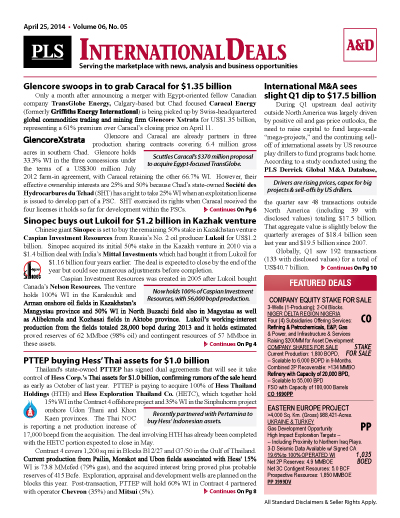 PLS publishes specialized international research and analysis under the InternationalDeals masthead. InternationalDeals includes market analysis and aggregated news on global m&a activities, acquisitions, divestitures, international exploration, new discoveries, lease concessions, farmouts, capital markets, midstream and downstream news.
PLS' most popular International report
Single copy pricing; Incl hard copy & email version
Guaranteed to increase deal flow and market insight
Every 3 weeks
Latest in asset acquisitions, corporate M&A activity, deals in play & industry buying trends
Access to InternationalDeals archives
Phone request to multiple listings
$ 945 /Yr
Search PLS' News Archive for complete oil & gas news for InternationalDeals .
See what it is about before you buy. View a sample issue of InternationalDeals.
Need more information? Click the button to recieve more details about the InternationalDeals
Opportunity is a reflection of information.
Call 713-650-1212 For More Information
Search InternationalDeals:

Headline
Publication
News Date
Hyperdynamics closes offshore Guinea farmout
Two subsidiaries of Houston-based Hyperdynamics are now 50/50 partners in the Fatala prospect, a 5,000 sq km production sharing contract offshore Guinea, after closing farmout agreements with the...
Jun 21, 2017
Savannah on the cusp of West Africa acquisition
Niger-focused Savannah Petroleum signed a binding exclusivity agreement with a West Africa-focused company regarding the possible acquisition of all of its oil and gas assets in the region. Savannah...
Jun 21, 2017
Dealmakers set for July 13 in Dallas
Dealmakers, PLS' signature Prospect and Property Expo, is returning to Dallas July 13 at the Hyatt Regency in downtown. This one-day event is the perfect marketplace to explore current plays and...
Jun 21, 2017
Q2 is ending with a whimper, not a bang
Q2 is wrapping up with a trickle rather than a flow of deals. During the week of June 12-16 oil prices fell to seven-month lows, as inventories continued to swell, ailing OPEC producers expressed...
Jun 21, 2017
Get more news for InternationalDeals