InternationalDeals
Serving the global asset marketplace with deals, analysis and business opportunities.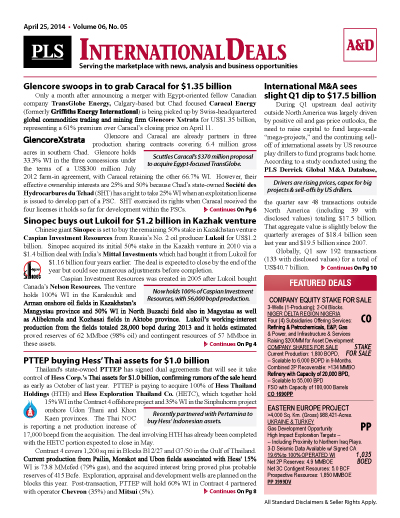 PLS publishes specialized international research and analysis under the InternationalDeals masthead. InternationalDeals includes market analysis and aggregated news on global m&a activities, acquisitions, divestitures, international exploration, new discoveries, lease concessions, farmouts, capital markets, midstream and downstream news.
PLS' most popular International report
Single copy pricing; Incl hard copy & email version
Guaranteed to increase deal flow and market insight
Every 3 weeks
Latest in asset acquisitions, corporate M&A activity, deals in play & industry buying trends
Access to InternationalDeals archives
Phone request to multiple listings
Search PLS' News Archive for complete oil & gas news for InternationalDeals .
See what it is about before you buy. View a sample issue of InternationalDeals.
Need more information? Click the button to recieve more details about the InternationalDeals
Opportunity is a reflection of information.
Call 713-650-1212 For More Information
Search InternationalDeals:

Headline
Publication
News Date
Global upstream dealmaking down ~65% YOY
There have been 13 deals totaling $3.3 billion since Feb. 22 in the international upstream sector, compared to $5.6 billion across 25 deals during the same period last year. More striking is the...
Mar 14, 2018
Shell and Aramco sign natural gas MOUs
Shell and Saudi Aramco struck MOUs to work jointly on gas projects as Aramco seeks to boost its valuation ahead of a planned IPO and as Shell continues to make its global portfolio more gas-weighted....
Mar 14, 2018
Centrica mulls reducing stake in Spirit Energy JV
UK-based utility giant Centrica said it is open to considering reducing its stake in Spirit Energy from 69% to under 50% "if the right value-creating opportunity came along." The Spirit Energy JV was...
Mar 14, 2018
People Briefs - March 14, 2018
Mitsui Oil Exploration named Hiroyuki Tsurugi executive managing officer, president and CEO effective April 1. Previously, he was executive managing officer, COO of Energy Business Unit...
Mar 14, 2018
Get more news for InternationalDeals