InternationalDeals
Serving the global asset marketplace with deals, analysis and business opportunities.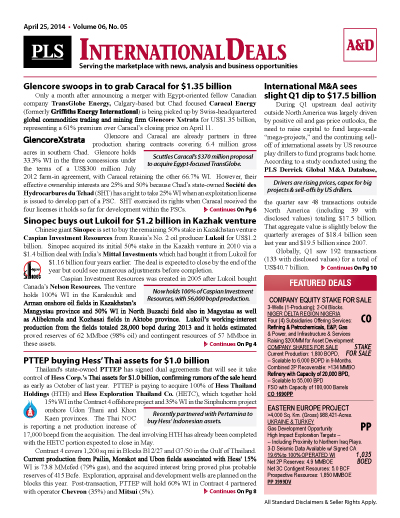 PLS publishes specialized international research and analysis under the InternationalDeals masthead. InternationalDeals includes market analysis and aggregated news on global m&a activities, acquisitions, divestitures, international exploration, new discoveries, lease concessions, farmouts, capital markets, midstream and downstream news.
PLS' most popular International report
Single copy pricing; Incl hard copy & email version
Guaranteed to increase deal flow and market insight
Every 3 weeks
Latest in asset acquisitions, corporate M&A activity, deals in play & industry buying trends
Access to InternationalDeals archives
Phone request to multiple listings
$ 945 /Yr
Search PLS' News Archive for complete oil & gas news for InternationalDeals .
See what it is about before you buy. View a sample issue of InternationalDeals.
Need more information? Click the button to recieve more details about the InternationalDeals
Opportunity is a reflection of information.
Call 713-650-1212 For More Information
Search InternationalDeals:

Headline
Publication
News Date
Global dealmaking is up as Q4 nears mid-point
After a slower start to Q4, global M&A is picking up with US$5.59 billion in disclosed upstream deals from Oct. 25-Nov. 13 versus US$2.65 million in the first few weeks of October. This is...
Nov 17, 2017
WAM Capital to acquire Molopo Energy Ltd.
WAM Capital Ltd. intends to buy ASX-listed Molopo Energy for A$33.6 million, or $A0.135 per share. The proposed takeover is valid for at least one month and is subject to 50.1% acceptance by the...
Nov 17, 2017
Africa Oil acquires 19.7% of Eco for $11.1 million
Africa Oil is acquiring a stake in Toronto-listed peer Eco Oil and Gas. The US$11.1 million deal will see Africa Oil acquire a 19.77% stake in Eco through the purchase of 29.2 million Eco shares at...
Nov 17, 2017
Irati goes public via Blue Sky reverse takeover
Privately held Brazil-focused Irati Energy Corp is going public via a reverse takeover deal with Toronto-listed and IRAQ-focused Blue Sky Energy. Irati will acquire ownership of 69% of the combined...
Nov 17, 2017
Petrobras eyes strategic alliance with BP
Petrobras has signed a LOI with BP to jointly identify and evaluate business opportunities in Brazil and abroad across multiple sectors in hopes of developing a potential strategic alliance between...
Nov 17, 2017
People Briefs - November 16, 2017
Sir Bob Reid was named non-executive director of Edinburgh-based consultancy Belltree. The former chair and chief executive of Shell UK will advise Belltree as it continues its international...
Nov 17, 2017
Get more news for InternationalDeals