InternationalDeals
Serving the global asset marketplace with deals, analysis and business opportunities.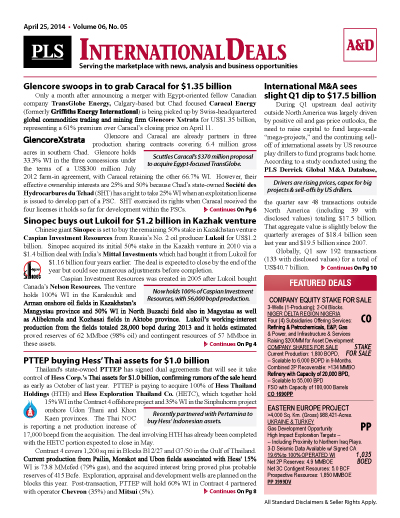 PLS publishes specialized international research and analysis under the InternationalDeals masthead. InternationalDeals includes market analysis and aggregated news on global m&a activities, acquisitions, divestitures, international exploration, new discoveries, lease concessions, farmouts, capital markets, midstream and downstream news.
PLS' most popular International report
Single copy pricing; Incl hard copy & email version
Guaranteed to increase deal flow and market insight
Every 3 weeks
Latest in asset acquisitions, corporate M&A activity, deals in play & industry buying trends
Access to InternationalDeals archives
Phone request to multiple listings
$ 945 /Yr
Search PLS' News Archive for complete oil & gas news for InternationalDeals .
See what it is about before you buy. View a sample issue of InternationalDeals.
Need more information? Click the button to recieve more details about the InternationalDeals
Opportunity is a reflection of information.
Call 713-650-1212 For More Information
Search InternationalDeals:

Headline
Publication
News Date
PentaNova farms out Colombia interest to AOG
TSX-listed PentaNova Energy plans to farm-out half of its 80% WI in the Sinu- 9 block in the Cordoba Province in the Lower Magdalena Valley of Colombia to American Oil and Gas. Per the LOI, AOG will...
Oct 05, 2017
CNOOC on the hunt for JV partners in Mexico's GOM
China's CNOOC Ltd. is reportedly seeking JV partners to help finance the development of two Gulf of Mexico deepwater blocks it was awarded in Mexico's first deepwater auction last year. The blocks,...
Oct 05, 2017
International M&A rises by $20 billion in Q3
International upstream M&A recovered from the 68% drop-off in deals seen from Q1 to Q2, with $25.7 billion in total disclosed global deal values (i.e., excluding the US and Canada) in Q3, up markedly...
Oct 05, 2017
Get more news for InternationalDeals