InternationalDeals
Serving the global asset marketplace with deals, analysis and business opportunities.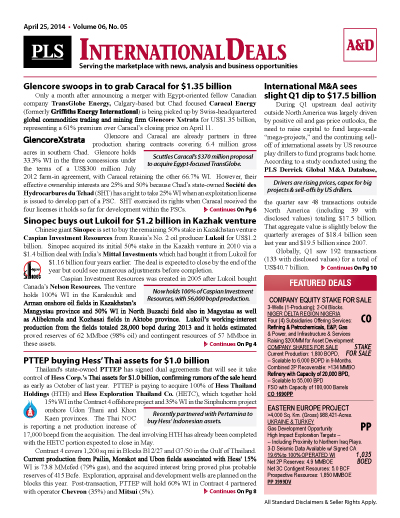 PLS publishes specialized international research and analysis under the InternationalDeals masthead. InternationalDeals includes market analysis and aggregated news on global m&a activities, acquisitions, divestitures, international exploration, new discoveries, lease concessions, farmouts, capital markets, midstream and downstream news.
PLS' most popular International report
Single copy pricing; Incl hard copy & email version
Guaranteed to increase deal flow and market insight
Every 3 weeks
Latest in asset acquisitions, corporate M&A activity, deals in play & industry buying trends
Access to InternationalDeals archives
Phone request to multiple listings
Search PLS' News Archive for complete oil & gas news for InternationalDeals .
See what it is about before you buy. View a sample issue of InternationalDeals.
Need more information? Click the button to recieve more details about the InternationalDeals
Opportunity is a reflection of information.
Call 713-650-1212 For More Information
Search InternationalDeals:

Headline
Publication
News Date
Oranto makes Zambia entry through farm-in deal
Pan-African explorer Oranto Petroleum made its debut in Zambia, farming into onshore exploration blocks 17 and 27 with an operated 90% WI. ZCCM Investment Holdings will hold the remaining 10% WI on...
Jul 11, 2018
SOCO sells Angola and Congo assets for $15MM
London-listed Soco International is selling its assets in Congo (Brazzaville) and Angola in two deals totaling $15 million as it sharpens focus on its core position in Vietnam. The sales follow the...
Jul 11, 2018
Analysts Notes - July 11, 2018
Chevron Corp. (NYSE: CVX; $126.43 – June 29; Outperform)Chevron, which we upgraded to Outperform last week, has been the fastest-growing among the supermajors in recent years, with 2017...
Jul 11, 2018
Get more news for InternationalDeals