MidContinent Scout
Serving the local market with drilling activities, permits & multiple listings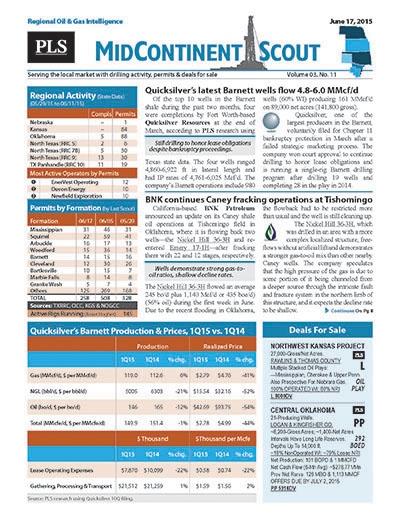 PLS's MidContinent Scout covers regional drilling, discoveries and developments in Oklahoma, Texas Panhandle, (RRC 10), North Texas (RRC 7B & 9), Kansas and Nebraska. The report also covers permit stats, completions and P&A activity, as well as describing business opportunities listed for sale in the Woodford, Mississippi Lime, Barnett, Granite Wash, Eastern Niobrara and the region's historically productive conventional plays
Stay in front of local prospects, plays & rigs!
Oklahoma, Kansas, Nebraska, TX Panhandle, North Texas
Hard Copy and Email For 1 Individual
Every 2 Weeks (22-25 issues per year)
Regional discoveries, drilling activity, permits, completions and summary drilling statistics, layered with regional listings and business opportunities
Web access to the MidContinent Scout archive
Does not include access to MLS
Search PLS' News Archive for complete oil & gas news for MidContinent Scout .
See what it is about before you buy. View a sample issue of MidContinent Scout.
Need more information? Click the button to recieve more details about the MidContinent Scout
Opportunity is a reflection of information.
Call 713-650-1212 For More Information
Search MidContinent Scout:

Headline
Publication
News Date
MS - CVR Refining Highlights - September 19, 2018
CVR Refining intends to sell its Cushing crude oil tank. The 1.5-MMbbl facility sits on 130 acres and includes six 250,000 bbl/d storage tanks. The property has sufficient acreage for approximately...
Sep 19, 2018
SandRidge to retain & develop its own assets
Sandridge Energy concluded its strategic review, with the board rejecting all takeover offers. The company said multiple offers undervalued the company or its assets. When the highest cash bids were...
Sep 19, 2018
Alta Mesa adjusts guidance & adds ninth rig
STACK-focused Alta Mesa Resources has increased its production 50% since December 2017, with July output averaging 31,800 boe/d. Despite the increase in the last year and a half, the company's Q2...
Sep 19, 2018
MS -Regional Highlights - September 19, 2018
The EIA projects Anadarko Basin output will sequentially rise 8,000 bo/d and 98 MMcf/d in October to 562,000 bo/d and 7.318 Bcf/d.There are 1,026 DUCs in the Anadarko Basin as of August, up...
Sep 19, 2018
MS - BP Corp Highlights - September 19, 2018
BP brought two recent woodford gas wells online above type curve in Oklahoma's Arkoma Basin, partner Vanguard Natural Resources reported. Drilled and completed during Q2 in southwest Pittsburg...
Sep 19, 2018
MS - Jericho Oil Highlights - September 19, 2018
Vancouver-based Jericho Oil spudded its second Osage well and third in the larger STACK play under a JV formed with a private partner early this year. The Trebuchet 21-23N-10W1H, in the northern part...
Sep 19, 2018
Newfield SCORE results fuel Q2 outperformance
During Q2, Newfield Exploration exceeded its production guidance, driven by stronger than expected production in the Anadarko Basin. Overall domestic volumes averaged 186,700 boe/d. Anadarko Basin...
Sep 06, 2018
Get more news for MidContinent Scout