MidContinent Scout
Serving the local market with drilling activities, permits & multiple listings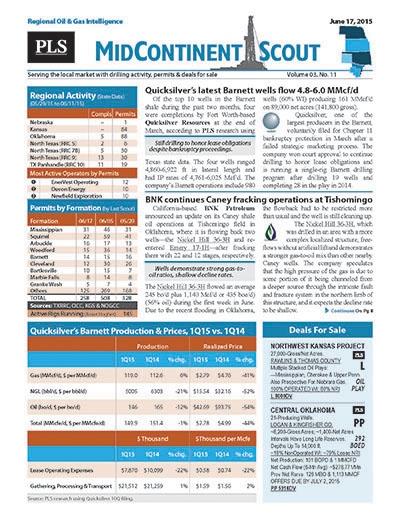 PLS's MidContinent Scout covers regional drilling, discoveries and developments in Oklahoma, Texas Panhandle, (RRC 10), North Texas (RRC 7B & 9), Kansas and Nebraska. The report also covers permit stats, completions and P&A activity, as well as describing business opportunities listed for sale in the Woodford, Mississippi Lime, Barnett, Granite Wash, Eastern Niobrara and the region's historically productive conventional plays
Stay in front of local prospects, plays & rigs!
Oklahoma, Kansas, Nebraska, TX Panhandle, North Texas
Hard Copy and Email For 1 Individual
Every 2 Weeks (22-25 issues per year)
Regional discoveries, drilling activity, permits, completions and summary drilling statistics, layered with regional listings and business opportunities
Web access to the MidContinent Scout archive
Does not include access to MLS
Search PLS' News Archive for complete oil & gas news for MidContinent Scout .
See what it is about before you buy. View a sample issue of MidContinent Scout.
Need more information? Click the button to recieve more details about the MidContinent Scout
Opportunity is a reflection of information.
Call 713-650-1212 For More Information
Search MidContinent Scout:

Headline
Publication
News Date
Regional Highlights - May 16, 2018
Anadarko Basin DUCs dropped by seven in April to 960. DUCs peaked in October 2017 at 983. June production is forecast to reach 6.6 Bcf/d and 524,000 bbl/d according to the...
May 16, 2018
Devon Highlights - May 16, 2018
The top completion in this issue's data is Devon's Chipmunk 11_2-16N-12W #1HX (8,660-ft lateral) in Blaine County that tested at an IP24 of 4,513 boe/d (74% oil), from the Meramec on a...
May 16, 2018
TEP Barnett Highlights - May 16, 2018
In Tarrant Co., Total subsidiary TEP Barnett USA's Willis-MortimerLargent #2H (6,792-ft lateral) flowed an IP24 of 6,471 Mcf/d from the Barnett on a 1-in. choke at 637 psi FTP. This is the company's...
May 16, 2018
Unit Highlights - May 16, 2018
In the SOHOT area during Q1, Unit completed three new Marchand horizontal wells, the Schenk Trust 1-17 HXL, with an IP30 of 2,318 boe/d, the McConnell #1-11H with an IP30 of 1,426 boe/d, and the...
May 16, 2018
Marathon Highlights - May 16, 2018
In Q1, marathon's Oklahoma production averaged 75,000 boe/d, up 17% sequentially. The company brought 17 gross operated wells to sales primarily focused on Meramec. This largely completes the STACK...
May 16, 2018
EOG Highlights - May 16, 2018
EOG added a fourth rig in April to its Woodford Oil Window operations. Production began from one well during Q1, with the Terri 1621 #1H (10,200-ft lateral) flowing an IP30 of 1,395 boe/d (82%...
May 16, 2018
Tecolote sets "POWER" IP30 record in Marmaton
Private Tulsa-based Tecolote Energy LLC continues to improve its well results in Hemphill Co. with a recent Marmaton E producer setting a company best IP30. The company has coined the area the...
May 02, 2018
Get more news for MidContinent Scout