OilfieldServices
Serving the oilfield service sector with news, analysis and business opportunities.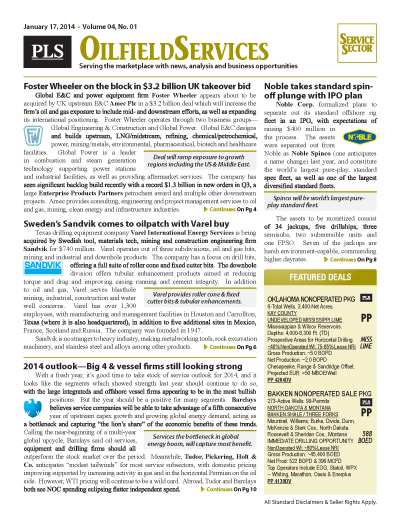 PLS publishes news and analysis on the oilfield service sector through its OFS module. The gold banner report, published every 3 to 4 weeks, covers the active sector with news and analysis on drilling, completions, field operations and technology.
Your access to oilfield service sector
Single copy pricing; Incl hard copy & email version
Increase understanding of field services & infrastructure
Published every 3 weeks; 17+ issues per year
Covers drilling rigs, field services, completions, equipment, OFS performance, supply, costs
Includes properties, oilfield services,
rigs & equipment for sale
Incl discounts for other PLS products & events
Search PLS' News Archive for complete oil & gas news for OilfieldServices .
See what it is about before you buy. View a sample issue of OilfieldServices.
Need more information? Click the button to recieve more details about the OilfieldServices
Opportunity is a reflection of information.
Call 713-650-1212 For More Information
Search OilfieldServices:

Headline
Publication
News Date
OFS - Analyst Notes - September 11, 2018
Long-term investors should watch OFS now We expect demand for sand and completion services in the Permian to be flat to down through early-to-mid 2019, before rebounding in the back half,...
Sep 11, 2018
UK offshore engineers with family ties to reunite
UK-based Tekmar Group agreed to acquire Subsea Innovation Ltd. for up to £4.0 million ($5.1 million). Tekmar, which provides protection systems for subsea cable, said the acquisition was part of an...
Sep 11, 2018
OFS - Projects Briefs - September 11, 2018
Fairfield Geotechnologies started Quail Ridge East, a 284-square-mile survey in Lea County, New Mexico, the company's third ongoing survey in the northern Delaware Basin. The survey, supported with...
Sep 11, 2018
OFS - People Briefs - September 11, 2018
Hi-Crush Partners appointed Thompson Dean, managing partner and co-CEO of Avista Capital Partners, to its board. Dean replaces John Huff, who resigned on Aug. 20. Brett Luz joined...
Sep 11, 2018
OFS - Contracts Briefs - September 11, 2018
Promethean Energy Corp. and Subsea 7 will collaborate on the further development of deepwater Gulf of Mexico assets under a memorandum of understanding. The MOU allows Houstonbased producer...
Sep 11, 2018
OFS - News Briefs - September 11, 2018
Archer Limited sold AWC Frac Valves to a U.S.-based private equity fund for $30 million. Archer can in addition receive an earn-out of up to $5.0 million based on FY18 results. The final...
Sep 11, 2018
Get more news for OilfieldServices