OilfieldServices
Serving the oilfield service sector with news, analysis and business opportunities.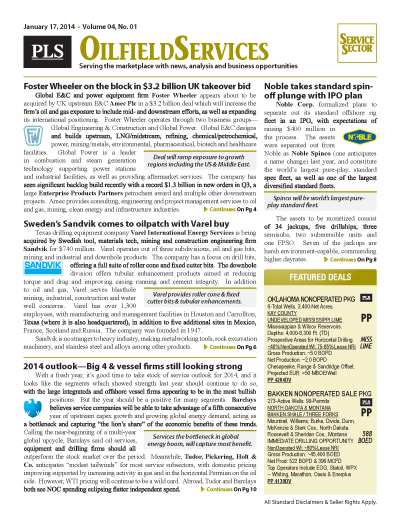 PLS publishes news and analysis on the oilfield service sector through its OFS module. The gold banner report, published every 3 to 4 weeks, covers the active sector with news and analysis on drilling, completions, field operations and technology.
Your access to oilfield service sector
Single copy pricing; Incl hard copy & email version
Increase understanding of field services & infrastructure
Published every 3 weeks; 17+ issues per year
Covers drilling rigs, field services, completions, equipment, OFS performance, supply, costs
Includes properties, oilfield services,
rigs & equipment for sale
Incl discounts for other PLS products & events
Search PLS' News Archive for complete oil & gas news for OilfieldServices .
See what it is about before you buy. View a sample issue of OilfieldServices.
Need more information? Click the button to recieve more details about the OilfieldServices
Opportunity is a reflection of information.
Call 713-650-1212 For More Information
Search OilfieldServices:

Headline
Publication
News Date
Schlumberger & Subsea 7 turning alliance into JV
Schlumberger and Subsea 7 decided that their Subsea Integration Alliance is going so well that they want to build it into a joint venture. The 50:50 JV will build on the expertise from both companies...
Mar 02, 2018
Newly public FTS signs up for $250MM ABL
FTS International entered into an asset-based lending credit facility with Wells Fargo as administrative agent. The facility provides the fracker with up to $250 million for revolving credit loans,...
Mar 02, 2018
Ocean Rig Poseidon heading to Namibia for contract
Ocean Rig UDW signed a new contract for the ultra-deepwater drillship Ocean Rig Poseidon with Tullow for a one-well drilling program plus options off West Africa. The ultra-deepwater drillship, which...
Mar 02, 2018
Get more news for OilfieldServices