OilfieldServices
Serving the oilfield service sector with news, analysis and business opportunities.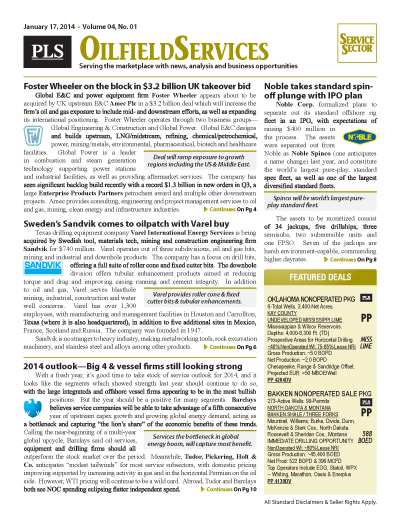 PLS publishes news and analysis on the oilfield service sector through its OFS module. The gold banner report, published every 3 to 4 weeks, covers the active sector with news and analysis on drilling, completions, field operations and technology.
Your access to oilfield service sector
Single copy pricing; Incl hard copy & email version
Increase understanding of field services & infrastructure
Published every 3 weeks; 17+ issues per year
Covers drilling rigs, field services, completions, equipment, OFS performance, supply, costs
Includes properties, oilfield services,
rigs & equipment for sale
Incl discounts for other PLS products & events
Search PLS' News Archive for complete oil & gas news for OilfieldServices .
See what it is about before you buy. View a sample issue of OilfieldServices.
Need more information? Click the button to recieve more details about the OilfieldServices
Opportunity is a reflection of information.
Call 713-650-1212 For More Information
Search OilfieldServices:

Headline
Publication
News Date
Analyst Takes - May 09, 2018
CSI Compressco (NASDAQ:CCLP; May 7 – $7.32; Outperform)CSI Compressco missed slightly on adjusted EBITDA primarily due to lower than expected pricing in compression and a greater mix shift...
May 09, 2018
Gibson completes sale of US services businesses
Gibson Energy closed the sale of its US energy services businesses to private equity firm One Equity Partners. The disposition was completed through two separate transactions for aggregate gross...
May 09, 2018
People Briefs - May 09, 2018
Wellsite services provider Enservco Corp. announced that Austin Peitz, cofounder and SVP of field operations, left the company on April 27 after 20 years. Denver-based Enservco has begun a search for...
May 09, 2018
Get more news for OilfieldServices