OilfieldServices
Serving the oilfield service sector with news, analysis and business opportunities.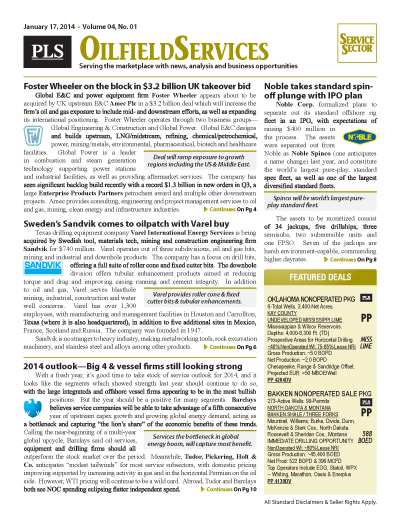 PLS publishes news and analysis on the oilfield service sector through its OFS module. The gold banner report, published every 3 to 4 weeks, covers the active sector with news and analysis on drilling, completions, field operations and technology.
Your access to oilfield service sector
Single copy pricing; Incl hard copy & email version
Increase understanding of field services & infrastructure
Published every 3 weeks; 17+ issues per year
Covers drilling rigs, field services, completions, equipment, OFS performance, supply, costs
Includes properties, oilfield services,
rigs & equipment for sale
Incl discounts for other PLS products & events
Search PLS' News Archive for complete oil & gas news for OilfieldServices .
See what it is about before you buy. View a sample issue of OilfieldServices.
Need more information? Click the button to recieve more details about the OilfieldServices
Opportunity is a reflection of information.
Call 713-650-1212 For More Information
Search OilfieldServices:

Headline
Publication
News Date
Magseis to conduct seismic operation in SE Asia
Norway-based geophysical company Magseis has received letter of awards for an operation in Southeast Asia using proprietary Marine Autonomous Seismic System (MASS) nodes. The project includes several...
Jul 12, 2018
Petrobras awards contract for OSV
Brazil's Petrobras has awarded DOF Subsea Brasil a contract to utilize the Brazilian-built offshore support vessel Skandi Salvador. The contract, which starts in July, is for 650 firm days plus...
Jul 10, 2018
Gravity acquires Bakken water operator McKenzie
Gravity Oilfield Services , a water infrastructure company backed by California-based private equity firm Clearlake Capital Group, has acquired McKenzie Energy Partners. McKenzie provides water...
Jul 10, 2018
Halliburton to market TETRA completion fluids
Halliburton entered into a global joint marketing and development agreement with Tetra Technologies for the sale and distribution of TETRA CS Neptune completion fluids. Bradley Brown, VP of...
Jul 10, 2018
NOV launches near-bit tool
National Oilwell Varco launched Tolteq its iSeries Near-Bit Sub (iNBS), a near-bit tool that the company says allows accurate well placement in even the thinnest of reservoirs. The iNBS tool has...
Jul 10, 2018
Patterson-UTI's rig count rises 4.1% in Q2
Patterson-UTI reported an average of 178 drilling rigs operating in June, an increase of two from May. For Q2, the company averaged 176 drilling rigs operating, up seven from...
Jul 10, 2018
Eco-Stim sets personal best in frac stages
Eco-Stim Energy Solutions announced that it has completed 130 frac stages in June, a monthly record for the company, following the implementation of its collaborative "super-fleet" concept. Since...
Jul 10, 2018
RPC about 20% done with 10MM share buyback
RPC Inc. announced that it purchased 559,869 shares in Q2 as part of its 10.0 million share buyback program. The owner of Cudd Pressure Pumping purchased 1.42 million shares during Q1, the first part...
Jul 10, 2018
Get more news for OilfieldServices