OilfieldServices
Serving the oilfield service sector with news, analysis and business opportunities.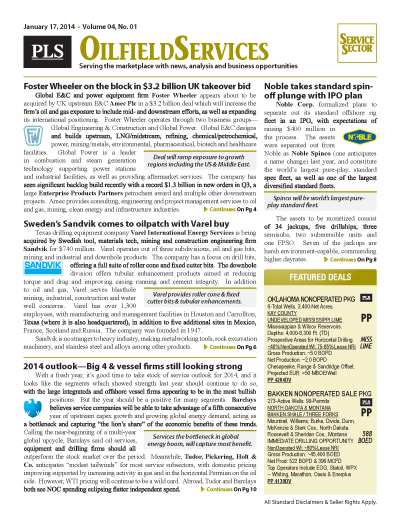 PLS publishes news and analysis on the oilfield service sector through its OFS module. The gold banner report, published every 3 to 4 weeks, covers the active sector with news and analysis on drilling, completions, field operations and technology.
Your access to oilfield service sector
Single copy pricing; Incl hard copy & email version
Increase understanding of field services & infrastructure
Published every 3 weeks; 17+ issues per year
Covers drilling rigs, field services, completions, equipment, OFS performance, supply, costs
Includes properties, oilfield services,
rigs & equipment for sale
Incl discounts for other PLS products & events
Search PLS' News Archive for complete oil & gas news for OilfieldServices .
See what it is about before you buy. View a sample issue of OilfieldServices.
Need more information? Click the button to recieve more details about the OilfieldServices
Opportunity is a reflection of information.
Call 713-650-1212 For More Information
Search OilfieldServices:

Headline
Publication
News Date
OFS - Analyst Notes - November 13, 2018
ProPetro (NYSE:PUMP; Nov. 7—$18.67; Strong Buy; PT—$24 to $25)ProPetro's 3Q18 is demonstrative of the benefits of its customer-centric dedicated fleet model. Despite the completions slowdown...
Nov 13, 2018
Q3 earnings deliver message: Check back in 2019
It wasn't hard to find a common theme in Q3 service-sector earnings. Basically, companies said Q3 was rough and Q4 won't be any better—but don't lose faith because good times will return in 2019....
Nov 13, 2018
Park buys Chesapeake Energy's compression business
Chesapeake Energy sold substantially all the assets of subsidiary MidCon Compression to Park Energy Services for an undisclosed amount. The deal includes a multi-year agreement under which Park will...
Nov 13, 2018
Maersk signs cooperation deal with Wintershall
Maersk Drilling agreed to sell the Maersk Giant jackup to an Australasian independent operator that will use it for operations in that corner of the world. Financial terms were not disclosed for the...
Nov 13, 2018
OFS - People Briefs - November 13, 2018
Oceaneering International promoted Mark Peterson to VP of corporate development and investor relations. Peterson's career includes more than six years with Oceaneering in the role of VP of corporate...
Nov 13, 2018
OFS - News Briefs - November 13, 2018
KLX Energy Services completed its acquisition of Motley Services, a provider of well completion and intervention services for longer-lateral horizontal wells. Motley's large-diameter coiled...
Nov 13, 2018
Get more news for OilfieldServices