Permian Scout
Serving the local market with drilling activities, permits & multiple listings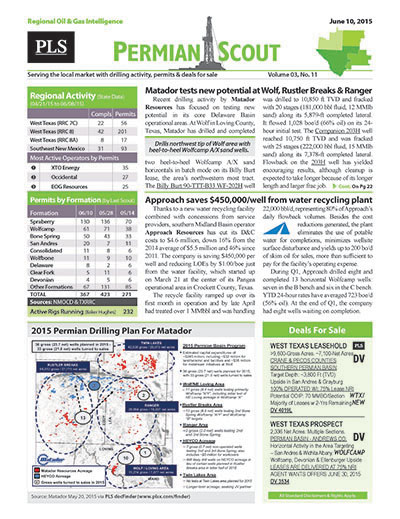 PLS publishes exploration news and drilling insights in West Texas and Southeast New Mexico through our Permian Scout.
Published every two (2) weeks, this regional report (RRC 7C, 8, & 8A) includes lead stories on drilling activity, successes and new projects while also reporting on drilling rigs, new permits, completions and P&A activity.
Stay in front of local prospects, plays & rigs!
West Texas, Southeast New Mexico
Hard Copy and Email For 1 Individual
Every 2 Weeks (22-25 issues per year)
Regional discoveries, drilling activity, permits,
completions and summary drilling statistics, layered
with regional listings and business opportunities.
Web access to the Permian Scout archive.
Does not include access to MLS
$ 795 /Yr
Search PLS' News Archive for complete oil & gas news for Permian Scout .
See what it is about before you buy. View a sample issue of Permian Scout.
Need more information? Click the button to recieve more details about the Permian Scout
Opportunity is a reflection of information.
Call 713-650-1212 For More Information
Search Permian Scout:

Headline
Publication
News Date
EOG continues to set records in SE New Mexico
EOG Resources consistently drills top wells in the Permian and recently one came in as the second best unconventional completion to date. Targeting the Upper Wolfcamp, the Antietam 9 Federal...
Oct 05, 2017
Regional Highlights - October 5, 2017
The Permian region has 384 active oil rigs this issue, or 41% of total US rig activity. This is up from 198 YOY. Reeves Co., TX has increased its rig count by 171% YOY to 65. Eddy...
Oct 05, 2017
Callon Petroleum Highlights - October 5, 2017
Callon Petroleum revised its production guidance range to 22,450-22,600 boe/d (77% oil) for Q3, reduced from a previous 23,000-25,000 boe/d target. Prior guidance estimates for expenses and capex for...
Oct 05, 2017
Chevron Highlights - October 5, 2017
Chevron plans to invest ~$4.0 billion in the Permian during 2018 with the aim to increase Permian production to over 400,000 bo/d in the coming...
Oct 05, 2017
EIA Highlights - October 5, 2017
EIA projects the Permian's new-well oil production per rig will drop to 572 bo/d in October, down 6.0 bo/d from September. In the same time period, the play's overall oil production is projected to...
Oct 05, 2017
U.S. Silica Holdings Highlights - October 5, 2017
U.S. Silica Holdings intends to construct a second frac sand mine and plant in West Texas. The facility is expected to produce around 2.6 million tons annually. The 3,500- acre site has more than 30...
Oct 05, 2017
Get more news for Permian Scout