Permian Scout
Serving the local market with drilling activities, permits & multiple listings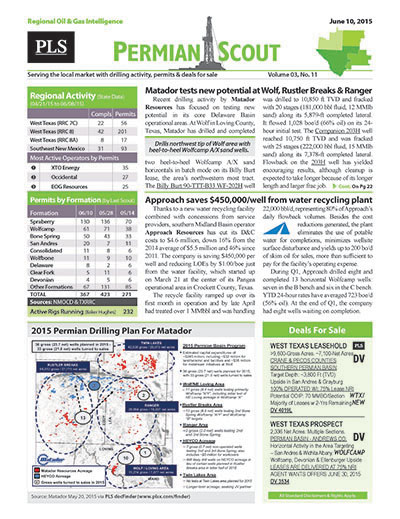 PLS publishes exploration news and drilling insights in West Texas and Southeast New Mexico through our Permian Scout.
Published every two (2) weeks, this regional report (RRC 7C, 8, & 8A) includes lead stories on drilling activity, successes and new projects while also reporting on drilling rigs, new permits, completions and P&A activity.
Stay in front of local prospects, plays & rigs!
West Texas, Southeast New Mexico
Hard Copy and Email For 1 Individual
Every 2 Weeks (22-25 issues per year)
Regional discoveries, drilling activity, permits,
completions and summary drilling statistics, layered
with regional listings and business opportunities.
Web access to the Permian Scout archive.
Does not include access to MLS
$ 795 /Yr
Search PLS' News Archive for complete oil & gas news for Permian Scout .
See what it is about before you buy. View a sample issue of Permian Scout.
Need more information? Click the button to recieve more details about the Permian Scout
Opportunity is a reflection of information.
Call 713-650-1212 For More Information
Search Permian Scout:

Headline
Publication
News Date
Energen Gen 3 wells outperforming peers
Energen continues to achieve "outstanding" results from its Gen 3 wells. Cumulative production from 80 such wells is performing at or above the highest EUR type curve and significantly outperforming...
Nov 29, 2017
Oxy sets IP30 Permian record at Great Sand Dunes
Occidental Petroleum says it achieved record-setting results in the Delaware basin of New Mexico during Q3. In Eddy Co., the Cedar Canyon 23 24 Federal #32H (7,235-ft lateral) reached a record peak...
Nov 29, 2017
Regional Highlights - November 29, 2017
There are 2,533 DUCs in the Permian Basin as of October, according to the EIA. This is up 103 vs. September.Gas pipelines from the Permian to the Gulf Coast are at capacity. Transportation to...
Nov 29, 2017
Anadarko Highlights - November 29, 2017
In 2018, Anadarko will allocate $900 million to upstream and $500 million to midstream in the Delaware basin. It plans to average seven operated rigs and six completion crews. Oil sales volumes are...
Nov 29, 2017
Permian Highlights - November 29, 2017
Permian oil production is expected to rise 58,000 bo/d in December to 2.628 MMbo/d, according to the EIA. Gas volumes are projected to jump 170 MMcf/d to 9.19 Bcf/d. The play produces more gas than...
Nov 29, 2017
Lilis Energy Highlights - November 29, 2017
Lilis Energy added over 4,100 net contiguous/overlapping acres in the core of the Delaware basin during Q3. This year the company has added 15,400 net acres and expects another 1,000- 1,500 net to be...
Nov 29, 2017
SM Energy Highlights - November 29, 2017
SM Energy has been working on the Pooling Agreement for the Fletch (Sprayberry) Unit near Hwy 87 in Howard Co. Pooled leases and operators include Veritas Energy Partners, Three Rivers Acquisitions,...
Nov 29, 2017
Centennial Resource drills its best well to date
Centennial Resource Development achieved its best well to date during Q3. The Matador 6-33H (4,300-ft lateral) flowed an IP30 of 2,154 boe/d (74% oil) from the Upper Wolfcamp A. On a per foot basis,...
Nov 15, 2017
Jagged Peak tests new zones with strong results
During Q3, Jagged Peak Energy targeted two new targets in the Wolfcamp C and deeper woodford. The first Wolfcamp C test, the State 5913A GG Houston 2H (6,662-ft lateral) achieved a peak 24-hr...
Nov 15, 2017
Get more news for Permian Scout