Permian Scout
Serving the local market with drilling activities, permits & multiple listings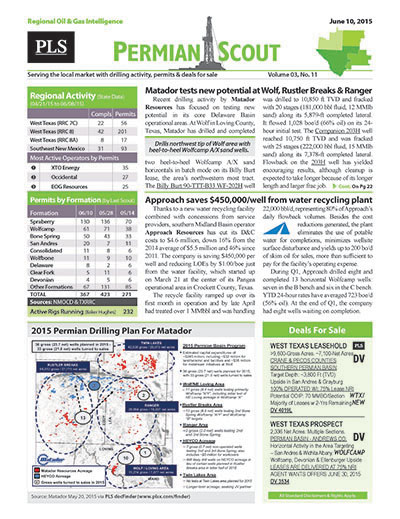 PLS publishes exploration news and drilling insights in West Texas and Southeast New Mexico through our Permian Scout.
Published every two (2) weeks, this regional report (RRC 7C, 8, & 8A) includes lead stories on drilling activity, successes and new projects while also reporting on drilling rigs, new permits, completions and P&A activity.
Stay in front of local prospects, plays & rigs!
West Texas, Southeast New Mexico
Hard Copy and Email For 1 Individual
Every 2 Weeks (22-25 issues per year)
Regional discoveries, drilling activity, permits,
completions and summary drilling statistics, layered
with regional listings and business opportunities.
Web access to the Permian Scout archive.
Does not include access to MLS
Search PLS' News Archive for complete oil & gas news for Permian Scout .
See what it is about before you buy. View a sample issue of Permian Scout.
Need more information? Click the button to recieve more details about the Permian Scout
Opportunity is a reflection of information.
Call 713-650-1212 For More Information
Search Permian Scout:

Headline
Publication
News Date
Record BLM sale in New Mexico brings in ~$1.0B
The Bureau of Land Management held a lease sale for oil and gas rights in New Mexico on Sept. 5-6. A total of 142 parcels covering 50,797 acres were awarded in Chaves (18 parcels, 8,815 acres), Eddy...
Sep 12, 2018
Mewbourne completes its best Permian oil well yet
Tyler-based Mewbourne Oil tested its highest IP24 oil rate in the Permian Basin at the beginning of August. In Eddy County, N.M., the FNR 17 20 B2IP Federal Com #1HNR 17 20 B2 (7,044-ft lateral)...
Sep 12, 2018
Callon Petroleum Highlights - September 12, 2018
Accounting for planned incremental drilling on new acreage acquired from Cimarex plus realized D&C efficiencies and increased non-op activity, Callon now expects to bring online 47-50 net operated...
Sep 12, 2018
Abraxas Highlights - September 12, 2018
Abraxas has identified 361 highly prospective drilling locations (91% operated) with 5,000-ft laterals on 1,320-ft spacing in the southern Delaware basin, excluding Alpine High. It says this...
Sep 12, 2018
The Carlyle Group Highlights - September 12, 2018
The Carlyle Group and Diamondback have entered into an agreement to fund the development of Diamondback's 12,800 net acres in the San Pedro area of Pecos County. As part of the JV, Carlyle will fund...
Sep 12, 2018
Martin County delivers SM its best wells to date
At the beginning of Q2, SM Energy flowed its two highest IP24s in the Permian to date. Located in Martin County, the Spackler #3372WB (10,351-ft lateral) tested at a 24-hour IP of 4,182 boe/d (92%...
Aug 29, 2018
PS Regional Highlights - August 29, 2018
The EIA projects Permian production will sequentially grow 34,000 bo/d and 243 MMcf/d in September to a monthly average of 3.41 MMbo/d and 11.54 MMcf/d.There are 3,470 DUCs in the Permian as...
Aug 29, 2018
Get more news for Permian Scout