Permian Scout
Serving the local market with drilling activities, permits & multiple listings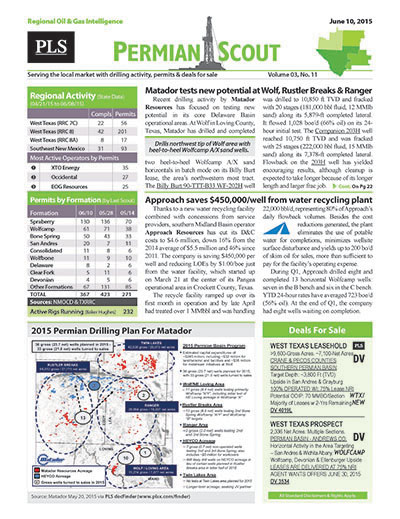 PLS publishes exploration news and drilling insights in West Texas and Southeast New Mexico through our Permian Scout.
Published every two (2) weeks, this regional report (RRC 7C, 8, & 8A) includes lead stories on drilling activity, successes and new projects while also reporting on drilling rigs, new permits, completions and P&A activity.
Stay in front of local prospects, plays & rigs!
West Texas, Southeast New Mexico
Hard Copy and Email For 1 Individual
Every 2 Weeks (22-25 issues per year)
Regional discoveries, drilling activity, permits,
completions and summary drilling statistics, layered
with regional listings and business opportunities.
Web access to the Permian Scout archive.
Does not include access to MLS
Search PLS' News Archive for complete oil & gas news for Permian Scout .
See what it is about before you buy. View a sample issue of Permian Scout.
Need more information? Click the button to recieve more details about the Permian Scout
Opportunity is a reflection of information.
Call 713-650-1212 For More Information
Search Permian Scout:

Headline
Publication
News Date
Regional Highlights Permian - March 13, 2018
Permian production is expected to average 3.156 MMboe/d and 10.252 Bcf/d in April, up 80,000 bo/d and 233 MMcf/d sequentially. There are 2,937 DUCs in the Permian as of February, up...
Mar 13, 2018
Oxy Highlights - March 13, 2018
In Eddy Co., OXY's Palladium MDP176 Federal Com #5H (10,064- ft lat.) tested at a 24-hour IP of 3,670 bo/d and 4,716 Mcf/d, or 4,456 boe/d (82% oil), from the Bone Spring on a 24/64-in. choke at...
Mar 13, 2018
Approach Highlights - March 13, 2018
Approach drilled 13 and completed nine Wolfcamp wells in 2017. The nine completions are tracking above the 700,000 boe type curve (assumes 7,500- ft laterals) that was already increased 37% during...
Mar 13, 2018
Contango Highlights - March 13, 2018
During Q4, Contango brought online one Southern Delaware Basin well and spud two others. So far in 2018, the company has completed one well, is completing another and reached TD on a third. YE17...
Mar 13, 2018
Lilis Energy Highlights - March 13, 2018
Lilis Energy increase production 350% in 2017 to 1,575 boe/d. Net acreage increased over 100% to 16,000 net acres in 2017 and the company plans to get to 19,000 net by the end of Q1 and 20,000 net...
Mar 13, 2018
Carrizo sees service costs doubling in 2018
Increased oil prices have led to a recovery across the Texas oilpatch but high demand for services has seen operating costs increasing, with Carrizo assuming a double-digit increase in service costs...
Feb 28, 2018
Get more news for Permian Scout