Permian Scout
Serving the local market with drilling activities, permits & multiple listings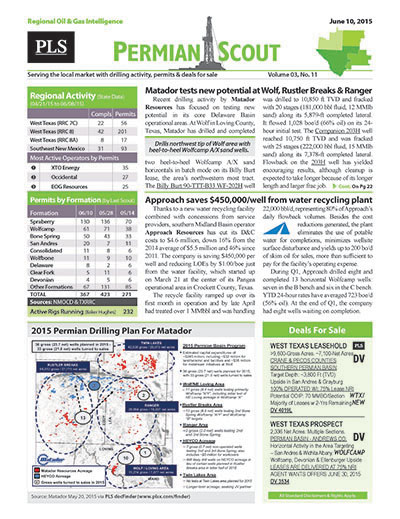 PLS publishes exploration news and drilling insights in West Texas and Southeast New Mexico through our Permian Scout.
Published every two (2) weeks, this regional report (RRC 7C, 8, & 8A) includes lead stories on drilling activity, successes and new projects while also reporting on drilling rigs, new permits, completions and P&A activity.
Stay in front of local prospects, plays & rigs!
West Texas, Southeast New Mexico
Hard Copy and Email For 1 Individual
Every 2 Weeks (22-25 issues per year)
Regional discoveries, drilling activity, permits,
completions and summary drilling statistics, layered
with regional listings and business opportunities.
Web access to the Permian Scout archive.
Does not include access to MLS
Search PLS' News Archive for complete oil & gas news for Permian Scout .
See what it is about before you buy. View a sample issue of Permian Scout.
Need more information? Click the button to recieve more details about the Permian Scout
Opportunity is a reflection of information.
Call 713-650-1212 For More Information
Search Permian Scout:

Headline
Publication
News Date
EOG sets personal IP24 record at 10,768 boe/d
In Loving County, EOG completed an exceptional well in the Wolfcamp formation. The Goodnight Unit #5H was drilled with a 9,829-ft lateral and fracked with 22.2 MMlbs of proppant. The well tested at...
Nov 07, 2018
PS - SM Energy Highlights - November 07, 2018
In 2018 thus far, SM Energy has reported results for 84 wells targeting three intervals on its RockStar position in Howard County. These wells have average IP30s of more than 1,300 boe/d (88%...
Nov 07, 2018
PS - WPX Energy Highlights - November 07, 2018
WPX Energy's Delaware basin production averaged 75,400 boe/d in Q3, up 81% YOY. A total of 27 wells were turned to sales, including 15 long laterals of at least 1.5 miles. Most of the wells targeted...
Nov 07, 2018
PS - Noble Energy Highlights- November 07, 2018
Noble Energy's Delaware basin production averaged 58,000 boe/d during Q3, up 23% sequentially and 115% YOY. The company brought 20 wells online, primarily in the Wolfcamp A. IP30s averaged 1,270...
Nov 07, 2018
UT Land sale attracts $23 million in bonus
University Lands (UL) held its first land sale of 2018 on Sept. 19. The sale brought in $23.2 million in bonus bids for 67 parcels across 25,872 acres in Andrews, Crane, Cooke, Ward, Winkler and...
Oct 24, 2018
Advance sees nearly 400 boe/d per 1,000 ft
Advance Energy Partners drilled two of its best wells during Q2. Located in Lea County, the Dagger State Com #604H (7,010-ft laterals; 16.6 MMlb sand) tested at an initial 24-hour rate of 2,201 bo/d...
Oct 24, 2018
PS - Regional Highlights - October 24, 2018
The EIA projects Permian production in November will sequentially rise 53,000 bo/d and 243 MMcf/d to 3.549 MMbo/d and 12.132 Bcf/d. There are 3,722 DUCs in the Permian as of September, up...
Oct 24, 2018
Get more news for Permian Scout