PetroScout
Serving the E&P market with news, analysis and business opportunities.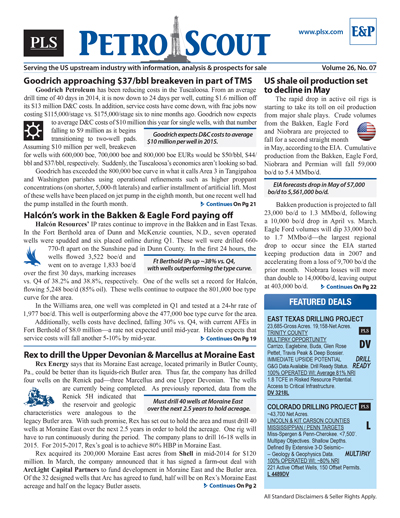 PLS publishes news and analysis on the exploration and production (E&P) sector through its E&P module. The blue banner report covers new well discoveries, drilling activities, acreage sales, industry statistics (drilling results, activity permits and intents to drill) and technological updates.
Covering exploration & production
Single copy pricing; Incl hard copy & email version
Increase market insight & deal flow
Every 3 weeks; 17+ issues per year
Latest in exploration, discoveries, resource plans, land grabs, volumes, development projects & trends
Access to archives covering E&P
Phone request for prospects and lands listed for sale
Includes discounts for other PLS products & events
$ 645 /Yr
Search PLS' News Archive for complete oil & gas news for PetroScout .
See what it is about before you buy. View a sample issue of PetroScout.
Need more information? Click the button to recieve more details about the PetroScout
Opportunity is a reflection of information.
Call 713-650-1212 For More Information
Search PetroScout:

Headline
Publication
News Date
Panhandle grows proved reserves
Panhandle Oil & Gas increased its proved reserves to 169 Bcfe (28% liquids), a 36% increase YOY from the 124 Bcfe reported during the same period in 2016. This growth is due to...
Nov 30, 2017
Well economics mean the big will get even bigger
Since shale emerged as an important source of new production the resource has typically been dominated by small, scrappy independents and startups. These firms were eager to innovate and take up...
Nov 30, 2017
People & Companies - November 30, 2017
EQT's board of directors appointed Thomas Karam, founder and chairman of Karbon Partners and Norman Szydlowski, former president and CEO of SemGroup Corp, to the EQT board. With these appointments,...
Nov 30, 2017
Goodrich drills three Haynesville wells
Goodrich Petroleum spent 3Q17 developing its property in North Louisiana. The company drilled Franks 25&24 No. 1 with a 10,000-ft lateral and is drilling Wurtsbaugh 25&24 Nos. 2 & 3 from the same...
Nov 30, 2017
Oasis to push past 70,000 boe/d by YE17
Oasis Petroleum completed and put on stream 24 Williston Basin wells during 3Q17. This helped push Oasis' production to 66,100 boe/d (78% oil), a 7% gain sequentially and 36% YOY. Looking ahead,...
Nov 30, 2017
Slawson flows 2,796 boe/d from Middle Bakken
As reported in PLS Bakken Scout, Slawson Exploration recently completed its second-best Bakken well. At Big Bend in Montrail County, ND, the Middle Bakken Lunker Federal #1 SLH's 24-hour IP hit...
Nov 30, 2017
Cabot takes aim at Marcellus in 2018
In mid-November, PLS Eastern Scout reported that Cabot Oil & Gas' 2018 capex and three-year plans were updated to better reflect the company's focus on the Marcellus. The company will spend...
Nov 30, 2017
Get more news for PetroScout