PetroScout
Serving the E&P market with news, analysis and business opportunities.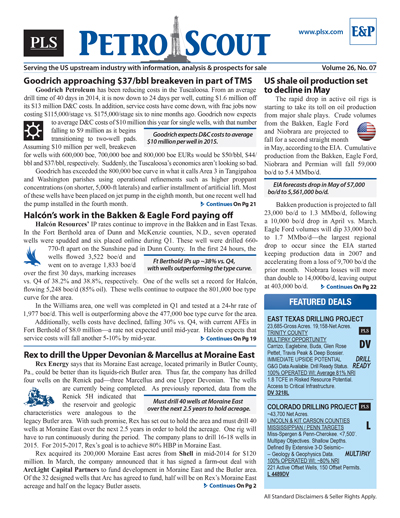 PLS publishes news and analysis on the exploration and production (E&P) sector through its E&P module. The blue banner report covers new well discoveries, drilling activities, acreage sales, industry statistics (drilling results, activity permits and intents to drill) and technological updates.
Covering exploration & production
Single copy pricing; Incl hard copy & email version
Increase market insight & deal flow
Every 3 weeks; 17+ issues per year
Latest in exploration, discoveries, resource plans, land grabs, volumes, development projects & trends
Access to archives covering E&P
Phone request for prospects and lands listed for sale
Includes discounts for other PLS products & events
$ 645 /Yr
Search PLS' News Archive for complete oil & gas news for PetroScout .
See what it is about before you buy. View a sample issue of PetroScout.
Need more information? Click the button to recieve more details about the PetroScout
Opportunity is a reflection of information.
Call 713-650-1212 For More Information
Search PetroScout:

Headline
Publication
News Date
Total lines up stakes in GOM prospects
Total is expanding its footprint in the Gulf of Mexico in a deal with Chevron. The company signed an agreement covering 16 blocks with seven prospects in the Wilcox and Norphlet near the Appomattox...
Oct 17, 2017
Linn & Citizen forms Anadarko Basin-focused E&P
Linn Energy and Citizen Energy have officially formed Roan Resources. The company will focus on development of the Merge/SCOOP/STACK in the Anadarko Basin. It has 140,000 net acres, with Linn and...
Oct 16, 2017
Ultra adds rigs to boost Pinedale production
Ultra Petroleum added four rigs to its Pinedale acreage over the past two months, bringing the total number of operated rigs there to eight. As a result, from the beginning of Q3 to Sept. 15 the...
Oct 16, 2017
Icewine-2 suspended
On ADL 392301 of the North Slope, 88 Energy (77.5%) and Burgundy Xploration (22.5%) flow tested the Icewine-2 well from Aug. 31-Sept. 18 after a pressure build up period. The JV having assessed the...
Oct 16, 2017
Devon recovers from Harvey
Devon Energy said its producing assets and facilities sustained "minimal damage" from Hurricane Harvey and had returned to pre-storm production levels. The company reported production of 63,000 boe/d...
Oct 16, 2017
Get more news for PetroScout