PetroScout
Serving the E&P market with news, analysis and business opportunities.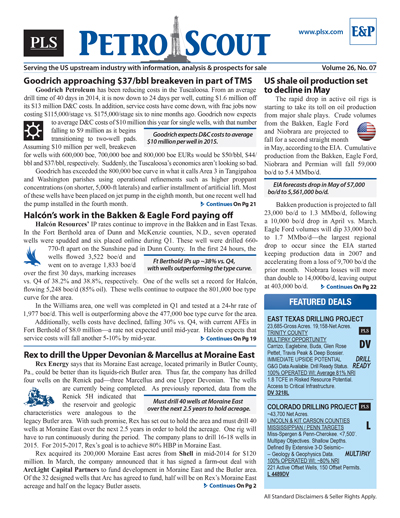 PLS publishes news and analysis on the exploration and production (E&P) sector through its E&P module. The blue banner report covers new well discoveries, drilling activities, acreage sales, industry statistics (drilling results, activity permits and intents to drill) and technological updates.
Covering exploration & production
Single copy pricing; Incl hard copy & email version
Increase market insight & deal flow
Every 3 weeks; 17+ issues per year
Latest in exploration, discoveries, resource plans, land grabs, volumes, development projects & trends
Access to archives covering E&P
Phone request for prospects and lands listed for sale
Includes discounts for other PLS products & events
Search PLS' News Archive for complete oil & gas news for PetroScout .
See what it is about before you buy. View a sample issue of PetroScout.
Need more information? Click the button to recieve more details about the PetroScout
Opportunity is a reflection of information.
Call 713-650-1212 For More Information
Search PetroScout:

Headline
Publication
News Date
Flotek patented technology boosts well performance
Flotek Industries reported that StimOil MB—its patented Complex nano-Fluid (CnF) technology customized for the Midland Basin—boosted performance during a 245-well study in the Wolfcamp A reservoir....
Mar 21, 2018
Penn Virginia turns two Eagle Ford pads online
Penn Virginia drilled and turned to sales nine wells (5.3 net) in Q4, all in the Eagle Ford. Among the most notable were two at the Geo Hunter pad, which had a 24-hour IP of 5,465 boe/d. This...
Mar 21, 2018
ConocoPhillips takes slow & steady route to shale
ConocoPhillips took a different approach in the Eagle Ford and Permian Basin than its competitors by taking a wait-and-see attitude. "We didn't drill our brains out like some of our competitors,"...
Mar 21, 2018
Get more news for PetroScout