PetroScout
Serving the E&P market with news, analysis and business opportunities.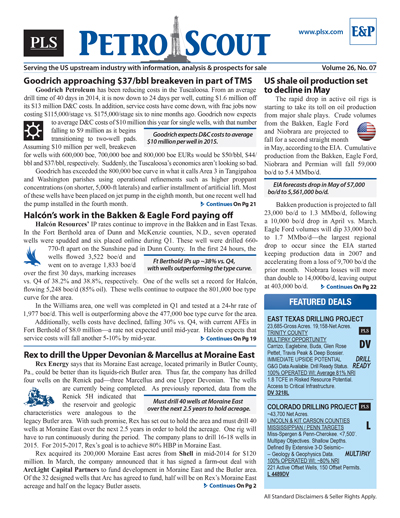 PLS publishes news and analysis on the exploration and production (E&P) sector through its E&P module. The blue banner report covers new well discoveries, drilling activities, acreage sales, industry statistics (drilling results, activity permits and intents to drill) and technological updates.
Covering exploration & production
Single copy pricing; Incl hard copy & email version
Increase market insight & deal flow
Every 3 weeks; 17+ issues per year
Latest in exploration, discoveries, resource plans, land grabs, volumes, development projects & trends
Access to archives covering E&P
Phone request for prospects and lands listed for sale
Includes discounts for other PLS products & events
Search PLS' News Archive for complete oil & gas news for PetroScout .
See what it is about before you buy. View a sample issue of PetroScout.
Need more information? Click the button to recieve more details about the PetroScout
Opportunity is a reflection of information.
Call 713-650-1212 For More Information
Search PetroScout:

Headline
Publication
News Date
PS - Analyst Notes - September 06, 2018
Whiting Petroleum (WLL; $50.91-Sept. 3; Buy; PT-$75) The second well in Whiting's Loken pad in McKenzie County (Whiting's Hidden Bench position) was recently added to the North Dakota DMR...
Sep 06, 2018
PS- People Briefs - September 06, 2018
Anadarko promoted SVP, General Counsel, Corporate Secretary and Chief Compliance Officer Amanda McMillan to EVP and General Counsel effective immediately. McMillan, who has worked at...
Sep 06, 2018
PS - Eastern Briefs - September 06, 2018
Gulf of Mexico operators evacuated 54 of the U.S. Gulf of Mexico's 687 manned platforms as of Sept. 4 ahead of Tropical Storm Gordon. Over 9% of GOM production was shut in as ExxonMobil, Chevron and...
Sep 06, 2018
Get more news for PetroScout