PetroScout
Serving the E&P market with news, analysis and business opportunities.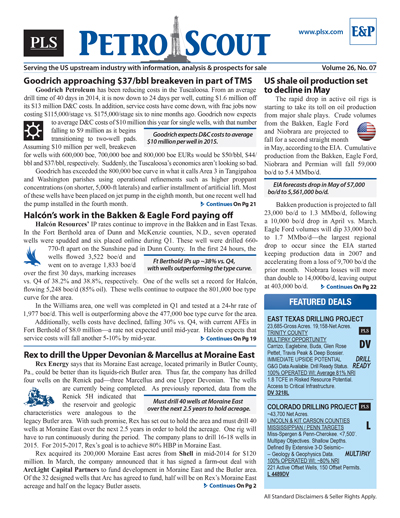 PLS publishes news and analysis on the exploration and production (E&P) sector through its E&P module. The blue banner report covers new well discoveries, drilling activities, acreage sales, industry statistics (drilling results, activity permits and intents to drill) and technological updates.
Covering exploration & production
Single copy pricing; Incl hard copy & email version
Increase market insight & deal flow
Every 3 weeks; 17+ issues per year
Latest in exploration, discoveries, resource plans, land grabs, volumes, development projects & trends
Access to archives covering E&P
Phone request for prospects and lands listed for sale
Includes discounts for other PLS products & events
$ 645 /Yr
Search PLS' News Archive for complete oil & gas news for PetroScout .
See what it is about before you buy. View a sample issue of PetroScout.
Need more information? Click the button to recieve more details about the PetroScout
Opportunity is a reflection of information.
Call 713-650-1212 For More Information
Search PetroScout:

Headline
Publication
News Date
Goodrich completes first Haynesville wells of year
Goodrich Petroleum has begun producing its first Haynesville completions of the year, and it has entered an agreement to expand its position in the play. The Wurtsbaugh 26H-1 reached a 24-hour peak...
Jun 07, 2017
Enerplus grows volumes in Williston Basin
Enerplus' Williston volumes began growing at the end of Q1, driven by a two-rig program at Fort Berthold. March production was 27,000 boe/d while the Q1 average was 25,065 boe/d. The company drilled...
Jun 07, 2017
WPX's Bakken pads outperform type curve
After working down its DUC inventory late last year, WPX Energy is in a steady cadence in the Williston Basin. Nine new wells came online in Q1 to drive up oil volumes 5% to 25,300 bo/d, and the...
Jun 07, 2017
Operators tackle service cost hikes of 10-20%
A common sentiment among E&Ps through Q1 was that oilfield service costs are going up. Companies reported 10-20% increases as oil prices rise and OFS firms regain their pricing power. To protect...
Jun 07, 2017
Devon Energy confirms Upper Eagle Ford viability
While Devon is largely focused on developing its STACK and Delaware Basin assets, the company's Eagle Ford wells saw strong performance in Q1 in DeWitt Co., TX. Good well results confirmed the...
Jun 07, 2017
Get more news for PetroScout