PetroScout
Serving the E&P market with news, analysis and business opportunities.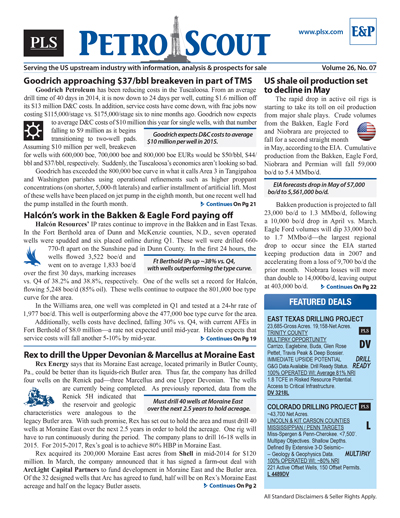 PLS publishes news and analysis on the exploration and production (E&P) sector through its E&P module. The blue banner report covers new well discoveries, drilling activities, acreage sales, industry statistics (drilling results, activity permits and intents to drill) and technological updates.
Covering exploration & production
Single copy pricing; Incl hard copy & email version
Increase market insight & deal flow
Every 3 weeks; 17+ issues per year
Latest in exploration, discoveries, resource plans, land grabs, volumes, development projects & trends
Access to archives covering E&P
Phone request for prospects and lands listed for sale
Includes discounts for other PLS products & events
Search PLS' News Archive for complete oil & gas news for PetroScout .
See what it is about before you buy. View a sample issue of PetroScout.
Need more information? Click the button to recieve more details about the PetroScout
Opportunity is a reflection of information.
Call 713-650-1212 For More Information
Search PetroScout:

Headline
Publication
News Date
E&P's H1 momentum continues into H2
Summer heat may have descended across the U.S. but operators aren't taking a break to cool off. A case in point is Pioneer Natural Resources. The firm's Version 3.0+ completions are blowing the lid...
Jul 05, 2018
People & Companies - PetroScout- July 05, 2018
Abraxas Petroleum Corp. Chief Accounting Officer Bill Krog will take over the CFO role on an interim basis following the resignation of Geoffrey R. King, who left the company on June 26. It also...
Jul 05, 2018
Alaska's Nanushuk play draws in Australian trio
Three Australian companies have partnered in a JV aimed at drilling a 400-MMbo prospect on Alaska's North Slope. Otto Energy, 88 Energy and Red Emperor Resources signed a binding term sheet with...
Jul 05, 2018
Efficiency, production on rise in Williston Basin
Bakken producers are getting more efficient, reports the U.S. Energy Information Administration. Play volumes are expected to rise 19,000 bo/d and 26 MMcf/d in July to 1.285 MMbo/d and 2.339 Bcf/d....
Jul 05, 2018
WPX well at North Sunday Island IP24s 4,200 bo/d
PLS' Bakken Scout reports that the North Sunday Island region of Mountrail County has yielded a number of winning wells for WPX. At the end of Q1, WPX flowed its highest IP24 ever in the Williston...
Jul 05, 2018
Cabot aiming for 3.75 Bcf/d in 2019-2020
Cabot O&G is positioning itself for a breakout year in 2018, led by high-performing wells in Pennsylvania and new gas sales agreements. The company completed some of its best wells to-date at the end...
Jul 05, 2018
Get more news for PetroScout