PetroScout
Serving the E&P market with news, analysis and business opportunities.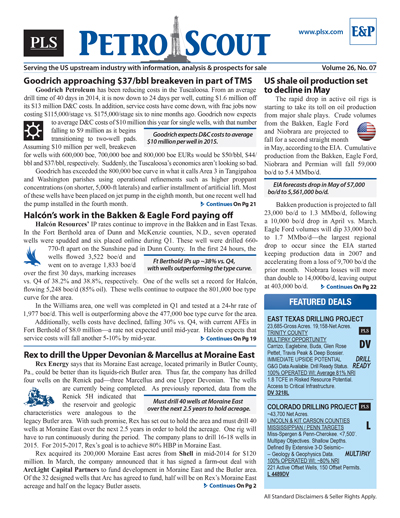 PLS publishes news and analysis on the exploration and production (E&P) sector through its E&P module. The blue banner report covers new well discoveries, drilling activities, acreage sales, industry statistics (drilling results, activity permits and intents to drill) and technological updates.
Covering exploration & production
Single copy pricing; Incl hard copy & email version
Increase market insight & deal flow
Every 3 weeks; 17+ issues per year
Latest in exploration, discoveries, resource plans, land grabs, volumes, development projects & trends
Access to archives covering E&P
Phone request for prospects and lands listed for sale
Includes discounts for other PLS products & events
Search PLS' News Archive for complete oil & gas news for PetroScout .
See what it is about before you buy. View a sample issue of PetroScout.
Need more information? Click the button to recieve more details about the PetroScout
Opportunity is a reflection of information.
Call 713-650-1212 For More Information
Search PetroScout:

Headline
Publication
News Date
Tecolote scores record IP30 Panhandle POWER play
An area Tecolote Energy terms the "Pandhandle Oil Window Extended Reach" or POWER play may be about to get a lot more well known. The reason is the Little-Pyeatt 30-19 ME WX1H (9,518-ft lateral)...
May 07, 2018
BNK's latest frac design pays off at Glenn 16-2H
BNK Petroleum's Glenn 16-2H (4,950-ft lateral) in Johnston County registered an IP30 of 630 boe/d (86% oil) and is currently producing 620 boe/d (85% oil). The well is located at BNK's Tishomingo...
May 07, 2018
Diamondback's Q1 volumes up 10% from Q4
Permian-focused Diamondback Energy's Q1 production averaged 102,600 boe/d (74% oil), up 10% sequentially while Diamondback subsidiary Viper Energy Partners produced 14,100 boe/d (71% oil), a 14% gain...
May 07, 2018
Permian producers face rising service costs
Increased activity in the Permian Basin could prompt an increase in service costs as production from the play continues to grow. Consulting firm Wood Mackenzie projects that service costs in the...
May 07, 2018
Get more news for PetroScout