South Texas Scout
Serving the local market with drilling activities, permits & multiple listings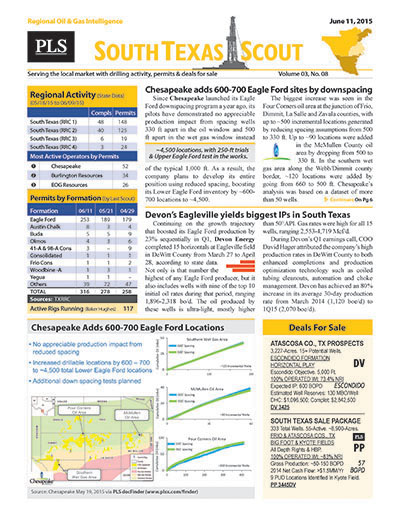 PLS publishes drilling activity in Railroad Districts 1,2,4 and select counties north of 3 through the South Texas Scout. Published every three (3) weeks, this local report covers lead stories on drilling activity, successes and new projects while also reporting on new permits, completions and P&A activity.
Stay in front of local prospects, plays & rigs!
South Texas RRC 1, 2, 4 and north of 3
Hard Copy and Email For 1 Individual
Every 3 Weeks (16-20 issues per year)
Regional discoveries, drilling activity, permits,
completions and summary drilling statistics, layered
with regional listings and business opportunities
Web access to the South Texas Scout archive
Does not include access to MLS
Search PLS' News Archive for complete oil & gas news for South Texas Scout .
See what it is about before you buy. View a sample issue of South Texas Scout.
Need more information? Click the button to recieve more details about the South Texas Scout
Opportunity is a reflection of information.
Call 713-650-1212 For More Information
Search South Texas Scout:

Headline
Publication
News Date
Magnolia sets its sights on rapid growth
According to founder and former Occidental Petroleum CEO Steve Chazen, Magnolia Oil & Gas plans to triple its market valuation in the next few years as it develops its South Texas assets. In...
Sep 07, 2018
STS - Carrizo Highlights - September 07, 2018
Carrizo moved one of its four Delaware Basin rigs to South Texas during Q2 and switched another after the quarter's end. It plans to run four rigs in the Eagle Ford and has increased its...
Sep 07, 2018
STS - Murphy Oil Highlights - September 07, 2018
Murphy Oil reported an average IP30 of 1,750 boe/d from a 10-well Eagle Ford pad brought online during Q2 in Karnes County, Texas. Seven of the wells flowed the highest rates ever achieved by Murphy...
Sep 07, 2018
EOG DeWitt County HZ delivers 923 boe/d per 1,000 ft
In DeWitt County, EOG's Sandies Creek E#5H (6,629-ft lateral) tested at a 24-hour IP of 5,061 bo/d and 6,376 Mcf/d, or 6,124 boe/d (83% oil; 923 boe/d per 1,000 ft), on a ~1-in. choke at 1,797 psi...
Aug 16, 2018
Escondido scores strong gas results in Webb County
A four-well pad on the Spohn lease in Webb County delivered impressive results for privately held Escondido Resources II. The Spohn Ranch #16- Spohn Ranch #19 wells (avg. 10,705-ft laterals; avg. 21...
Aug 16, 2018
Get more news for South Texas Scout