South Texas Scout
Serving the local market with drilling activities, permits & multiple listings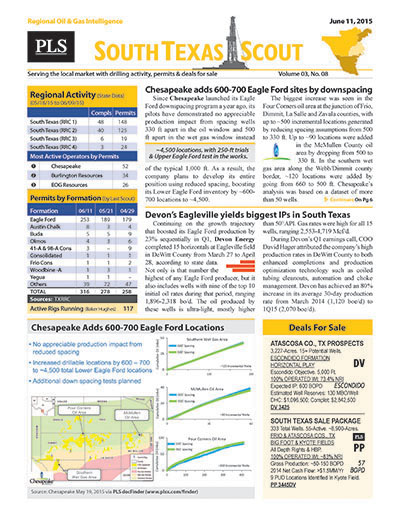 PLS publishes drilling activity in Railroad Districts 1,2,4 and select counties north of 3 through the South Texas Scout. Published every three (3) weeks, this local report covers lead stories on drilling activity, successes and new projects while also reporting on new permits, completions and P&A activity.
Stay in front of local prospects, plays & rigs!
South Texas RRC 1, 2, 4 and north of 3
Hard Copy and Email For 1 Individual
Every 3 Weeks (16-20 issues per year)
Regional discoveries, drilling activity, permits,
completions and summary drilling statistics, layered
with regional listings and business opportunities
Web access to the South Texas Scout archive
Does not include access to MLS
$ 795 /Yr
Search PLS' News Archive for complete oil & gas news for South Texas Scout .
See what it is about before you buy. View a sample issue of South Texas Scout.
Need more information? Click the button to recieve more details about the South Texas Scout
Opportunity is a reflection of information.
Call 713-650-1212 For More Information
Search South Texas Scout:

Headline
Publication
News Date
EIA - Regional Highlights - September 28, 2017
The EIA projects the Eagle Ford's new-well oil production per rig will drop to 1,074 bo/d in October, down 49 bo/d from September. In the same time period, the play's oil production is projected...
Sep 28, 2017
Get more news for South Texas Scout