South Texas Scout
Serving the local market with drilling activities, permits & multiple listings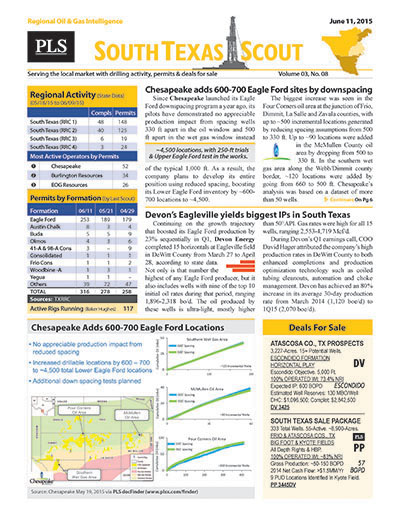 PLS publishes drilling activity in Railroad Districts 1,2,4 and select counties north of 3 through the South Texas Scout. Published every three (3) weeks, this local report covers lead stories on drilling activity, successes and new projects while also reporting on new permits, completions and P&A activity.
Stay in front of local prospects, plays & rigs!
South Texas RRC 1, 2, 4 and north of 3
Hard Copy and Email For 1 Individual
Every 3 Weeks (16-20 issues per year)
Regional discoveries, drilling activity, permits,
completions and summary drilling statistics, layered
with regional listings and business opportunities
Web access to the South Texas Scout archive
Does not include access to MLS
Search PLS' News Archive for complete oil & gas news for South Texas Scout .
See what it is about before you buy. View a sample issue of South Texas Scout.
Need more information? Click the button to recieve more details about the South Texas Scout
Opportunity is a reflection of information.
Call 713-650-1212 For More Information
Search South Texas Scout:

Headline
Publication
News Date
Regional Highlights - March 22, 2018
Eagle Ford production is expected to rise 23,000 bo/d and 69 MMcf/d in April to 1.33 MMbo/d and 6.587 Bcf/d, respectively, according to the EIA. This would be a 157,000 bo/d and 596 MMcf/d increase...
Mar 22, 2018
EOG Highlights - March 22, 2018
The top well in this issue is EOG's Presley Unit #14H (Gonzales Co.; 7,700-ft lateral) that flowed a 24-hour IP of 4,318 bo/d and 3,014 Mcf/d, or 4,820 boe/d (90% oil) from the Eagle Ford on a...
Mar 22, 2018
Gulftex Energy - March 22, 2018
GulfTex Energy's Janysek-Ecleto Unit #6H (Karnes County; 4,100-ft lateral) IP'd at 3,302 bo/d and 2,278 Mcf/d, or 3,682 boe/d (90% oil), from the Eagle Ford on a 26/64-in. choke at 3,192 psi FTP....
Mar 22, 2018
Baytex Highlights - March 22, 2018
Baytex reported continued strong performance in the Eagle Ford with wells that commenced production during Q4 representing some of the highest productivity wells drilled to-date with IP30s of 1,700...
Mar 22, 2018
Penn Virginia Highlights - March 22, 2018
In Gonzales County, Penn Virginia's the two-well Geo Hunter pad had a IP30 of 3,767 boe/d and a previously announced IP24 of 5,465 boe/d. In addition, the company recorded a 24-hour IP rate from...
Mar 22, 2018
WildHorse Resources Highlights - March 22, 2018
In 1Q18, WildHorse Resources brought online the Fritsche 109 #1 refrac (5,387-ft lateral) at a peak 30-day uplift of 481 boe/d (88% oil). The well is located 10.5 miles southwest of the Lee and...
Mar 22, 2018
EOG's Austin Chalk delivers some of its best wells
During 2017 EOG drilled some of its most prolific, high return Austin Chalk wells since it began developing the formation. Average IP30s from 28 net wells in the formation averaged over 3,200 boe/d....
Mar 01, 2018
Get more news for South Texas Scout