Southeastern Scout
Serving the local market with drilling activities, permits & multiple listings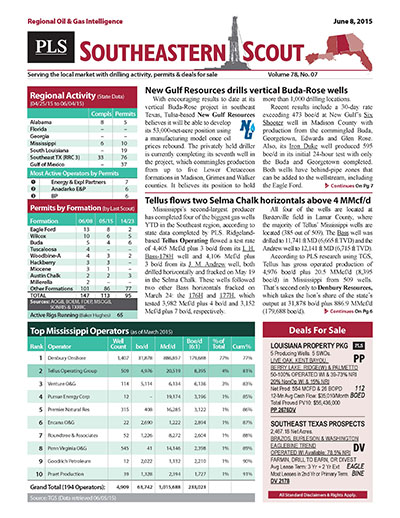 PLS publishes local exploration news and drilling insights on a regional basis through reports like the Southeastern Scout. Previously known as the Southeastern Oil Review and published since 1926, this unique report has a loyal following of explorationists, operators, drillers, landmen and landowners in South Louisiana, Mississippi, Alabama and Florida.
Stay in front of local prospects, plays & rigs!
South Louisiana, Mississippi, Alabama, Florida
Hard Copy and Email For 1 Individual
Every 3 Weeks (16-20 issues per year)
Regional discoveries, drilling activity, permits,
completions and summary drilling statistics, layered
with regional listings and business opportunities
Web access to the Southeastern Scout archive
Does not include access to MLS
$ 695 /Yr
Search PLS' News Archive for complete oil & gas news for Southeastern Scout .
See what it is about before you buy. View a sample issue of Southeastern Scout.
Need more information? Click the button to recieve more details about the Southeastern Scout
Opportunity is a reflection of information.
Call 713-650-1212 For More Information
Search Southeastern Scout:

Headline
Publication
News Date
Hilcorp's oily completion leads region's wells
Hilcorp's top oil well of this issue is also its second best of the year, according to state data. The Buras Levee District #213 flowed 913 boe/d (88% oil) on a 23/64-in. choke. It targeted the...
Jun 22, 2017
Upstream Exploration eyes SETX Yegua development
Upstream Exploration planned to spud a new well June 6 in the Jaspo area of Hardin Co., TX. The company operates two fields (6,026 net acres) in the Yegua trend, where it has identified prospects...
Jun 22, 2017
Regional Highlights - June 22, 2017
• Onshore rig count is 23 (19 oil and 4 gas), up from 15 YOY. • Offshore rig count is 21 (19 oil and 2 gas), unchanged YOY but down two from last issue. • Madison Co., TX, has two...
Jun 22, 2017
Louisiana Energy Conference sees a record crowd
PLS noted that the overall mood at this year's Louisiana Energy Conference was positive as the event drew more than 400 attendees, which was a record. Day 1 featured two Gulf of Mexico panels: one...
Jun 01, 2017
WildHorse Resource generates 28% EUR improvement
Newly public WildHorse Resource Development is running five rigs in the East Texas Eagle Ford. Burleson County, which is home to the majority of the company's drilling locations in the eastern Eagle...
Apr 20, 2017
Get more news for Southeastern Scout