Southeastern Scout
Serving the local market with drilling activities, permits & multiple listings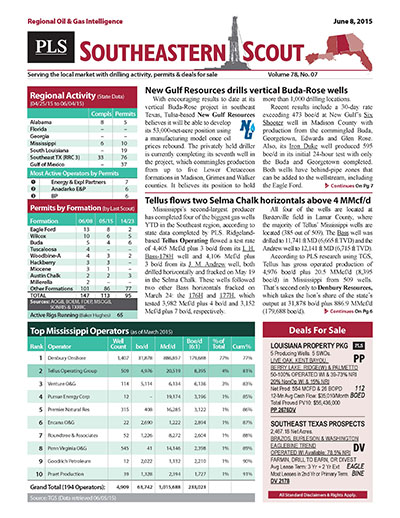 PLS publishes local exploration news and drilling insights on a regional basis through reports like the Southeastern Scout. Previously known as the Southeastern Oil Review and published since 1926, this unique report has a loyal following of explorationists, operators, drillers, landmen and landowners in South Louisiana, Mississippi, Alabama and Florida.
Stay in front of local prospects, plays & rigs!
South Louisiana, Mississippi, Alabama, Florida
Hard Copy and Email For 1 Individual
Every 3 Weeks (16-20 issues per year)
Regional discoveries, drilling activity, permits,
completions and summary drilling statistics, layered
with regional listings and business opportunities
Web access to the Southeastern Scout archive
Does not include access to MLS
Search PLS' News Archive for complete oil & gas news for Southeastern Scout .
See what it is about before you buy. View a sample issue of Southeastern Scout.
Need more information? Click the button to recieve more details about the Southeastern Scout
Opportunity is a reflection of information.
Call 713-650-1212 For More Information
Search Southeastern Scout:

Headline
Publication
News Date
WildHorse Highlights - June 28, 2018
In Giddings Field within Burleson County, WildHorse's Snap I #1H (6,629-ft lateral) flowed an IP24 of 910 bo/d and 574 Mcf/d, or 1,006 boe/d (90% oil), from the Eagle Ford on an 18/64-in. choke at...
Jun 28, 2018
Herd Enterprises Highlights - June 28, 2018
In Gardwood SW field in Colorado County, Herd Enterprises' Coyle Concord #1 (11,296 ft TD) IP'd at 573 bo/d and 775 Mcf/d, or 702 boe/d (82% oil), from the Upper Wilcox on a 10/64-in. choke at...
Jun 28, 2018
ETP Highlights - June 28, 2018
ETP's 163-mile section of the Bayou Bridge pipeline should be complete by October, assuming no further governmental halts to construction. The segment will move 460,000 bo/d from Lake Charles to St....
Jun 28, 2018
BP Highlights - June 28, 2018
BP filed a drilling permit for the Isabela 2 in Mississippi Canyon 562. The field lies in 6,436 ft of water and drilling is expected to take 184 days. Isabella 1 hit two pay zones in 2007 and is near...
Jun 28, 2018
Get more news for Southeastern Scout