Southeastern Scout
Serving the local market with drilling activities, permits & multiple listings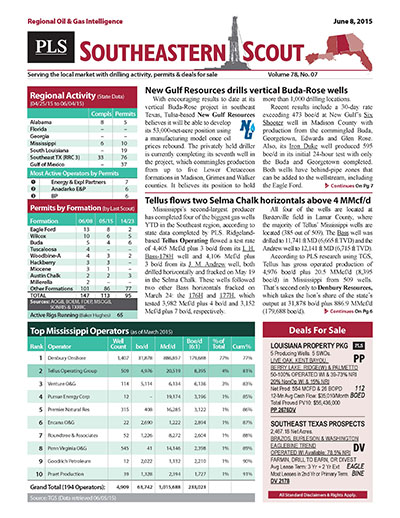 PLS publishes local exploration news and drilling insights on a regional basis through reports like the Southeastern Scout. Previously known as the Southeastern Oil Review and published since 1926, this unique report has a loyal following of explorationists, operators, drillers, landmen and landowners in South Louisiana, Mississippi, Alabama and Florida.
Stay in front of local prospects, plays & rigs!
South Louisiana, Mississippi, Alabama, Florida
Hard Copy and Email For 1 Individual
Every 3 Weeks (16-20 issues per year)
Regional discoveries, drilling activity, permits,
completions and summary drilling statistics, layered
with regional listings and business opportunities
Web access to the Southeastern Scout archive
Does not include access to MLS
$ 695 /Yr
Search PLS' News Archive for complete oil & gas news for Southeastern Scout .
See what it is about before you buy. View a sample issue of Southeastern Scout.
Need more information? Click the button to recieve more details about the Southeastern Scout
Opportunity is a reflection of information.
Call 713-650-1212 For More Information
Search Southeastern Scout:

Headline
Publication
News Date
Regional Highlights - November 22, 2017
A combined 75,206 bo/d and 215 MMcf/d of natural gas production are shut-in at four platforms in the wake of Nov. 8 fire at the Enchilada platform. The figures include Shell's Enchilada, Salsa and...
Nov 22, 2017
Anadarko Highlights - November 22, 2017
Anadarko plans to operate two drillships and spud 5 development wells in the GOM during 2018 as part of plans to target high return oil development opportunities near operated infrastructure at...
Nov 22, 2017
Chevron Highlights - November 22, 2017
Chevron has filed paperwork to drill a prospect called Murrayfield Deep in the Mississippi Canyon area of the GOM. Drilling could start Jan. 1, 2018 and could last 40...
Nov 22, 2017
Southern Louisiana Highlights - November 22, 2017
A total of 293 workovers, completions and recompletions were reported in Southern Louisiana during the first nine months of 2017. The most active operators were Hilcorp Energy with 77 and Gulfport...
Nov 22, 2017
Get more news for Southeastern Scout