Southeastern Scout
Serving the local market with drilling activities, permits & multiple listings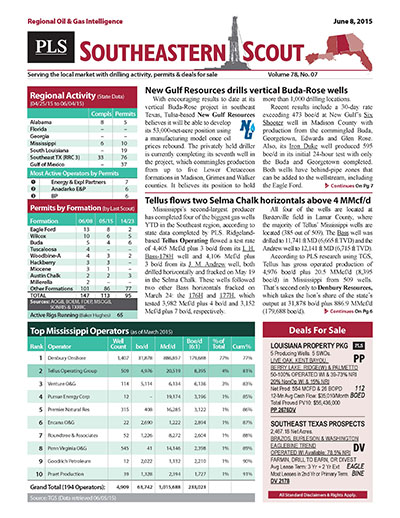 PLS publishes local exploration news and drilling insights on a regional basis through reports like the Southeastern Scout. Previously known as the Southeastern Oil Review and published since 1926, this unique report has a loyal following of explorationists, operators, drillers, landmen and landowners in South Louisiana, Mississippi, Alabama and Florida.
Stay in front of local prospects, plays & rigs!
South Louisiana, Mississippi, Alabama, Florida
Hard Copy and Email For 1 Individual
Every 3 Weeks (16-20 issues per year)
Regional discoveries, drilling activity, permits,
completions and summary drilling statistics, layered
with regional listings and business opportunities
Web access to the Southeastern Scout archive
Does not include access to MLS
Search PLS' News Archive for complete oil & gas news for Southeastern Scout .
See what it is about before you buy. View a sample issue of Southeastern Scout.
Need more information? Click the button to recieve more details about the Southeastern Scout
Opportunity is a reflection of information.
Call 713-650-1212 For More Information
Search Southeastern Scout:

Headline
Publication
News Date
Magnolia sees upside in Giddings Austin Chalk
Magnolia Oil & Gas holds 460,000 net acres (99%+ HBP) in Giddings field where it sees significant upside and substantial running room for development. Based on conservative spacing...
Sep 20, 2018
SES - Hilcorp Highlights - September 20, 2018
hilcorp completed the top gas well in this issue, the Baer-Franklin #3 (15,050 ft MD; 14,957 ft TVD) in Matagorda County, which tested at an IP24 of 10,229 Mcf/d and 50 bo/d from the...
Sep 20, 2018
SES - Marathon Oil Highlights - September 20, 2018
Marathon Oil holds 240,000 net acres in the Louisiana Austin Chalk, which it acquired for less than $900 per acre. The company plans to participate in a 400-squaremile multi-client 3D seismic survey...
Sep 20, 2018
Latest GOM sale attracts increased interest
On Aug. 15, the BOEM held the third offshore sale under the 2017-2022 U.S. leasing program. Lease Sale 251 brought in $178 million in high bids for 144 tracts covering 801,288 acres across the...
Aug 30, 2018
GulfSlope Energy Highlights - August 31, 2018
GulfSlope Energy drilled the Canoe shallow prospect to 5,700 ft TVD within Vermillion Block 378 in the GOM. The well encountered an oil sand in the northwest center of the block. Full integration of...
Aug 30, 2018
Get more news for Southeastern Scout