Southeastern Scout
Serving the local market with drilling activities, permits & multiple listings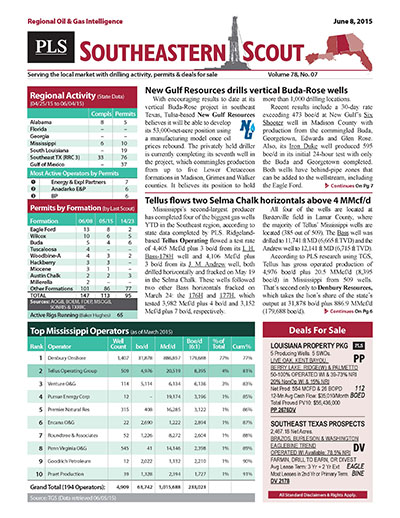 PLS publishes local exploration news and drilling insights on a regional basis through reports like the Southeastern Scout. Previously known as the Southeastern Oil Review and published since 1926, this unique report has a loyal following of explorationists, operators, drillers, landmen and landowners in South Louisiana, Mississippi, Alabama and Florida.
Stay in front of local prospects, plays & rigs!
South Louisiana, Mississippi, Alabama, Florida
Hard Copy and Email For 1 Individual
Every 3 Weeks (16-20 issues per year)
Regional discoveries, drilling activity, permits,
completions and summary drilling statistics, layered
with regional listings and business opportunities
Web access to the Southeastern Scout archive
Does not include access to MLS
Search PLS' News Archive for complete oil & gas news for Southeastern Scout .
See what it is about before you buy. View a sample issue of Southeastern Scout.
Need more information? Click the button to recieve more details about the Southeastern Scout
Opportunity is a reflection of information.
Call 713-650-1212 For More Information
Search Southeastern Scout:

Headline
Publication
News Date
EOG extends Buda play into Walker County
Last year EOG completed its first Buda well in Walker County, delivering its second best Buda IP to date and extending the play from Madison County into Walker. The Leuteola #1H (6,014-ft...
Mar 16, 2018
GeoSouthern Highlights - March 16, 2018
In Washington County, GeoSouthern's Lehrmann #1H (5,964-ft lateral; 17.8 MMlbs proppant) tested at a 24-hour IP of 14,789 Mcf/d from the Austin Chalk on a 25/64-in. choke at 4,988 psi FTP. This is...
Mar 16, 2018
WildHorse Resources Highlights - March 16, 2018
In Burleson County, WildHorse Resources' Schaper EF Unit #1H (6,320-ft lateral) flowed an IP24 of 635 bo/d and 56 Mcf/d, or 644 boe/d (99% oil), from the Eagle Ford on a 16/64-in. choke at 1,200 psi...
Mar 16, 2018
W&T Offshore Highlights - March 16, 2018
W&T Offshore has entered into joint exploration and development agreements with a group of investors to drill up to 14 specified projects in the GOM over the next three plus years....
Mar 16, 2018
Stone Energy Highlights - March 16, 2018
Stone Energy plans to spend $212MM (up $58MM) in 2018. The budget is spread across the company's major areas of investment, with 36% allocated to exploration, 27% to development, and 37% to P&A...
Mar 16, 2018
TransCanada Highlights - March 16, 2018
Transcanada's Cameron Access project has been placed into service. Cameron Access involved improvements to existing pipeline, construction of a new compressor station and the addition of 27 miles of...
Mar 16, 2018
WildHorse narrows focus to East Texas
At the beginning of February, Wildhorse Development struck a deal to make itself an Eagle Ford/Austin Chalk pure play. The company executed a definitive purchase and sale agreement to sell its...
Feb 22, 2018
Get more news for Southeastern Scout