Southeastern Scout
Serving the local market with drilling activities, permits & multiple listings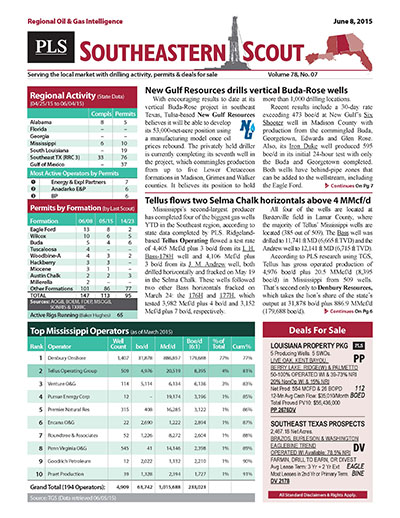 PLS publishes local exploration news and drilling insights on a regional basis through reports like the Southeastern Scout. Previously known as the Southeastern Oil Review and published since 1926, this unique report has a loyal following of explorationists, operators, drillers, landmen and landowners in South Louisiana, Mississippi, Alabama and Florida.
Stay in front of local prospects, plays & rigs!
South Louisiana, Mississippi, Alabama, Florida
Hard Copy and Email For 1 Individual
Every 3 Weeks (16-20 issues per year)
Regional discoveries, drilling activity, permits,
completions and summary drilling statistics, layered
with regional listings and business opportunities
Web access to the Southeastern Scout archive
Does not include access to MLS
$ 695 /Yr
Search PLS' News Archive for complete oil & gas news for Southeastern Scout .
See what it is about before you buy. View a sample issue of Southeastern Scout.
Need more information? Click the button to recieve more details about the Southeastern Scout
Opportunity is a reflection of information.
Call 713-650-1212 For More Information
Search Southeastern Scout:

Headline
Publication
News Date
Regional Highlights - October 17, 2017
The Southeastern Onshore rig count is 23 (21 oil and 2 gas), up from 22 YOY. The GOM rig count is 20 (18 oil and 3 gas), down from 2 YOY. Rankin and Yazoo Cos., MS, each have one rig...
Oct 17, 2017
PetroQuest Highlights - October 17, 2017
This issue recaps PetroQuest's May 2017 recompletion of its Hulin ETAL #1 well (Thunder Bayou) , Vermilion Parish. The well flowed 30.5 MMcfe/d (83% gas) on a 19/64- in. choke. PLS divestment team...
Oct 17, 2017
LLOG Highlights - October 17, 2017
LLOG made a discovery at Blue Wing Olive in Mississippi Canyon 427-471. The well was drilled to 17,000 ft in 5,800 ft of water. First production is expected in...
Oct 17, 2017
XTO Highlights - October 17, 2017
Offers are needed next week (Oct 25) for XTO sale of operated assets (245 Bopd) at Cox Bay and Pointe a la Hache Fields. See Listing PP 9497DV for...
Oct 17, 2017
Clovelly platform ignites in Lake Pontchartrain
On Sunday night a crude oil storage transfer platform owned by Clovelly Oil Co. exploded in Lake Pontchartrain near Kenner, LA. At seven people were injured and one is missing, Timothy Morrison of...
Oct 17, 2017
Get more news for Southeastern Scout