Western Scout
Serving the local market with drilling activities, permits & multiple listings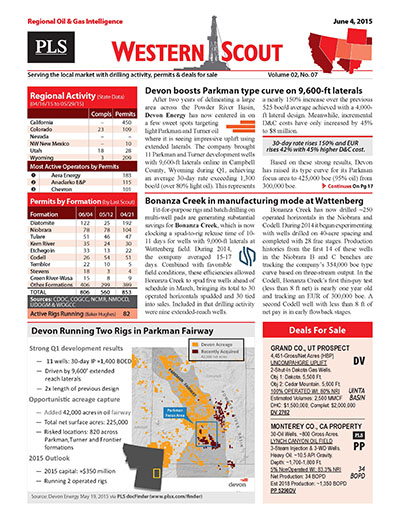 PLS's Western Scout covers local drilling activity, permit data, rig activity and completions in the Southern Rockies, (Colorado, Wyoming, NW Nebraska, Utah, Four Corners) and Western US, (California, Nevada, Oregon, Washington). Like all of PLS's Regionals this report includes a wealth of statistical analysis on activities and corporate performance. The reports also layer select advertising, business opportunities and multiple listings for sale.
Stay in front of local prospects, plays & rigs!
Southern Rockies, Colorado, NW Nebraska, Wyoming, Utah, Four Corners and the Western U.S., California, Nevada, Oregon and Washington
Hard Copy and Email For 1 Individual
Every 3 Weeks (16-20 issues per year)
Regional drilling activity, permits, completions and statistics layered with regional listings and business opportunities
Does not include access to MLS
Search PLS' News Archive for complete oil & gas news for Western Scout .
See what it is about before you buy. View a sample issue of Western Scout.
Need more information? Click the button to recieve more details about the Western Scout
Opportunity is a reflection of information.
Call 713-650-1212 For More Information
Search Western Scout:

Headline
Publication
News Date
BP & Devon drill record-setting wells
In the latest state data, Devon and BP set records for the best horizontal wells in the Teapot and Lewis, respectively.In early January, Devon completed the top Teapot well to-date. In...
Mar 13, 2018
Regional Highlights - March 13, 2018
Niobrara production is expected to increase 12,000 bo/d and 68 MMcf/d in April to 595,000 bo/d and 4.935 Bcf/d, according to the EIA.There are 537 DUCs in the Niobrara as of February, down...
Mar 13, 2018
Chesapeake Highlights - March 13, 2018
Chesapeake's Powder River Basin Lebar 15-34-69 A TR 22H (10,100-ft lat.) Turner well in Converse County, WY reached a peak rate of 2,600 boe/d (50% oil) in December and delivered 115,000 boe in the...
Mar 13, 2018
EOG Highlights - March 13, 2018
In Q4, EOG completed nine wells in the PRB. In Converse County, EOG completed the Mary's Draw 453- 0310H and 455-0310H wells with an average treated lateral length of 7,300 ft per well and average...
Mar 13, 2018
Bill Barrett Highlights - March 13, 2018
During 2017, Bill Barrett's DJ Basin program focused on optimizing completions to include enhanced completions and narrower frac stage spacing of 120 ft. Early data from the enhanced completion...
Mar 13, 2018
QEP Highlights - March 13, 2018
In connection with Q4 earnings, QEP announced that it plans to sell its Bakken, Uinta and Haynesville assets and become a pure-play Permian company. PLS understands that QEP has appointed BMO to...
Mar 13, 2018
Noble hikes EURs at Wells Ranch & Mustang
During 2017 Noble Energy saw increased well productivity due to enhanced completions. On average, the company increased its DJ Basin type curves 25% within its focus area. Specifically, Wells Ranch...
Feb 20, 2018
Development Capital Highlights - February 20, 2018
Development Capital Resources formed a JV to operate California Resources' midstream infrastructure. The JV will operate the assets in support of CRC's Elk Hills area. CRC will retain a significant...
Feb 20, 2018
Get more news for Western Scout