Western Scout
Serving the local market with drilling activities, permits & multiple listings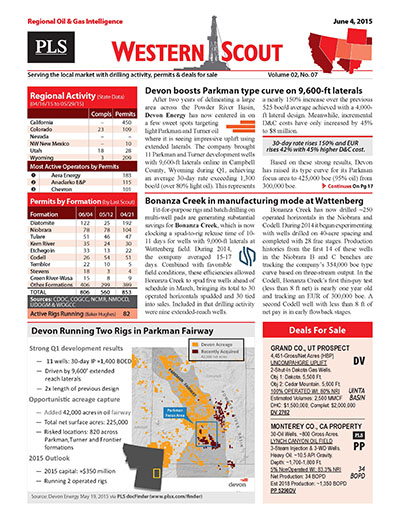 PLS's Western Scout covers local drilling activity, permit data, rig activity and completions in the Southern Rockies, (Colorado, Wyoming, NW Nebraska, Utah, Four Corners) and Western US, (California, Nevada, Oregon, Washington). Like all of PLS's Regionals this report includes a wealth of statistical analysis on activities and corporate performance. The reports also layer select advertising, business opportunities and multiple listings for sale.
Stay in front of local prospects, plays & rigs!
Southern Rockies, Colorado, NW Nebraska, Wyoming, Utah, Four Corners and the Western U.S., California, Nevada, Oregon and Washington
Hard Copy and Email For 1 Individual
Every 3 Weeks (16-20 issues per year)
Regional drilling activity, permits, completions and statistics layered with regional listings and business opportunities
Does not include access to MLS
Search PLS' News Archive for complete oil & gas news for Western Scout .
See what it is about before you buy. View a sample issue of Western Scout.
Need more information? Click the button to recieve more details about the Western Scout
Opportunity is a reflection of information.
Call 713-650-1212 For More Information
Search Western Scout:

Headline
Publication
News Date
WS - EOG Highlights - October 30, 2018
The top completion in this issue was EOG's Marys Draw #60-3328H (9,040-ft lateral; 30 stages; 16.3 MMlb proppant) in Converse County, Wyoming. The well flowed an IP24 of 1,067 bo/d and 3,809 Mcf/d,...
Oct 30, 2018
WS - Extraction Highlights - October 30, 2018
During Q3, Extraction reached TD on 41 wells (averaging 9,700- ft laterals) and completed 31 wells (6,500-ft laterals). The Company turned to sales 71 wells (9,600-ft lateral). Q3 sales volumes were...
Oct 30, 2018
WS - SRC Energy Highlights - October 31, 2018
SRC Energy's Q3 production averaged 49,165 boe/d, up 3% sequentially and 22% YOY. The company turned to sales 38 wells, completed 44 and drilled 30. SRC raised FY18 capex by $40 million to $580...
Oct 30, 2018
Wold Frontier HZ delivers impressive 4,168 boe/d
n Converse County, Wyo., Wold Energy Partners' Tuesday Draw #3874- 26-23-14-3FH (9,562-ft lateral; 11.5 MMlb proppant) tested at an initial 24- hour rate of 3,137 boe/d and 6,187 Mcf/d, or 4,168...
Oct 09, 2018
WS - EOG Highlights- October 09, 2018
In Converse County, Wyo., EOG's Arbalest #441-3321H (9,848-ft lateral; 34 stages; 12.3 MMlb proppant) flowed an IP24 of 2,411 boe/d (45% oil; 245 boe/d per 1,000 ft) from the Teckla formation at...
Oct 09, 2018
Get more news for Western Scout