Western Scout
Serving the local market with drilling activities, permits & multiple listings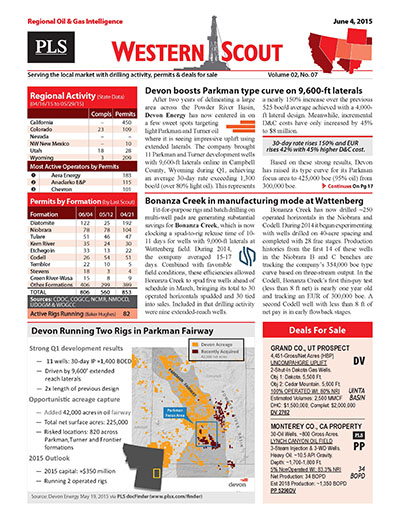 PLS's Western Scout covers local drilling activity, permit data, rig activity and completions in the Southern Rockies, (Colorado, Wyoming, NW Nebraska, Utah, Four Corners) and Western US, (California, Nevada, Oregon, Washington). Like all of PLS's Regionals this report includes a wealth of statistical analysis on activities and corporate performance. The reports also layer select advertising, business opportunities and multiple listings for sale.
Stay in front of local prospects, plays & rigs!
Southern Rockies, Colorado, NW Nebraska, Wyoming, Utah, Four Corners and the Western U.S., California, Nevada, Oregon and Washington
Hard Copy and Email For 1 Individual
Every 3 Weeks (16-20 issues per year)
Regional drilling activity, permits, completions and statistics layered with regional listings and business opportunities
Does not include access to MLS
Search PLS' News Archive for complete oil & gas news for Western Scout .
See what it is about before you buy. View a sample issue of Western Scout.
Need more information? Click the button to recieve more details about the Western Scout
Opportunity is a reflection of information.
Call 713-650-1212 For More Information
Search Western Scout:

Headline
Publication
News Date
Southland's Lewis program continues to deliver
Southland Royalty Co. has racked up a number of successful wells in its Lewis program in Sweetwater County, Wyo. Five of the wells account for the company's top IP24s to-date. Back in May, PLS...
Jul 17, 2018
Regional Highlights - July 17, 2018
Niobrara production is projected to rise 6,000 bo/d and 55 MMcf/d in August to 611,000 bo/d and 5.153 Bcf/d. There are 431 DUCs in the Niobrara as of June, down 42 sequentially....
Jul 17, 2018
QEP Highlights - July 17, 2018
QEP entered into a definitive agreement to sell natural gas and oil producing properties, undeveloped acreage and related assets located in the Uinta Basin for $155MM. Buyer Middle Fork Energy...
Jul 17, 2018
EOG Highlights - July 17, 2018
Fueled by low gas prices, EOG paused its ambitions in the Uinta Basin. The company withdrew its plan for the Greater Chapita Wells Natural Gas Infill Project that would have included 2,800 wells. The...
Jul 17, 2018
Extraction Oil & Gas Highlights - July 17, 2018
Extraction Oil & Gas signed gathering agreements for oil, natural gas and water with Elevation Midstream and secured financing for its Southern DJ Basin infrastructure build out through GSO...
Jul 17, 2018
Magnum Energy Midstream Highlights - July 17, 2018
Magnum Energy Midstream Holdings launched a non-binding open season for its 650-mile Western Energy Storage and Transportation Header Project. The project would provide access to natural gas supplies...
Jul 17, 2018
Samson pursuing company maker in Fort Union
In early 2017 Samson Resources embarked on a journey to remake itself financially and operationally. Having emerged from bankruptcy on March 1, the company, as of April, is debt free with $177...
Jun 26, 2018
Regional Highlights - June 26, 2018
As of May, there are 491 DUCs in the Niobrara, down 48 sequentially. The EIA projects Niobrara production will sequentially rise 3,000 bo/d and 52 MMcf/d in July to 600,000 bo/d and...
Jun 26, 2018
Balidor O&G Highlights - June 26, 2018
In Converse County, Balidor O&G's Netz #3468-12-1-2 NXH (9,930-ft lateral; 50 stages; 24.2 MMlbs proppant) tested at a 24- hour IP of 1,330 bo/d and 1,622 Mcf/d, or 1,600 boe/d (83% oil), from the...
Jun 26, 2018
Get more news for Western Scout