Western Scout
Serving the local market with drilling activities, permits & multiple listings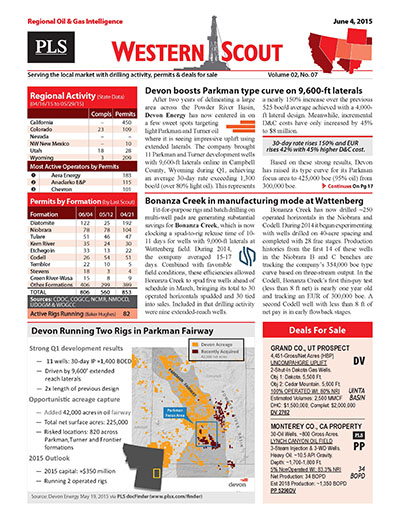 PLS's new Western Scout covers local drilling activity, permit data, rig activity and completions in the Southern Rockies, (Colorado, Wyoming, NW Nebraska, Utah, Four Corners) and Western U.S., (California, Nevada, Oregon, Washington).
Stay in front of local prospects, plays & rigs!
Southern Rockies, Colorado, NW Nebraska, Wyoming, Utah, Four Corners and the Western U.S., California, Nevada, Oregon and Washington
Hard Copy and Email For 1 Individual
Every 3 Weeks (16-20 issues per year)
Regional drilling activity, permits, completions and statistics layered with regional listings and business opportunities
Does not include access to MLS
$ 595 /Yr
Search PLS' News Archive for complete oil & gas news for Western Scout .
See what it is about before you buy. View a sample issue of Western Scout.
Need more information? Click the button to recieve more details about the Western Scout
Opportunity is a reflection of information.
Call 713-650-1212 For More Information
Search Western Scout:

Headline
Publication
News Date
Powder River sees top wells with EOG leading pack
The Powder River Basin continues to top the region's completions, with the best wells of the issue in Converse Co., WY. EOG had the top well, Marys Draw #461-2227H (10,000-ft lateral). This Turner...
Jun 20, 2017
Regional Highlights - June 20, 2017
• Noble Energy completed the top well in Wattenberg field this issue. The Shadow #A26-656 targeted the Niobrara, flowing 1,216 boe/d (82% oil; 10,616-ft lateral) on a 20/64-in. choke. •...
Jun 20, 2017
EOG's latest Turner well tests at over 2,100 boe/d
The Powder River revival continues as EOG delivered a top Turner well. The Marys Draw #267-2227H with a lateral of 9,440 ft, tested at 2,144 boe/d (61% oil) on a 17/64-in. choke in Converse Co., WY....
May 30, 2017
Regional Highlights - May 30, 2017
• The Western region has 78 active rigs—56 oil, 21 gas and one miscellaneous—this issue, up from 32 YOY and 8% from last issue. • Sublette Co., WY, has 11 gas rigs running, up from five YOY....
May 30, 2017
Get more news for Western Scout