Western Scout
Serving the local market with drilling activities, permits & multiple listings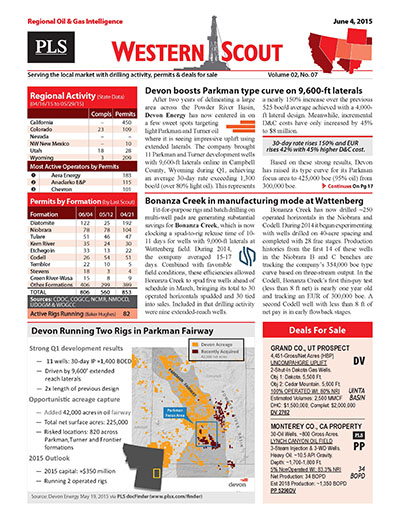 PLS's Western Scout covers local drilling activity, permit data, rig activity and completions in the Southern Rockies, (Colorado, Wyoming, NW Nebraska, Utah, Four Corners) and Western US, (California, Nevada, Oregon, Washington). Like all of PLS's Regionals this report includes a wealth of statistical analysis on activities and corporate performance. The reports also layer select advertising, business opportunities and multiple listings for sale.
Stay in front of local prospects, plays & rigs!
Southern Rockies, Colorado, NW Nebraska, Wyoming, Utah, Four Corners and the Western U.S., California, Nevada, Oregon and Washington
Hard Copy and Email For 1 Individual
Every 3 Weeks (16-20 issues per year)
Regional drilling activity, permits, completions and statistics layered with regional listings and business opportunities
Does not include access to MLS
Search PLS' News Archive for complete oil & gas news for Western Scout .
See what it is about before you buy. View a sample issue of Western Scout.
Need more information? Click the button to recieve more details about the Western Scout
Opportunity is a reflection of information.
Call 713-650-1212 For More Information
Search Western Scout:

Headline
Publication
News Date
EOG tests record Codell Sand HZ in Laramie County
In Laramie County, Wyoming, within the DJ Basin, EOG Resources tested the best Codell Sand producer to date. The Big Sandy #519-2502H (10,741-ft lateral; 57 stages; 8.6 MMlb proppant) flowed an...
Sep 18, 2018
WS - Regional Highlights - September 18, 2018
The EIA projects Niobrara production will sequentially rise 6,000 bo/d and 50 MMcf/d in September to 620,000 bo/d and 5.177 Bcf/d. There are 427 DUCs in the Niobrara as of August, down 20...
Sep 18, 2018
WS - Chesapeake Highlights - September 18, 2018
In Converse County, Chesapeake flowed its highest IP24 to date in the Turner formation, according to state data. The Linden #21-34-69 Usab TR 21H (7,133-ft lateral; 20 stages; 3.7 MMlb proppant)...
Sep 18, 2018
WS - Devon Highlights - September 18, 2018
In Campbell County, Devon's Leavitt Trust Fed #334372- 3PH (4,076-ft lateral; 5.9 MMlb proppant) flowed an IP24 of 1,241 bo/d and 289 Mcf/d, or 1,289 boe/d (96% oil; 316 boe/d per 1,000 ft) from the...
Sep 18, 2018
WS - Jonah Energy Highlights - September 18, 2018
The BLM approved Jonah Energy's Normally Pressured Lance (NPL) project, which aims to drill 3,500 gas wells over 10 years immediately south and west of the Jonah gas field in Sublette County. The...
Sep 18, 2018
Get more news for Western Scout